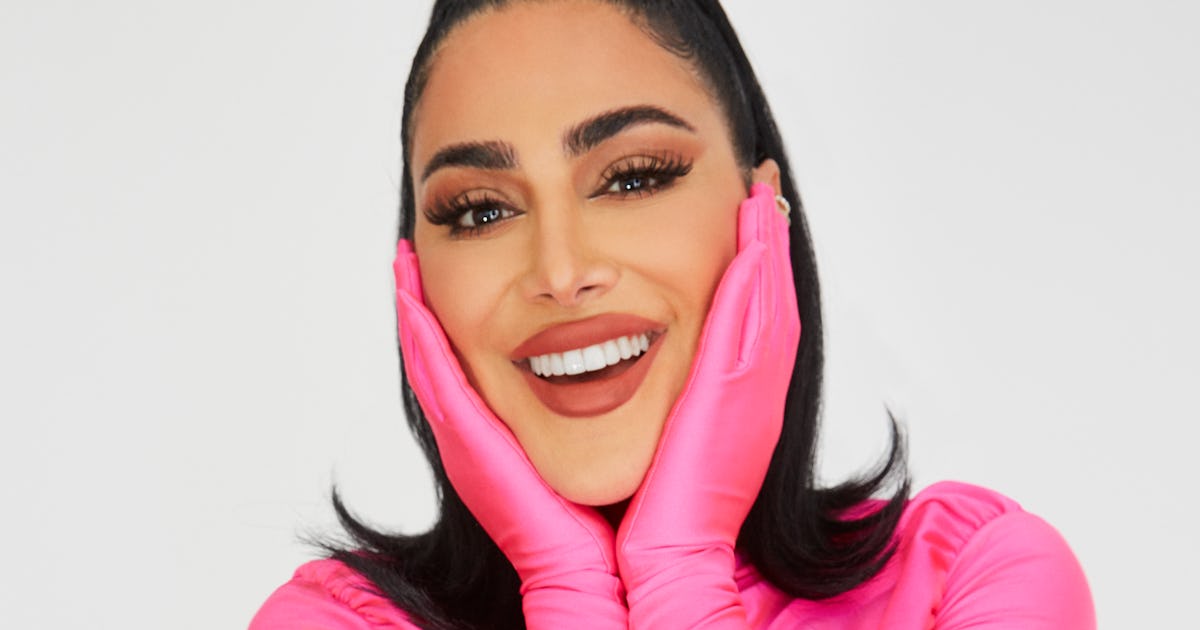 Huda Kattan On Family, Filters & Falling Out Of Love With Makeup
Just before I got on a video call with Huda Kattan, a social media creator
Just before I got on a video call with Huda Kattan, a social media creator and makeup artist whose self-named beauty brand has 50.5 million followers on Instagram, I got the flop sweats over my own makeup. I was wearing nothing more than mascara and Clinique Almost Lipstick in Black Honey, and Kattan is known for full glam. Contour, big lashes, glittering eyeshadow, matte lipstick. I showed up to our meeting feeling a little washed-out and severely underdressed.
I shouldn't have worried. When Kattan logged on from her home in Dubai, where Huda Beauty is headquartered, she was even less done-up than I was. "I love that we're doing this," she said. "I don't know if you're not wearing makeup, but I'm not wearing makeup."
High-impact cosmetics are still Huda Beauty's core business, but in recent years, a subtler approach has broken through. In February 2020, Kattan launched a skin care line, Wishful, the campaign for which she shot sans makeup, sans Photoshop. She'd seen other brands advertise skin care with carefully edited images and wanted to do something different ("I was like, 'Do your products not work?'"), but when she got in front of the camera for her own photo shoot, she experienced a sudden wave of vulnerability.
That unwelcome feeling, along with the realization that her 10-year-old daughter never takes photos without a filter, motivated Kattan to dig into "normalizing normal things." When lockdown began shortly after the launch of Wishful, she told me, "I fell out of love with makeup, which is not something I ever felt would happen," Kattan told me.
Today, Kattan is back on the makeup game with a new complexion product: Huda Beauty's #FauxFilter Luminous Matte Concealer. It's an evolution of the Overachiever Concealer, which Kattan believes was an "amazing product," but its extremely high pigment load resulted in some creasing. "We realized that we actually pushed the boundaries a little too much," she says of the full-coverage formula, which is now being discontinued.
The more buildable, less pigmented #FauxFilter Luminous Matte Concealer gives the skin what Kattan calls a "filter finish" — essentially, a soft-focus look that blurs the skin's texture. Kattan told me that she has relatively visible pores — at one point, she leaned into the camera to give me a good look — and she's used plenty of products that amplify her skin texture. "Oftentimes we actually look better without makeup than we do with makeup," she said.
To hear Kattan, promoter of carved cheekbones and shimmery cut-crease eyeshadow, say those words might be surprising — but it's a clear reflection of her own journey.
After getting a degree in finance, she trained as a makeup artist and launched her beauty blog, Huda Beauty, in 2010. She developed a fan following for her dramatic makeup transformations, expanded to YouTube and Instagram, and in 2013 launched her brand with a line of false lashes at Sephora. As Huda Beauty has grown into a full makeup line — and a full business, with over 300 employees — Kattan has continued churning out the content, test-driving DIY beauty hacks and posting day-in-the-life videos.
There are a number of reasons why Kattan and her brand have thrived in the influencer age, the first of which is that, as her sister Mona Kattan explained it to me, "She's probably one of the most relatable people ever." I knew to expect a certain degree of good-humored openness from Kattan, but I still found her candor incredibly disarming. On the topic of cultivating a healthier conversation about beauty, Kattan told me, "I did put too much filler in my face, and I've actually spent a lot of time melting filler in my face. I don't think I have too much in my face anymore, but I have a lot in my lips." She laughed. "I have a lot in my lips."
Kattan embodies a beauty philosophy that embraces contradictions. You can get lip filler but crave a less-is-more daily regime. You can oppose Photoshopping and filters in advertising but create products that promise real-life filter effects. You can do a full beat one day and then do an interview without a stitch of makeup the next.
At the moment, this is a sound business strategy. According to Larissa Jensen, an industry advisor at NPD Group who tracks beauty brands sold at department stores and retailers like Sephora and Ulta (a group that includes Huda Beauty), it's not an either/or situation when it comes to more natural makeup and full glam. While lighter-coverage, skin care-focused products like tinted moisturizers and lip glosses represent the majority of sales right now, "artistry" makeup that prioritizes boldness and self-expression (think TikTok's "underpainting" and "tissue paper eyeshadow" trends) is also performing strongly. Kattan herself believes in the compatibility of these two makeup approaches, within the same brand and the same person's routine: Last May, her brand launched GloWish, a range of no-makeup makeup that occupies the middle ground between its skin care products and main line.
Concealer in particular is a good space to be in right now, said Jensen, since it belongs to a segment of the makeup market that is rebounding out of the pandemic, posting double-digit growth after declining in 2020. (Foundation, another product that many people dropped in quarantine, also fits this profile.)
As Huda Beauty has grown to employ hundreds of people, with a main office in Dubai and smaller outposts in London and Los Angeles, Kattan told me that she sees her role as a coordinator of people. She and her husband, Christopher Goncalo, are co-CEOs with separate responsibilities: She spends most of her time on social media, marketing, product development, and HR, while he handles supply chain, logistics, and commercial sales. "We're really efficient. We go on walks in the morning and then in the evening. He tells me everything that's going on with him, and I tell him everything that's going on with me," Kattan said.
She spends much more of her time working with her sister Alya Kattan, who leads the social media team and with whom she has an hour-long meeting every morning, touching base again in the evening to finalize upcoming plans. Mona Kattan heads up Huda Beauty's Kayali fragrance line. This family approach to business goes back to their childhood: Mona told me that she and Huda had always dreamed of launching a global megabrand. "We kind of idolized Pinky and the Brain," she said. "We even have Pinky and the Brain figurines, because it reminds us of when we were kids and we were like, We're going to take over the world together."
According to Mona, Huda is in a constant state of evolution as a leader: getting better at delegating and has become more patient, a challenge for her fiery, passionate nature. "She's had to accept that things sometimes have to happen at the right time. And you can't always control everything," Mona said.
On the morning of our conversation, Kattan was still processing a deep disappointment about something outside of her control. An Instagram account known for leaking beauty products before they hit the market had unveiled Huda Beauty's new concealer — Kattan believes someone is stealing prototypes from factories — and though the team had tried to ignore it, talk of it on social media had become impossible to ignore. Huda Beauty started pushing out pre-release content, including a video in which Kattan explained the situation and her frustration with the leak.
"What really pisses me off is that they don't know how bad they ruin it for us," Kattan told me, noting that launches are an all-important moment for a brand to communicate its message around a product that may have been in development for years. She used to get depressed when leaks happened, feeling like the moment had been irreparably squashed. This time, though, she decided to try something new. Shortly after our call ended, Huda Beauty's Instagram account uploaded a roadmap for its 2022 product releases, with a lip plumper and lashes coming up next in July.
"It's a test, and we were saying that if it goes really well, maybe we'll release a little bit of what we're doing for the year every year," Kattan said. It's up to the Huda Beauty community. If they like it, she'll keep doing it, and then she'll have a new challenge on her hands: how to build excitement for new products without the element of surprise. Another obstacle, another chance to evolve.
Photographer: Aingeru Zorita

https://www.bustle.com/style/huda-kattan-family-instagram-fillers