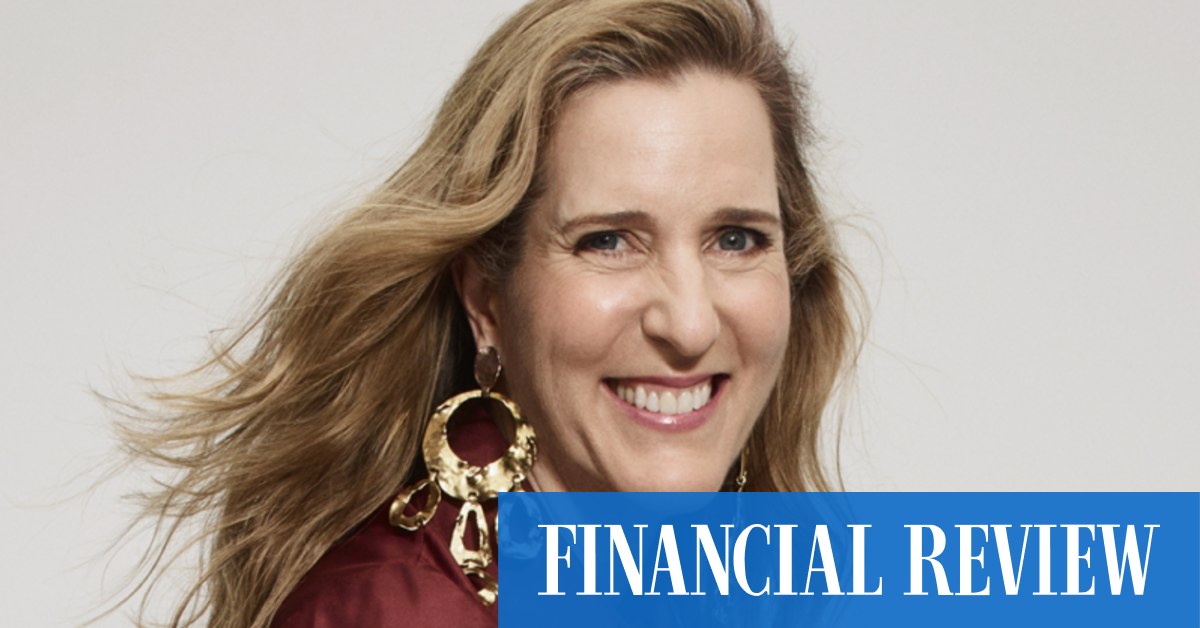 Where Mecca founder and Rich Lister Jo Horgan is taking her beauty empire next
She has been co-CEO of Mecca Brands since 2005, when she began sharing the role with her husband, Peter Wetenhall, a former Boston Consulting Group strategist. Entirely self-funded and fully owned by the pair, Mecca had revenue of $572 million in 2020 (the last year for which accounts are available).
The couple's personal wealth is tipped to be about $658 million (though, like many Rich Listers, she is loath to talk about money, saying only that "the numbers are speculative: I own a lot of lipstick but not much else").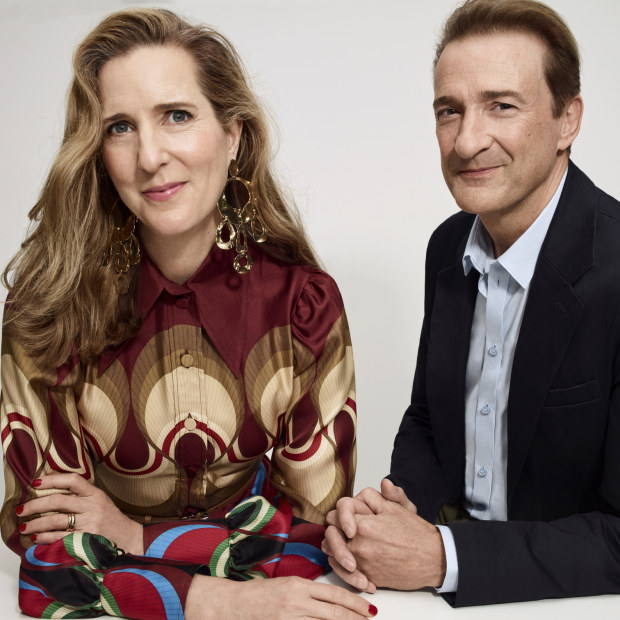 No matter: with more than 100 stores in Australia and New Zealand, a Chinese retail presence on TMall and a new Melbourne flagship that will probably be the biggest beauty retail store in the southern hemisphere when it opens at the end of next year (doubling the footprint of Mecca's Sydney CBD flagship, the current record holder), Horgan has more than proved the point. Australians love beauty. Moreover, Australians love Mecca. That's the "Mecca magic", she says.
We are sitting at the Garden Restaurant at the NGV, just behind the hall where Horgan has announced the design commission and introduced its first designer, Mexican architect Tatiana Bilbao, who creates residential and community spaces built on values of social justice.
One of Bilbao's kitchen designs, for instance, incorporates the laundry, so the whole family can witness the activity of washing clothes – and hopefully get involved. Washing, for most of the world, is women's work. Bilbao wants to change that. It's a message Horgan herself could have dreamed up; she has been resolute on the power of design since Mecca began.
"Right from the outset, I was really clear on what Mecca was," she says. "It was the very best products in the most beautiful space, a space where you would want to live with your best friends."
An early inspiration was the Hempel Hotel in London, a study in refined minimalism that married British restraint with Japanese zen. "The guiding principle was to make people feel good," she says now, as a waiter pops by with Horgan's order – a pot of hot water ("It's all I drink, ever. Well, that and gin. I'm already wired enough.").
From that first store in South Yarra, where she fatefully lost the first day's earnings, only to find them again 18 months later, Horgan has opened 105 more. Not every store mirrors the Hempel – many are more like beauty theme parks: loud, bright, a sensory overload of fragrance and colour. These stores make beauty fun and inclusive, like going to a party where everyone leaves looking just a little bit shinier.
"There's been a journey of learning and discovery over the past 25 years to make the stores more beautiful, more inviting … and you know, for me, it's a complete joy. It's a complete joy to buy Murano glass chandeliers from Italy for the Sydney flagship. Not for me to enjoy, but," she squeezes her fists together, "for everyone to enjoy! That is the Mecca magic."
That her empire is named Mecca is apt – working for Horgan requires matching her level of faith and optimism in the world, or at least striving to. The cheer might be a touch relentless, but there is no denying that the formula has worked. The "Mecca magic" that Horgan frequently intones stems from the idea that staff members should be empowered to make decisions to ensure their customers "look, and – more importantly – feel their best. That's it".
There is a saying at Mecca, she says, that it's always OK to do the wrong thing for the right reason. Like the time Horgan approved free express shipping on all orders during the first COVID-19 lockdown. That was a hit to the bottom line that allowed customers "to have their Mecca magic delivered".
Or the time the company had to pay retail prices for luxury fragrances in the Christmas holiday period, after a shipment worth half a million dollars was stolen in Marseilles. That hurt too, but as Horgan says: "You can't have a holiday without fragrance."
She speaks reverently of omotenashi, the Japanese philosophy of service. "Service is not subservient, it is a professional endeavour. Whatever you can do to make each experience exceptional, that is your gift not just to the customer but to the world. And we truly believe we are making a difference to the world.
"We have these values that we genuinely live by. Go and ask the team and they will know them." I ask a team member who laughs, nodding. "We all know them because the meeting rooms are named for them." At Mecca HQ you can book "Fake It 'Til You Make It" for your weekly team work-in-progress meeting, or "If You Don't Ask, You Don't Get" for performance reviews.
Power of education
For Horgan, the business is now at a place where she can take its mantra of empowerment magic, and spread it even further. "The first 10 years, I spent the entire time thinking: 'How do I make sure this thing stays viable? How do I make sure we are here, thriving, here to stay?'"
Now that it is thriving, her focus has shifted, but is no less intense. "Education has always been our lever, for our team and for our customers. So how much further does that go?"
In 2016, Horgan launched M-Power, Mecca's charitable arm. It works with partner charities such as Stars Foundation, which encourages Indigenous girls to continue their education, and Skyline Foundation, which helps young women in Victoria finish their secondary studies despite adversity.
It is a natural extension, she says, of Mecca's commitment to educating staff; Horgan says the business spends about 4 per cent of annual revenue on education and training. Senior leaders and retail staff attend annual conferences, where the likes of Julia Gillard, Gail Kelly and Horgan's own favourite motivational speaker, Jim Collins, have spoken.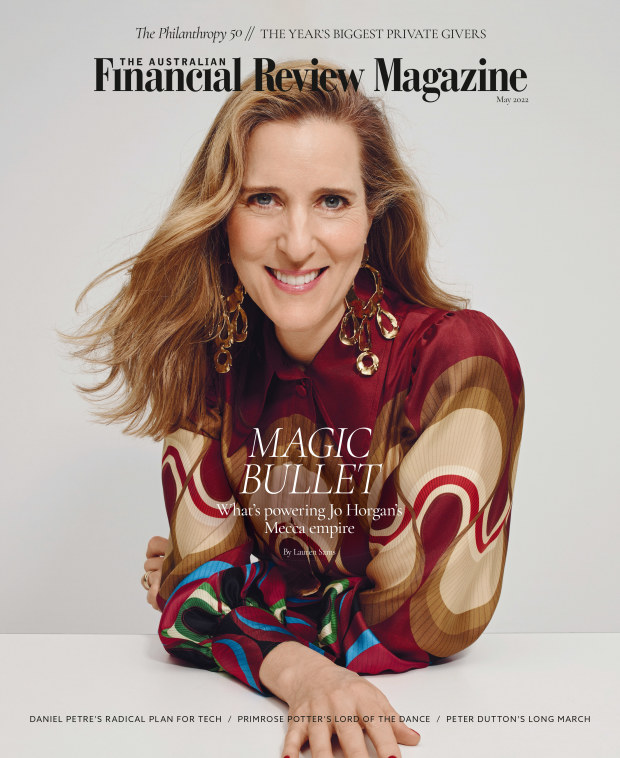 "Education was decided as the key lever for M-Power," says Lisa Keenan, executive director of M-Power. "Because it's been key to Jo's lived experience, and because it has been proven, time and again, to be a tangible way to effect change.
"The story that most people know about Mecca, and Jo, is about beauty," says Keenan, who has worked with Horgan, on and off, for close to 20 years. "But it goes much deeper than that. Really, it is about giving people the opportunities they need to thrive. They call it Mecca magic – has Jo mentioned that?"
M-Power grew out of a partnership that began in 2015 with the NGV. In it, an emerging female Australian artist would be commissioned to create packaging for Mecca during the Christmas period. A work by the artist would also be bought and displayed at the NGV's Ian Potter Centre.
Artists who've been selected include Naomi Hobson and Louise Zhang. Horgan sees it as a chance both for the artist to be exposed to a wider audience, and for her customers to be exposed to the artist. "And now," she says, her voice pitching higher as she becomes visibly more enthused, "customers come in asking for fresh sheets of tissue paper, so they can frame it as a work of art."
Jo needs to dream, and keeping the company private allows her to dream big, on her terms.

— Stephen Bennett, Country Road founder
She mimes folding the paper carefully, the way Mecca customers do. Of course, she lets them. Even if they don't buy anything. "One of the joys of having the best product in the world is that we can allow customers to experience it. Sample it to their heart's content. And when they are ready, they will come back. The magic is in the human interaction."
"She is Pollyanna," says a staff member of Horgan's. "She is earnest, really earnest. And I think that if you said that to her, she'd actually be really happy. That would be a compliment."
"Working with Jo is like having your fingers stuck in an electrical socket," says Keenan. "There is such energy and optimism in the business. That all comes from her."
Her mentor, Country Road founder Stephen Bennett, has met with Horgan every month for 25 years. "Her enthusiasm has not dimmed," he says. "And I think part of that is because the company is still private, so it's not just about chasing the bottom line. Jo needs to dream, and keeping the company as it is allows her to dream big, on her terms."
Jeweller Sener Besim worked with Horgan at the now-defunct department store Georges, where Mecca had an early concession. "She is phenomenally thoughtful," he says. When his daughter turned three, Horgan bought a galaxy projector so she could sleep under stars in her bedroom, having remembered that Besim once told her that all life originates from stars.
Zoe Foster Blake owns Go-To Skincare, stocked at Mecca, and has known Horgan for nearly two decades. She is effusive in her praise, saying that Jo and her team have kept pace in an industry that moves at breakneck pace. "It is incredibly impressive, and takes more work than most imagine."
Evolution of an entrepreneur
Looking at Horgan now, it feels preordained that she would be here, at the top of a beauty empire that has all but toppled the department stores and has left LVMH-owned Sephora in the dust. She doesn't see it that way.
"I'm not sure anyone is truly born an entrepreneur," says Horgan. Her words come more slowly now. This is Horgan the business owner: canny, shrewd, clever. (She describes her mother as "an iron fist in a velvet glove" and the apple, it seems, has not fallen far.) "I think circumstances help usher you onto that path. The fact that I had two parents who were entrepreneurs made it easier for me to visualise going down that path."
Horgan's parents, who brought her to Australia to live at 14, had their own businesses: her mother ran a mail-order fashion start-up; her father owned factories that made yarn and clothing for the likes of Marks & Spencer.
At L'Oreal, where she worked in marketing after graduating from Boston University (she completed a master's in mass communication, at one point musing on a career in journalism), an entrepreneurial approach was encouraged.
"That gave me the confidence that I could problem-solve," she says. She realised early that she wasn't fabulous at being a tiny cog in a big machine, which "ticked me over into an entrepreneurial space". Perhaps the biggest contributing factor to Horgan's success as a founder and empire-builder, she says, was her choice of life partner.
"As Sheryl Sandberg says, the most important [career] decision you'll make is the partner you choose, if you choose to have one. Pete's job at BCG gave me real independence and the space to be an entrepreneur. And he was super-supportive of me doing it, and he participated from the beginning. He was super-seminal in the business.
"Circumstances gave me the stepping stones to an entrepreneurial outcome," she says. "But some of it is instinct. I am naturally optimistic, I am quite bloody-minded, I am naturally curious. And I was always willing to work hard."
When Peter Wetenhall and Jo Horgan became engaged, instead of buying rings, she suggested they buy a piece of art by Gordon Bennett. "I love it to pieces," she says. Art and architecture have always appealed. Upon arriving in Melbourne to work for L'Oreal, she enrolled in a short course in Australian art run by Christie's auction house. "We would trundle down to the NGV and learn all about this incredible country and its art. And I was just fascinated."
Now, she is sitting at the very same gallery, appointed to its foundation board since 2013. She is one of a small but mighty coterie of female philanthropists who've made it their mission to prop up the Australian arts industry: Judith Neilson, Gretel Packer, Gene Sherman, Naomi Milgrom, Krystyna Campbell-Pretty.
At this, Horgan shrugs. "If not me, who?" she says. It is an echo of something Tatiana Bilbao said in her conversation on stage with Horgan that morning: if you want to see change, you must enact it yourself.
Horgan insists that she is not on the same level as the likes of Sherman or Neilson. "What I'm doing is not what they have done." But, she adds, "It's brilliant that they are being overt about what they are doing. They are leading a necessary charge for others to follow; not only women but anyone who recognises that the arts are for everyone."
Tony Ellwood is one of those people. The director of the NGV can't remember exactly when he met Horgan. But he recalls a sense of "lightning in a bottle". "Jo is quietly powerful," he says. "She is clear on what she wants, but it's all done very elegantly, very determinedly, out of the spotlight. There is a great humility to her, underpinned by great positivity."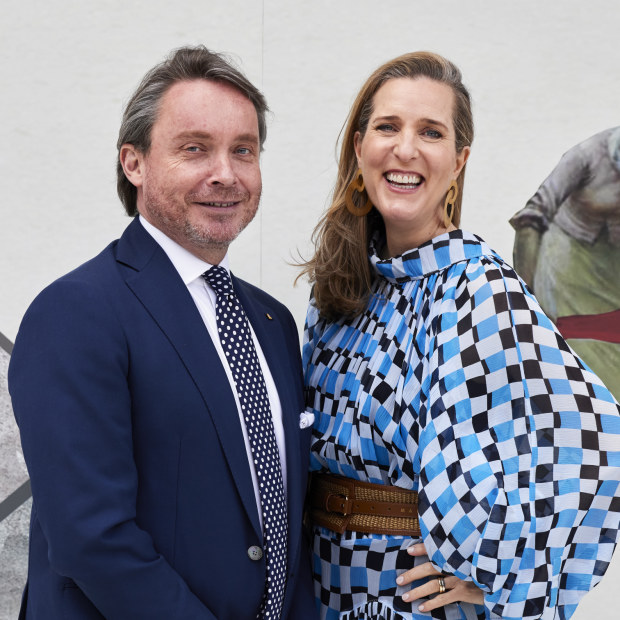 It could have been the Jo Horgan x NGV Women in Design Commission … but as ever, it is Mecca's name in lights rather than Horgan's. "The thing about Mecca is that it is Jo all over," says a Mecca team member. "It's her personality, it's her aesthetic, everything. But at the same time, she never wants it to be about her. It's always Mecca. She could have called it Horgan's, or something. But it's bigger than her."
Horgan is asked "a lot" about her future plans. "I love what I do, on all different levels," she says, after feigning offence that in asking "what's next?" I've suggested she ought to think about retirement. "It's intellectually challenging. We are genuinely trying to make a difference to our team members' lives and our customers' lives. And I really do believe there are infinite possibilities from here.
"We have a voice and a responsibility now. We have over 4 million women on our database. We have an incredible connection with our customers. So how do we use that for good?"
She says she has no plans to step back in any capacity. But after 25 years, she would like to pay more attention to M-Power. In September, the work by Bilbao will be unveiled at the NGV, and a new M-Power leadership team will be announced. Once the program is finished, all five pieces will be part of a major exhibition.
"You know that saying about the first 20 years, you're getting it all together; the next 20 years, you're living; the next 20, you're meant to be giving back. So we are reaching that horizon." Not quite – Mecca is 25, though Horgan is 53. It's possible she was referring to herself, using the royal "we", but more likely still that she sees Mecca as indistinguishable from herself. She is reaching the giving-back stage, and so too is Mecca.
Horgan is quick to remark that, whatever the focus she gives to M-Power, her philanthropy is fuelled by her business. Being involved in the business is good for giving. "I can't really be philanthropic, to the same degree, without Mecca firing on all cylinders."
There is no true end game to Horgan at Mecca, nor to Horgan's philanthropy. Both are ambitious and sprawling; works in progress that have no end point because, well, the world can always be more beautiful. For Horgan, leaning in and giving back are one and the same.
"If we fix education, and get girls educated to the level they need to be, then everything – economic participation, health, safety, political representation – changes," she says, choosing her words carefully, slowly and reservedly. "That's what I want to lean into."
And then Horgan's face lights up. "But you know, there is just so much to do! The Bourke Street Mall store is opening next year. And that's great fun, great fun." As she clasps her hands in front of her face with eyes wide, I ask if she can tell me anything about the store, apart from the fact that it will be positively enormous. "No! I'll get in tremendous trouble. But hold on to your hat, Dorothy. Click those heels. It'll be so exciting."
The May issue of AFR Magazine, the Philanthropy issue, is out on Friday, April 29 inside The Australian Financial Review. Follow AFR Mag on Twitter and Instagram.

https://www.afr.com/life-and-luxury/fashion-and-style/where-this-rich-lister-is-taking-her-beauty-empire-next-20220314-p5a4gm