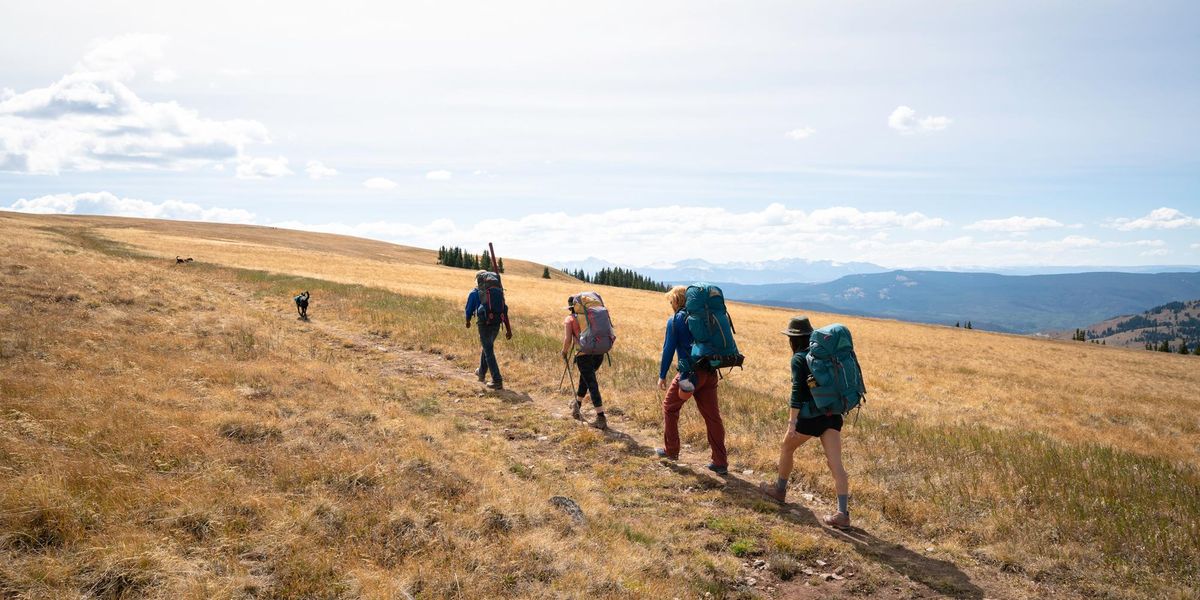 What to Know for Those Considering Backpacking
Nothing quite compares to the sensory experience of communing with nature—the feeling of an uneven
Nothing quite compares to the sensory experience of communing with nature—the feeling of an uneven dirt path below your boots, sounds from the wind moving through a tree canopy above, and breathing in fragrant forest air that smells of soil and leaves baked in the warm sun. The last year and a half has emphasized the restorative powers of spending time in the wilderness, and backpacking, specifically, is a reliable way to rehabilitate your sense of calm.
"The silence, beauty, smells, and removal from everyday distractions that hold you in the moment. The feeling of a body working hard, seeing the stars in their magnificence, and having time to reflect," Barbara Angell says of what draws her to this lifestyle. The California native who grew up surrounded by towering trees has been backpacking for 45 years and reflects on her first trip—35 miles from Big Sur Station over the mountains to Arroyo Seco—as momentous. "After finishing, we had to hitchhike back to our car in Big Sur. Luckily, we were able to catch a few rides, and in Carmel a truck picked us up and as we traveled down the coastline to Big Sur, the sun was setting and the air was warm and it left an impression that lasted a lifetime."
These types of watershed moments aren't uncommon when backpacking. In contrast to regular camping, adventuring into the backcountry offers an opportunity to escape the crowds and cultivate "an appreciation of the beauty of silence," as Angell puts it. "With backpacking, you can go far beyond where the day hikers are, or the car campers, finding solitude and some of the most beautiful untouched areas that are totally off the grid," Kelty's Nels Larson tells Coveteur. "It takes time and effort, but it's worth every second. With a little research, the right gear, and a solid backpacking buddy, it'll be an experience you won't forget."
If you've never backpacked before, Larson defines it as an overnight or multi-day hiking trip with all your gear carried in your backpack. No cars, no coolers, no toilets—just you and the unknown frontier. Below, a first-timer's guide to backpacking, including where to go, what to pack, and safety tips to keep in mind whilst off the grid.
Length & Group Size
"There's no reason to shoot for the stars on your first backpacking excursion," Larson says. He suggests giving it a test run to work out the kinks. "A good first-time trip is six to eight miles round-trip and two nights, tops." As for group size, he recommends starting small. "For first-timers, go for groups of no more than four people. Save inviting the full group chat for day hikes or lakeside cookouts."
Go-To Gear
Backpacking gear isn't what it used to be, and that's a good thing. "When I first carried a pack climbing Mt. Whitney, it weighed over 70 pounds. Now, with lightweight equipment, it comes in at under 35 pounds," Angell says. "Equipment has improved immensely. Backpacks are better constructed, and the material is lightweight and water resistant." Because your pack is responsible for holding all your stuff, it's important to invest in the right one. Larson suggests 55–65 L as a good size for a weekend backpacking trip. Other must-haves he advises bringing along include a lightweight tent that's easy to set up. You'll also need a sleeping bag and pad (look for sleeping bags that are rated for 20 degrees, just to be safe). Outside the tent, Larson says a stove and fuel as well as plenty of food and water are necessary. You'll need a first-aid kit, knife or Leatherman tool, a headlamp, sun protection (sunglasses, sun-protective clothes, sunscreen), and some sort of navigation device, whether it's an app with offline capabilities, a compass, GPS device, or something in that vein to help you keep on route and avoid getting lost.
Routes For First-Timers
Half the fun (if not more) of backpacking is choosing a destination. If you're just starting out, you'll want to go somewhere that offers shorter backpacking routes. "Consider choosing a spot with a short destination and abundant water supply. The less water you have to haul, the better for your back," Larson says. One of his favorite spots is Lower Crystal Lake in Breckenridge, Colorado. "You can camp at Lower Crystal Lake and use it as a base camp to head to Upper Crystal Lake for a day hike the next day," he adds. "Besides being a beautiful alpine lake, it's a great viewing spot for mountain goats and bighorn sheep." If you're not keen on sleeping in a tent for your first foray, consider an option where you can backpack to a hut. "For example, you can book the hut just below the lake. It's called Francie's Cabin, and it's one of my favorites—it even has a sauna." Other first-timer routes recommended by the National Park Foundation include the Hoh River Trail in Olympic National Park, Washington; Elam Loop in Redwood National Park, California; and Big Meadows & Rose River Loop in Shenandoah National Park, Virginia.
Outdoor Attire
First-time backpackers should keep two key things in mind when packing their clothes. First, keep your load light and dress for layered warmth. Second, don't forget the adage that cotton is rotten. "Unlike technical wicking fabrics, cotton holds moisture—with clothing, this will mess with your body's natural temperature control," Larson explains. "And with socks, cotton is basically blister city." For a two-night trip, he recommends the following packing list: One pair of quick-dry hiking pants or leggings; two or three moisture-wicking and quick-dry t-shirts; one wool base layer set (top and bottom); one mid-layer; one warm jacket; one rain jacket; three or four pairs of hiking socks; one pair of hiking boots; one pair of camp sandals; two or three pairs of underwear; a hat to protect from the sun; and a beanie for cold nights.
How to Train Your Body
Angell's advice for adequately preparing your body for a backpacking trip is to start by walking longer distances and then putting a backpack on with weights and walking. "Start off small, do a short three- or four-mile hike, and learn how to use your equipment in the best of conditions," she says. "Set up your tent beforehand to get familiar with how it works. Have a map—many trails do not have access to WIFI. Have a filtering system for water, have layers of clothes, always have rain gear even if there is no report of bad weather." On your first trips, she explains, you become aware of what you need and what you don't. "Over time, you understand what is essential and what is not."
Backcountry Cuisine
Camping typically entails nostalgic food like hot dogs and s'mores. Unfortunately, a cooler is far too inconvenient to bring along on a backpacking trip, so you'll need to readjust your culinary cravings—but don't worry, it's not as bleak as it sounds. "The freeze-dried food available now is tastier," Angell says in comparison to when she first started backpacking. "There is also a greater understanding of the needs of the body for hydration and food on long hikes." Larson suggests that you should plan to bring along about two pounds of food per person per day, and that you should choose a balanced blend of foods that are relatively nutrient dense. "This could include vacuum-sealed tuna fish, jerky snacks, peanut butter packets, meal replacement bars, and so forth," he says. "Also, high-carb, high-sodium foods (pre-packaged mac + cheese is the Kelty staff go-to fave) are great for quick energy and fluid management on the trail."
A Fed Bear Is a Dead Bear
Larson offers a handful of safety tips that benefit every backpacker. "Be very familiar with the weather forecast and potential for any weather change," he says. "Don't summit peaks in the late afternoon, as storms are sure to blow in." He also recommends double-checking the status of nearby water supplies (you need about a half liter per hour for healthy hydration). You should also make sure you've worn in your hiking boots before hitting the trail to help with blister prevention. And lastly, never, ever keep food (or anything fragrant like toothpaste) in your tent at night. "Anything edible or smelly like those items can attract critters or creatures. Make sure to bring a bear box if needed for bear country, or hang your food [downwind] in a tree away from your tent if you're not in a place where a bear box is required," he says. Remember: If a bear breaks into your food, it will continue returning and become more comfortable around humans and likely more aggressive, which often results in euthanizing the bear; it's not just about protecting yourself, it's about protecting the future of wildlife.
Backpacking Dos and Don'ts
Wondering if there are any backpacking rules? There are a few to abide by when backpacking—many pertaining to the Leave No Trace principle. "Pack it in, pack it out. If you bring it into the backcountry, you've got to bring it out," Larson says. "Things like trash and food waste should not be left in the backcountry. No, that banana peel shouldn't be left to 'biodegrade'—bring it back with you!" Another big one is disposing of human waste properly. "Educate yourself on digging cat holes, and plan to pack out your toilet paper," he says. "We bring Ziploc bags to help pack trash out and keep it separate." Also, be sure to choose a campsite that's already established or has a durable surface to minimize impact. "Avoid camping close to water and trails," Larson says. "Some locations will even tell you how close you can camp to the lakes."
window.REBELMOUSE_ACTIVE_TASKS_QUEUE.push(function(){
window.REBELMOUSE_STDLIB.loadExternalScript("https://htlbid.com/v3/coveteur.com/htlbid.js", function() {
});
});
window.REBELMOUSE_ACTIVE_TASKS_QUEUE.push(function(){
!function(f,b,e,v,n,t,s){if(f.fbq)return;n=f.fbq=function(){n.callMethod?n.callMethod.apply(n,arguments):n.queue.push(arguments)};if(!f._fbq)f._fbq=n;n.push=n;n.loaded=!0;n.version='2.0';n.queue=[];t=b.createElement(e);t.async=!0;t.src=v;s=b.getElementsByTagName(e)[0];s.parentNode.insertBefore(t,s)}(window, document,'script','https://connect.facebook.net/en_US/fbevents.js');fbq('init', '1248680838922690');fbq('track', 'PageView');
});
window.REBELMOUSE_ACTIVE_TASKS_QUEUE.push(function(){
window.REBELMOUSE_STDLIB.onElementInViewport({ threshold: 400, selector: "video", oneTime: true, onIntersect: function(entry){ var element = entry.target; element.setAttribute("allow","autoplay"); element.loop = true; element.muted = true; element.autoplay = true; element.setAttribute("playsinline","true"); //element.controls = false; element.play(); } });
});
https://coveteur.com/backpacking-tips