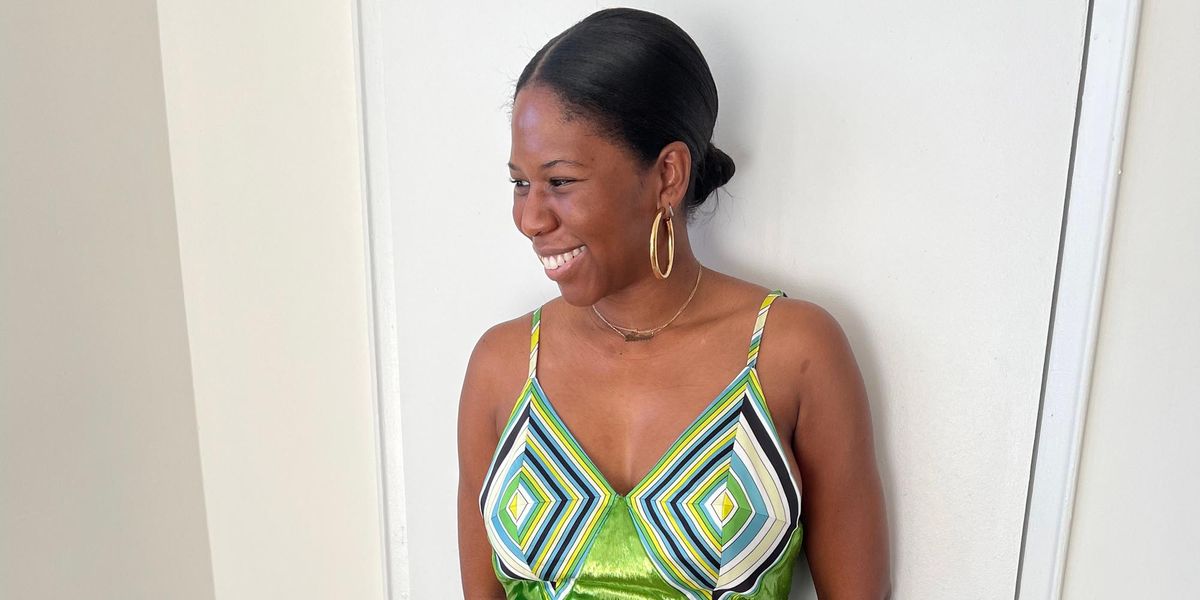 What Fashion Editors Wear to Holiday Parties
Amidst this festive season, few embark on a greater list of holiday soirées than fashion
Amidst this festive season, few embark on a greater list of holiday soirées than fashion editors. Their calendars often bear the weight of two, three, four parties per night leading up to the holidays. Combine packed schedules with an albeit required knowledge of this season's collections and it's safe to say they've whittled the notion of holiday dressing down to a science. We've asked five editors from a few of our favorite magazines to recount their approach to holiday dressing. They're sharing tips for staying warm, office-to-party dressing, and, of course, accessorizing that you will hopefully be able to apply to your own party circuit this season.
Style & Interiors Writer, Town & Country
Photo: Courtesy of Olivia Hosken
"I am bizarrely practical for a fashion writer. Typically, I go to two to three parties in any one evening, so first I check the weather and estimate how much time I'll be spending running around to make sure I have the right shoes and coat—no matter how fab an outfit is, I don't want to be fussing with it all night, I want to have a good time. And you know what? A giant cozy fur (faux!) and sparkly kitten-heels can be just as sexy as stilettos and a mini-dress, even more so because I can prance all over the place instead of shivering in a corner.
"That doesn't mean I don't like to go a little over-the-top. The holidays are a great excuse to bust out chiffon, lace, and oversize bows, like I am an extremely fancy child. If I am in the office all day and don't have time to change for a party, I'll wear a black silk top and high-waist black trousers, with a dramatic cat-eye and a giant red bow in my hair. If the party is black-tie or extra special, I'll borrow or rent something spectacular and take on a different fashion persona for the night. No matter what, I pay very close attention to tailoring—the dress needs to do all the work! Markarian, PatBo, and Self-Portrait won't let you take a bad photo, I promise.
"My real secret is that I am shameless about repeating combinations that I know work well for me, usually bodycon styles or anything cinched at the waist. I also love a short, swingy silhouette, which can be forgiving if I am well into the party circuit and maybe not feeling like putting everything on display, you know?
"Similarly, I rely heavily on a black cat-eye (I buy the kind with a stamp for a perfect flick each time) or a red lip—and never both at once—they go a long way to elevate even the most basic outfits. I keep jewelry simple, only layering a few pieces on top of my everyday set—right now I have these baroque pearl drops in heavy rotation because the way they frame the face is so flattering and you can never go wrong with pearls.
"Purse straps can completely ruin the line of a great party outfit, so I always opt for a clutch or stuff everything into my coat pockets—although I have my eye on the Mansur Gavriel cloud wristlet as a little Christmas gift to myself. And if it is a friend's party, show up with a bottle of chilled champagne, the most festive accessory of them all!"
Photo: Courtesy of Kia Goosby
"This season, but also just for life in general, my approach to holiday party style is choosing an outfit that is easy and I feel the most comfortable in. Nine times out of ten, I opt for a dress. They are my go-to's that require little effort, especially when you find the dress. The moment that I saw this Christopher John Rogers dress, I knew it was the one for me. It checks all of the boxes with its classic silhouette, perfect shade of vibrant green, and interesting details with the printed straps and bust. It's a true statement-making dress.
"With a statement dress, I would need a shoe to compliment the outfit. Normally, this is a bit more color than I would generally go for, but I love the vibrancy of this look and the colors together just feel perfect for the holidays. It's important to choose a shoe that is as equally amazing as it is comfortable.
"Completedworks makes some of the most beautiful jewelry pieces and these stunning intertwined strands of freshwater pearls scream festivity for the holidays. I love classic jewelry pieces that don't feel too costume-y but rather serve as something you can wear day or night."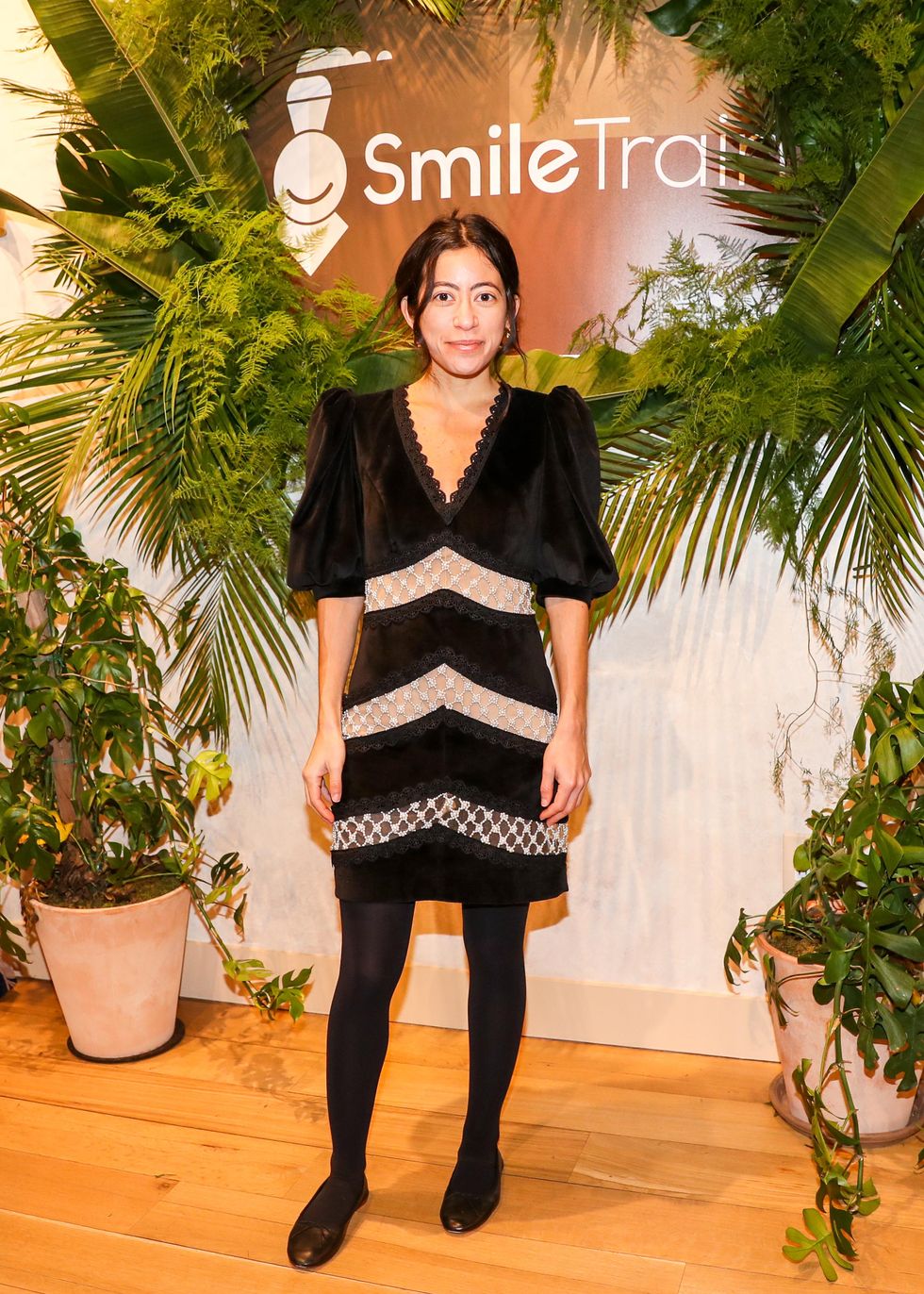 Photo: Neil Rasmus/BFA
"When it comes to holiday party outfits, I prefer to do less. A fun dress, black tights, and fancy-ish flats are pretty much all you need. (You'll thank me later for the footwear suggestion—there are never ever seats at these things. Why?).
"This PatBo dress has everything: luxe velvet, pearl beading, and made-you-look nude panels. It's a holiday party home run. I picked up these tights in Italy when the temperatures unexpectedly dropped the day of my friend's wedding—they're the perfect cross between opaque and sheer. And I'm always cold.
"There's zero shame in the flat game, especially when I'm running around like crazy. [I'll add] my go-to hoops that quite literally make every outfit look better. [And clips] because I simply can't do my hair every single night."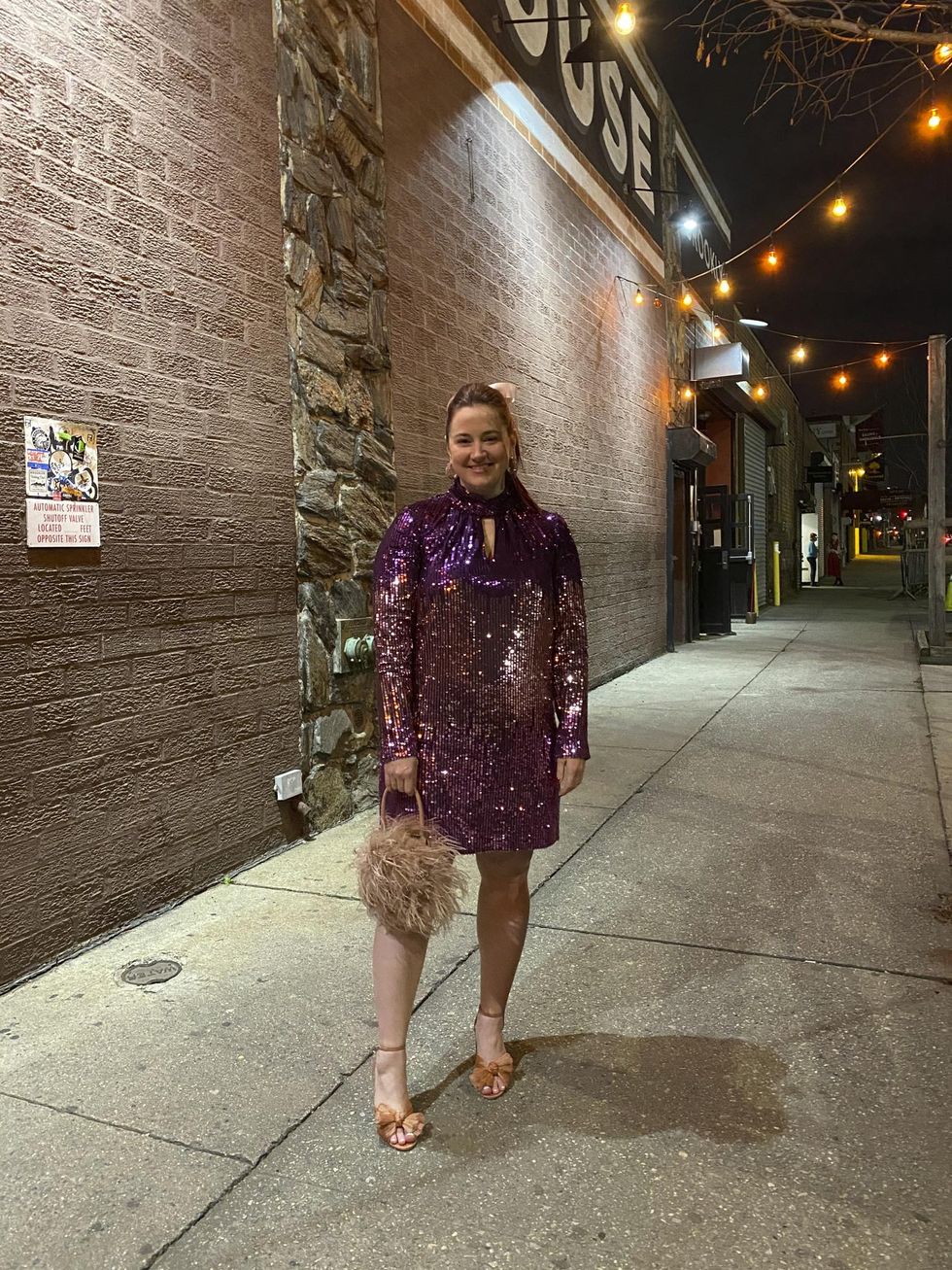 Photo: Courtesy of Tyler McCall
"I am a 'more is more' kind of girl when it comes to getting dressed under the most mundane circumstances, but I definitely use the holidays as an excuse to turn things up even further. If it's shiny or sparkly or lush, it fits the bill for what I want to wear all season long. Regular standbys include a rack of party-ready dresses, fun tights, statement shoes (even better if they're platforms—lately, I can't get enough of the extra height), and over-the-top hair accessories—and yes, I absolutely will wear them all at once!"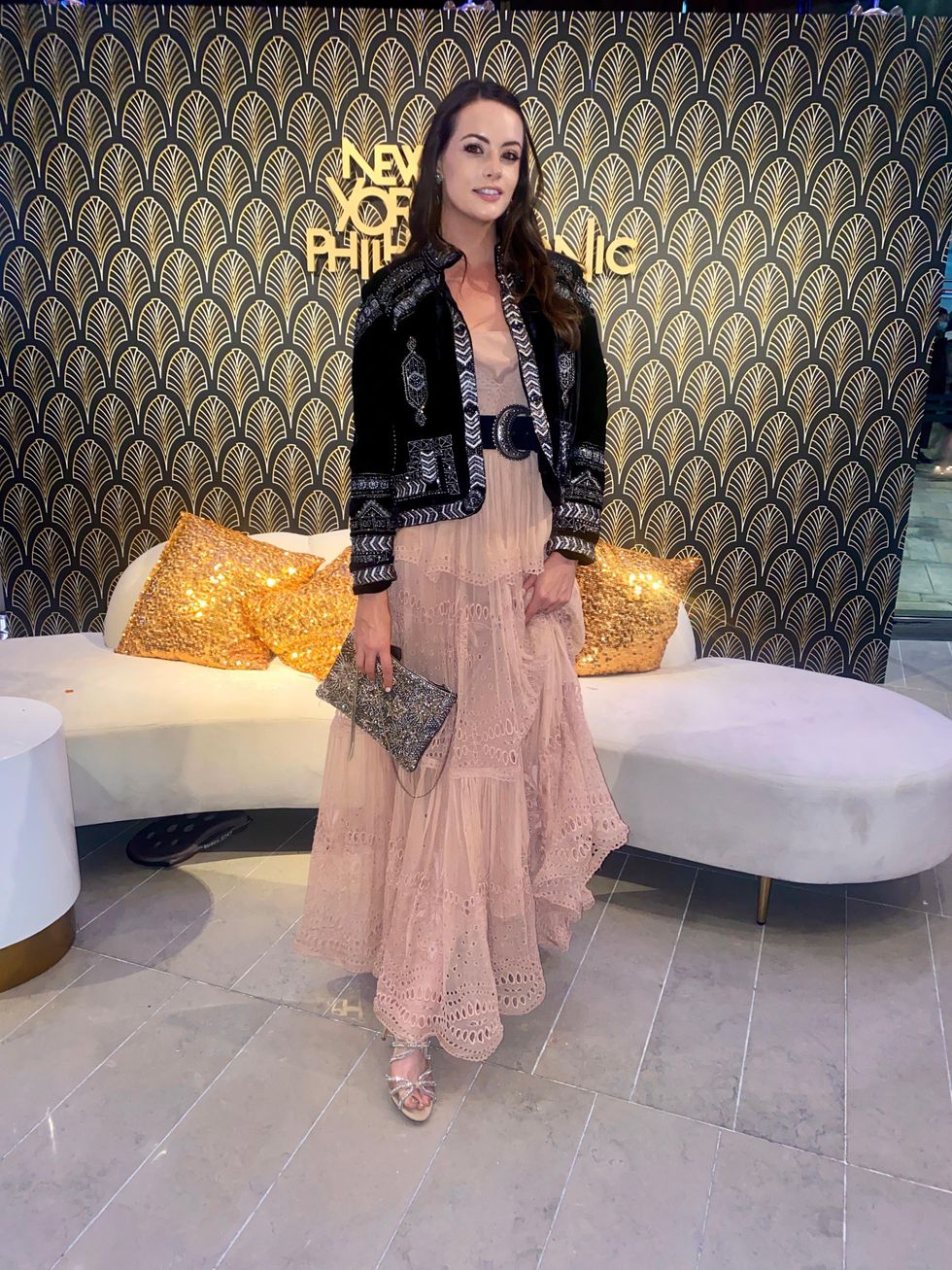 Photo: Courtesy of Freya Drohan
"Outfit planning for a party should feel like a pre-game in itself. I need to be excited by what I'm wearing if I'm going to have a good time! I usually pin point one thing that I want to be the star of the show—it could be as small as a piece of jewelry or the dress itself—and then try to juxtapose the other elements. I think a failsafe way to ensure your outfit is unique is to mix something high, something low, and something vintage/pre-loved. Or mix your genres: like Victorian with '70s or rock n' roll.
"My taste and my bank account are definitely not in sync, so I default to The Real Real for finding unique gems, like evening shoes, bags, and belts, that stand out. This season, I'm drawn towards pieces that are feather-trimmed, winter white, and with diamanté or rhinestones details. These Alexandre Birman princess-worthy mules, which I wore at the Philharmonic Gala with an Alberta Ferretti dress, will go with everything and anything. I'm also begging Santa for this Jimmy Choo bag, which I think about every hour on the hour. I'll probably spill red wine on it as soon as I take it out on the town—ahh well, 'tis the season!"
window.REBELMOUSE_ACTIVE_TASKS_QUEUE.push(function(){
var makeMonitor = (getStatus, cb, delay) => { delay = delay || 100; var monitor = () => { var time = +new Date(); var status = getStatus(); if (status) { return cb(status); } else { if (!stopMonitor && +new Date() - time < 30 * 60 * 1000) { monitorId = setTimeout(monitor, delay); } else { cb(false); } } }, cancel = () => { stopMonitor = true; clearInterval(monitorId); }; let monitorId, stopMonitor = false; return { start: monitor, cancel: cancel, }; };
var leftArrowCarrousel = makeMonitor( function () { return document.querySelector( ".shop-sidebar.shop-posts .posts-wrapper .slick-next" ); }, function (res) { res.addEventListener("click", () => { gtag("event", "Left Arrow Click", { event_category: "Shopping Module", event_label: "Previous product at carrousel", }); }); } );
leftArrowCarrousel.start();
var rightArrowCarrousel = makeMonitor( function () { return document.querySelector( ".shop-sidebar.shop-posts .posts-wrapper .slick-prev" ); }, function (res) { res.addEventListener("click", () => { gtag("event", "Right Arrow Click", { event_category: "Shopping Module", event_label: "Next product at carrousel", }); }); } );
rightArrowCarrousel.start();
var buyButton = makeMonitor( function () { return document.querySelectorAll( ".shop-sidebar.shop-posts .posts-wrapper .widget__product-buy-link-btn" ); }, function (res) { for (let button of res) { button.addEventListener("click", () => { gtag("event", "Buy button click", { event_category: "Shopping Module", event_label: `${button["href"]}`, }); }); } } );
buyButton.start();
var imageShopp = makeMonitor( function () { return document.querySelectorAll( ".shop-sidebar.shop-posts .posts-wrapper .widget__head a" ); }, function (res) { for (let image of res) { image.addEventListener("click", () => { gtag("event", "Image click", { event_category: "Shopping Module", event_label: `${image["href"]}`, }); }); } } );
imageShopp.start();
var productTitle = makeMonitor( function () { return document.querySelectorAll( ".shop-sidebar.shop-posts .posts-wrapper .widget__headline .widget__headline-text" ); }, function (res) { for (let product of res) { product.addEventListener("click", () => { gtag("event", "Product title click", { event_category: "Shopping Module", event_label: `${product["href"]}`, }); }); } } );
productTitle.start();
});
window.REBELMOUSE_ACTIVE_TASKS_QUEUE.push(function(){
window.REBELMOUSE_STDLIB.loadExternalScript("https://s.skimresources.com/js/150311X1615657.skimlinks.js", function() {
});
});
window.REBELMOUSE_ACTIVE_TASKS_QUEUE.push(function(){
!function(f,b,e,v,n,t,s){if(f.fbq)return;n=f.fbq=function(){n.callMethod?n.callMethod.apply(n,arguments):n.queue.push(arguments)};if(!f._fbq)f._fbq=n;n.push=n;n.loaded=!0;n.version='2.0';n.queue=[];t=b.createElement(e);t.async=!0;t.src=v;s=b.getElementsByTagName(e)[0];s.parentNode.insertBefore(t,s)}(window, document,'script','https://connect.facebook.net/en_US/fbevents.js');fbq('init', '1248680838922690');fbq('track', 'PageView');
});
window.REBELMOUSE_ACTIVE_TASKS_QUEUE.push(function(){
window.REBELMOUSE_STDLIB.onElementInViewport({ threshold: 400, selector: "video", oneTime: true, onIntersect: function(entry){ var element = entry.target; element.setAttribute("allow","autoplay"); element.loop = true; element.muted = true; element.autoplay = true; element.setAttribute("playsinline","true"); //element.controls = false; element.play(); } });
});
https://coveteur.com/fashion-editor-holiday-party