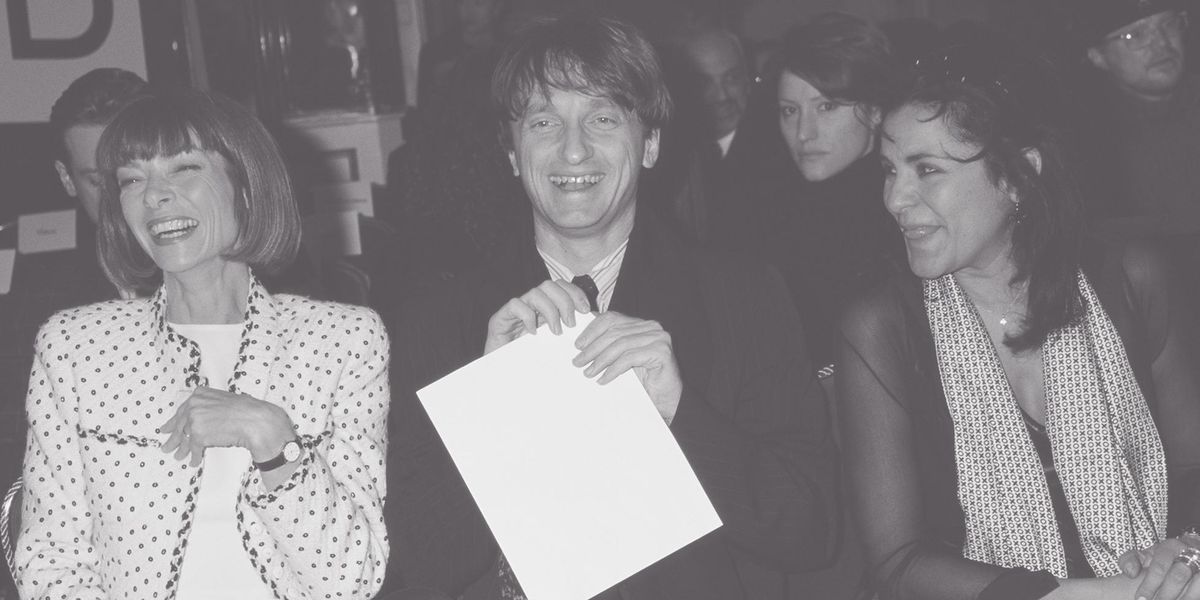 What Fashion Criticism Looks Like in 2021
A couple of months ago, GQ's Rachel Tashjian changed her title from staff writer to
A couple of months ago, GQ's Rachel Tashjian changed her title from staff writer to fashion critic. The reporter and all-around fashion connoisseur covers everything from Hedi Slimane's latest collection for Celine to Kanye West's Donda listening party, but does so in a way that reaches beyond what's going on on the surface and links fashion to cultural commentary. This title change didn't necessarily parallel a shift in her work, but instead came from a conversation between herself and editor-in-chief Will Welch about the kind of work Tashjian was already doing.
Welch's approach, which Tashjian describes as somewhere between super modern and totally old-school, was to rejuvenate this idea of the critic before it died with the industry's gatekeepers—the Cathy Horyns, the Tim Blanks, the Vanessa Friedmans, the Robin Givhans, among others. The social-media-fueled democratic state of the industry did not provide a favorable habitat for the fashion critic. Though as the pendulum swings back towards thorough reporting, they might just thrive again.
Tashjian states that her central task as a critic is to track progression in collections and the greater fashion world. In its connotation, fashion criticism is commonly associated with the ability to express when something is lacking. Historian, curator, and co-host of The Fashion Victims podcast Danrell Jamal explains that critics of previous generations were not hindered in this fashion. "Looking through older copies of Vogue, Harper's Bazaar, Seventeen, or even WWD, for instance, you can see how journalists were going in on a variety of designers. They did not have a filter. If something was great, they celebrated it. If it fell flat, they expressed that," he says, ahead of noting that the same wouldn't fly in today's world.
The 2010s saw a sort of lull in this sort of fashion criticism. When a publishing house has advertising dollars tied up with a brand, it becomes very difficult for a writer on staff to straddle the desire for an authentic review with the need to satisfy executives. The advertisers, the branded content, the influencer, the consumption cycle—it all diluted the poignancy of the criticism. Darnell reflects that in 2021, "everybody gets a medal, everybody gets a gold star."
In tandem with disputes over the severity of criticism often comes this debate between insider versus outsider, in other words, the need to distance yourself from the industry to provide a more objective take. Givhan, who won the first (and only) Pulitzer Prize for fashion criticism at The Washington Post, repeatedly cements herself as someone who works in journalism rather than fashion. Cathy Horyn, critic-at-large for The Cut, told the Business of Fashion that younger fashion critics were "smart to protect their position as industry outsiders."
If Tashjian is the ultimate insider, newcomer on the scene Luke Meagher of Haute le Mode at least began as the ultimate outsider. The 24-year-old made a name for himself on youtube videos that criticized or "roasted" various aspects of the fashion industry—frequent targets include Maria Grazia Chiuri of Christian Dior and Virginie Viard, Karl Lagerfeld's successor at CHANEL. In one video from October 2020 titled "ROASTING LONDON FASHION WEEK SPRING 2021 (burberry should be burburied)," he states, "I believe that's meant to be a fringe on the sleeves, but alas, that's lost in translation here and just looks like a crystallized glob of fabric and adornment."
Meagher reveals that his followers have recently called him out for skewing too "nice" in his reviews, to which he counters that the more he learns, the more nuanced these arguments and critiques become. "I would say four or five years ago, I used to be a lot more angry about it," he explains of the perceived lack of genuine criticism. "Now I'm at a place where I understand the context. It is very hard to work in fashion media and to remain as an outsider who says whatever they want and feel about a collection, a brand, or movements within these companies because it does become very isolating in terms of how brands respond to you." It's not unheard of for brands to ban journalism from a fashion show after a bad review—though what would it mean to be banned from a virtual show? Meagher emphasizes that good criticism requires access. "I think you have to actually be in a space to be able to see clothes, feel clothes, touch clothes, talk to designers."
Marah Abdelal, owner of the popular fashion twitter account @vogueheroine, believes this is the purpose critics serve, to be the ones in the room. "They experience the show and they get to talk to the designer so they can explain more about the collection," she explains, whereas she does not have access to the designers, the clothes, or the shows—not even the show notes.
Though often lumped into the wave of young online critics, Abdelal doesn't consider herself a critic but instead sees herself more as a general conveyor of fashion knowledge. She favors Twitter as a medium because of its emphasis on engagement. "I can tweet my opinions, my insights, what I think about the news, what I think about the shows. People engage. They reply. Sometimes I am wrong, and they correct me so I learn. So I think it's all very helpful."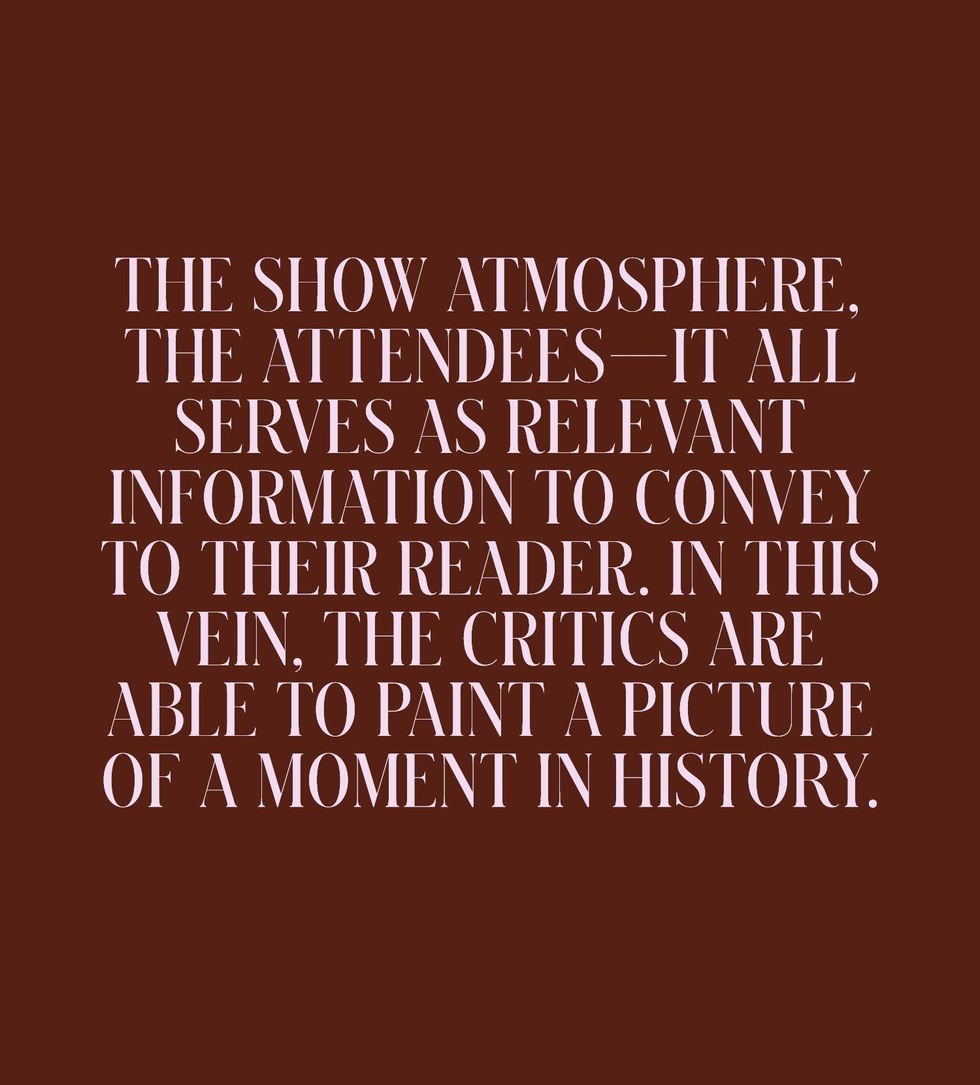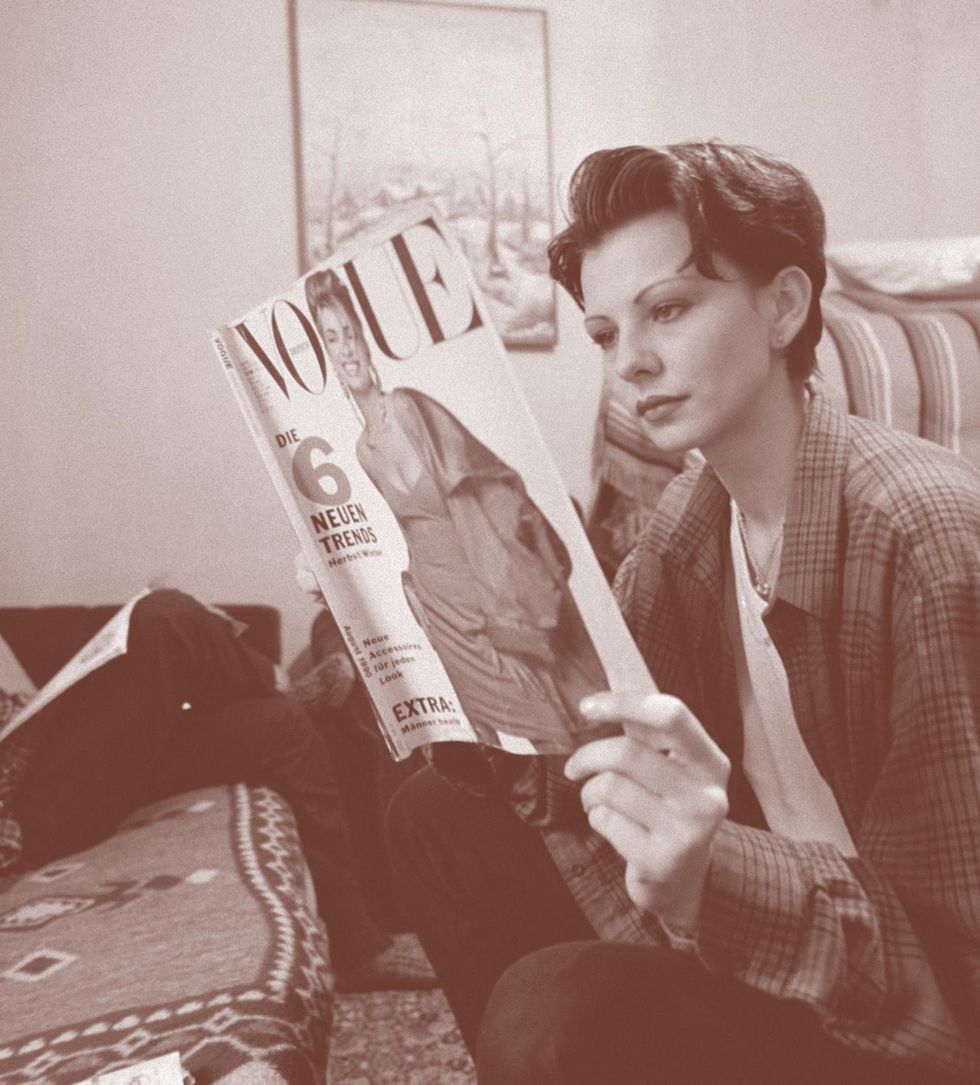 Her focus is on translation. Figures like Tashjian put the show in context for the fashion-obsessed. From there, Abdelal helps her followers understand what these critiques postulate. As her following ranges outside the high-fashion Twitter community, she treads with caution in terms of the language she employs for a more inclusive approach. "I'm trying to use terms that are easier to understand for people who are not in the industry or do not know much about the industry." This relay-like process depicts an ecosystem where each level performs an essential task.
Despite decades of evolution, criticism often harkens back to this idea of the show review. As Abdelal mentioned, many houses only offer interviews around the launch of a new collection. On top of that, "I think the show gives you an anchor to write about other things," says Tashjian. "[It] is the designer fleshing out what it is that they want to say with the collection and articulating how what they're doing connects to the larger [moment in] culture or is a comment in some way on something else that's going on."
There's often a divergence between what sells and what garners cultural respect, a disconnect between the runways and the business of it all. "I've come to scale back the roasting, really, because I have a wider understanding that [fashion] is a business and things have to sell," adds Meagher. "Just because a shirt is maybe 'boring' to us as viewers, a customer might really be drawn to it."
Heather Gramston, head of Womenswear for Browns Fashion, weighs in, explaining that, "Whilst an individual critic and the wider industry reaction to a show is always a discussion point for the buy team during market period, when it comes to actually placing our buy, it's not generally a factor that comes into play." When her team conducts its own review, they consider a number of factors at play, from their consumer data to a brand's sustainability and inclusivity. Not to mention, ready-to-wear collections are not the money-makers for most luxury brands—that would be fragrance and accessories.
While criticism may not dictate purchasing habits, examining consumer behavior can serve as a form of criticism. Both Tashjian and Meagher evaluate more than the clothes on the model. The show atmosphere, the attendees—it all serves as relevant information to convey to their reader. In this vein, the critics are able to paint a picture of a moment in history.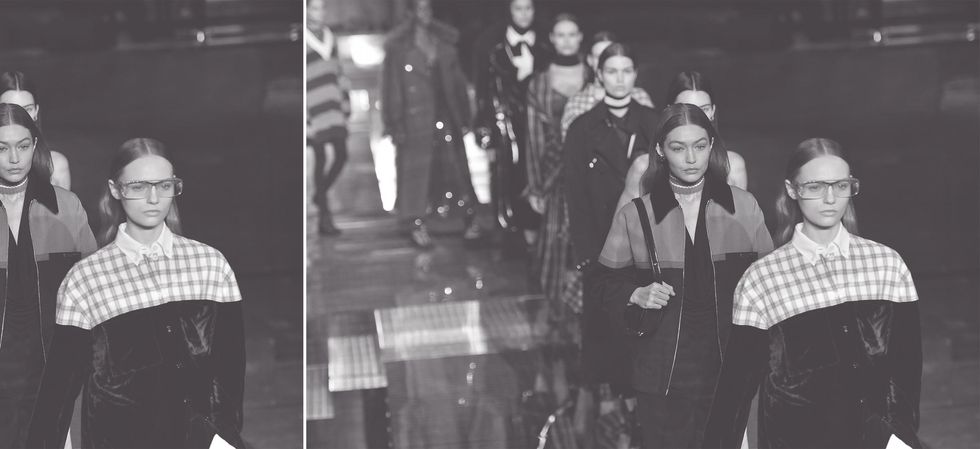 "It does seem like things are moving in the opposite direction, where connoisseurship, understanding, or reporting, especially, is going to be even more essential."
Beyond the shows, Meagher and Jamal's podcast extends their criticism to the wider industry. "I think for most people, when they see fashion with a capital F, it's in the very small, almost vacuum of a runway or red carpet—that's it," says Jamal. A designer of a huge house does not operate in isolation. "There are so many stakeholders and decision makers before something gets to a runway, before it gets to the sales floor. So we don't just point our finger at the designer. We point at everybody and we also point at ourselves, the consumers, because we play a role, as well."
The medium is the piece of the puzzle that often comes under fire. Meagher favors Youtube for its visual-meets-storytelling capabilities—not to mention, he likes that his engagement levels are public. Abdelal likes Twitter for its affinity for genuine engagement. And while long-form written word is often considered dated, it still effectively communicates information. Perhaps it's all necessary. "What I think is nice about having critics or people who are into fashion on different platforms," Abdelal adds earnestly, "is that everyone gets creative with the way they want to present their content."
Regardless of the subject matter or platform, the general shift condemns the Instagram-induced "hot take" and favors genuine reporting instead, which is quite difficult in lieu of today's rapid consumption cycle. "One of the things I remember when I was first talking to Will [Welch] about this title change," says Tashjian, "I said it's really important to me and to you to know that I really think of what I do as journalism," a notion that often gets buried under traffic goals and clickbait.
"We have had this period of democratic fashion—lots of videos and street style was so important, and influencer culture, of course," muses Tashjian. "It does seem like things are moving in the opposite direction, where connoisseurship, understanding, or reporting, especially, is going to be even more essential."
Photos: Getty
Want more stories like this?
Four Fashion Industry Veterans Share Career Advice for the Current Moment
How the Resale Economy Changed the Way We Shop Trends
The Summer's Biggest Trends, According to New Yorkers
window.REBELMOUSE_ACTIVE_TASKS_QUEUE.push(function(){
window.REBELMOUSE_STDLIB.loadExternalScript("https://htlbid.com/v3/coveteur.com/htlbid.js", function() {
});
});
window.REBELMOUSE_ACTIVE_TASKS_QUEUE.push(function(){
!function(f,b,e,v,n,t,s){if(f.fbq)return;n=f.fbq=function(){n.callMethod?n.callMethod.apply(n,arguments):n.queue.push(arguments)};if(!f._fbq)f._fbq=n;n.push=n;n.loaded=!0;n.version='2.0';n.queue=[];t=b.createElement(e);t.async=!0;t.src=v;s=b.getElementsByTagName(e)[0];s.parentNode.insertBefore(t,s)}(window, document,'script','https://connect.facebook.net/en_US/fbevents.js');fbq('init', '1248680838922690');fbq('track', 'PageView');
});
window.REBELMOUSE_ACTIVE_TASKS_QUEUE.push(function(){
window.REBELMOUSE_STDLIB.onElementInViewport({ threshold: 400, selector: "video", oneTime: true, onIntersect: function(entry){ var element = entry.target; element.setAttribute("allow","autoplay"); element.loop = true; element.muted = true; element.autoplay = true; element.setAttribute("playsinline","true"); //element.controls = false; element.play(); } });
});
https://coveteur.com/fashion-critic-today