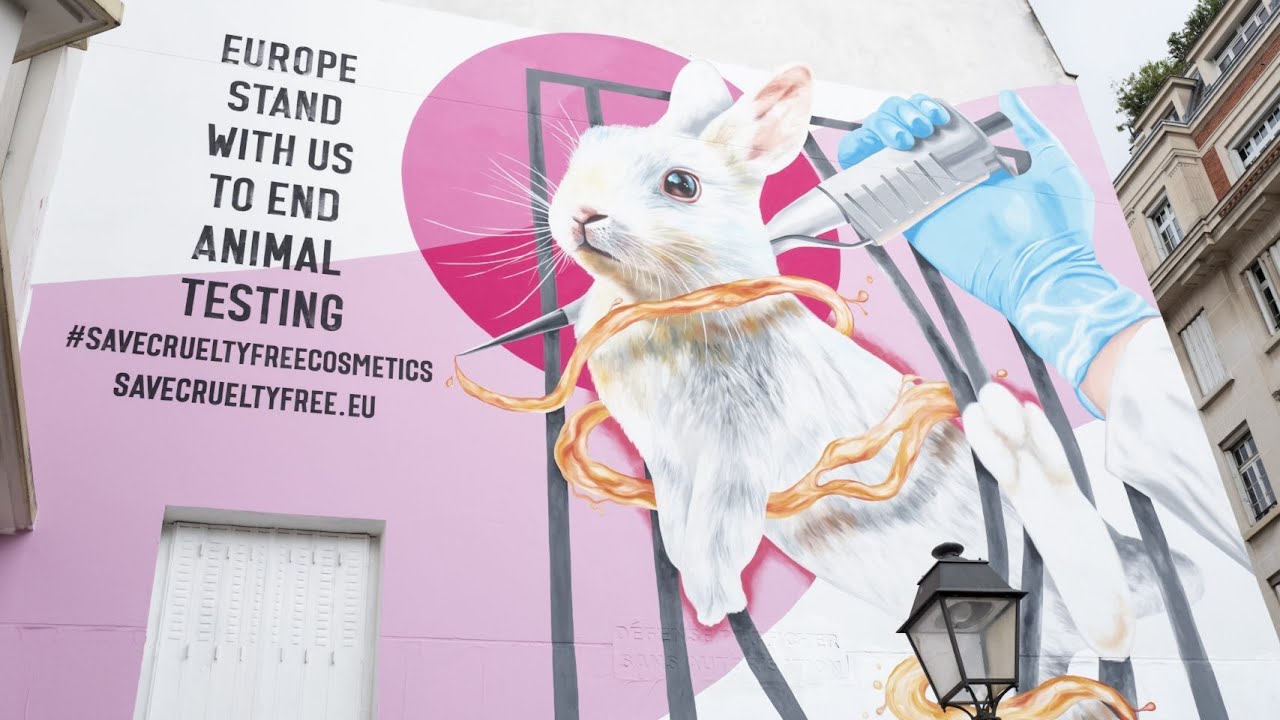 Two beauty industry stalwarts have teamed up to save cruelty-free cosmetics in Europe
Dove and The Body Shop have joined forces for a new beauty activism campaign. Uniting
Dove and The Body Shop have joined forces for a new beauty activism campaign. Uniting with the world's leading animal protection groups, they're calling on shoppers to sign a European citizens Initiative which they hope will help to uphold the European ban on animal testing.
In 2004, after decades of campaigning by consumers, animal protection organisations and several cruelty-free companies, the EU banned the testing of cosmetics products on animals. In 2009, it prohibited tests for cosmetics ingredients and, finally, in 2013 it prohibited the sale of cosmetics that had been tested on animals. 
However, despite creating the blueprint for regulatory change in countries around the world, recent test requirements from the European Chemicals Agency (ECHA) effectively destroy those bans and jeopardise all of the additional progress that the European Parliament has been calling for since 2018 – such as a global ban on all animal testing for cosmetics by 2023. 
Unwilling to just step back and do nothing, Dove and The Body Shop have reacted by trying to rally the public. Encouraging people to get behind them, their message is simple; stand with us to end animal testing and save cruelty-free cosmetics in Europe. 
Collaborating with Nina Valkhoff, an international muralist and activist from the Netherlands who is known for her botanical compositions of rare and nearly extinct animals, she's created a unique piece of artwork to demonstrate exactly how big a threat these new animal testing requirements will pose if brought in.
Speaking of her excitement to be involved in the project, Valkhoff commented, "When The Body Shop and Dove approached me to be part of this campaign, it was something I couldn't say no to. I've dedicated my career to educating and raising awareness of the negative human impact on rare and nearly extinct animals through my art, and animal suffering is something I care passionately about. I hope this campaign encourages people to stop and take action – by coming together we have a real chance of ensuring the EU upholds its ban on animal testing."
The Body Shop was the first global beauty brand to fight against animal testing in cosmetics back in 1989. Since then the brand has been campaigning relentlessly against this practice with a fundamental belief that animals should not be harmed in the pursuit of beauty. Helping to lead the charge towards the current European ban (which was introduced three years ago in 2018), an amazing 8.3 million people signed their campaign petition to end animal testing globally. 
Meanwhile, Dove has also spent 15 years working to change the beauty industry for the better, starting by launching the world's biggest self-esteem programme with their "Campaign for Real Beauty".  As a proudly certified cruelty-free brand, Dove has supported global bans to permanently end animal testing everywhere in the world, working alongside lawmakers, animal protection organisations and like-minded companies to achieve this goal.
Urging consumers to take urgent action to save Europe's ban on animal testing in cosmetics, you can show your support by signing the European Citizens Initiative. 
Demanding that the European Commission take their promise to end needless animal suffering seriously, the initiative calls for officials to do three things:
Protect and strengthen the cosmetics animal testing ban

Transform EU chemicals regulation 

Modernise regulatory science in the EU
You can find out more and sign the initiative here.
https://www.image.ie/style/two-beauty-industry-stalwarts-have-teamed-up-to-save-cruelty-free-cosmetics-in-europe-301202