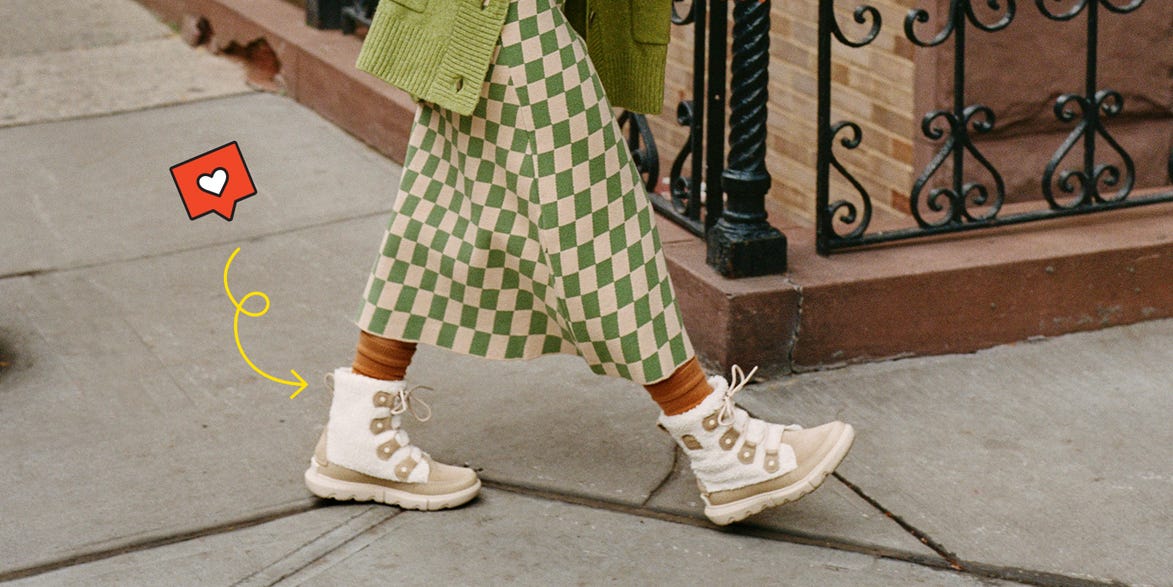 The Street Style-Approved Ways to Wear Boots RN
For New Yorkers, chilly weather is the ultimate style cue. Fashionably navigating the streets of
For New Yorkers, chilly weather is the ultimate style cue. Fashionably navigating the streets of NYC requires a truly great pair of shoes—we're talking ones that can weather commutes in less than perfect weather and still look good for your after-work drinks. So, we asked a few of our favorite NYC style insiders—Laura Jung, Micaéla Verrelien, and Jess Tran—to show us how they're leveling up their looks this season with the help of SOREL's latest arrivals. Ahead, find out how these three seasoned dressers are leveling up their looks with the right pair of boots, and be prepared to bookmark your favorite 'fits (FYI: there's a lot to fall in love with).
Sydney native Jess Tran has called Brooklyn home for the past eight years. The founder of Scallion Pancake thanks thrifting as a teen for her exuberant, eclectic, and celebratory style."That's the backbone—starting early and getting to experiment with pieces from different time periods is how my style has evolved into what it is today." Bold and confident, Tran is a risk taker. "The older I get the more I realize there's not enough time in the world to dress conservatively," she says. And Tran builds looks around single statement-making pieces. This season the SOREL Explorer II Joan Cozy boot is her wardrobe staple. "Having really cool boots that are weatherproof and good for utility but also help you stand out is key."
During NYC's colder months, Tran has an approach that doesn't compromise on her bold sense of style. "My strategy is to have like 15 really interesting unique pieces of outerwear and building an outfit underneath," she says. Her SOREL shearling boots jive well with her whimsical wardrobe. "The shape of the boots is quite playful, and I think working them into a bold outfit is a fun way to show off in terms of personal style," she says. "Having really cool boots that are weatherproof and good for utility but also help you stand out is key."
At the end of the day, Tran is still up for taking a fashion risk. "I want to spend my brief moments of being young in New York and embrace that. I mean, where else would I be able to wear a matching denim two-piece with shearling boots and not feel like I'm out of place?"
Fashion and lifestyle influencer Laura Jung epitomizes cool, effortless style. When she moved from Seoul to New York City's East Village, she noticed that people are more casual, albeit in the best possible way. "Living in NYC means being busy on a day-to-day basis. I'm always schlepping across the city with 10 million tote bags by the end, so I really opt for comfort above anything else." Come cold weather, Jung's style philosophy of prioritizing comfort manifests through layers. "I know we always say that, but it's truly how I like to dress," she says. Especially, since she notes, she never knows how many temperatures she's going to encounter on a single day. "When you're on the subway, you're going to be hot, when you're outside, you're going to be cold; layers are like insurance."
During winter months, Jung reaches for SOREL's lightweight boots—the mix of form and function blends seamlessly with Jung's comfort-first style. "They're designed in a way that you can wear them like sneakers, not like a typical heavy-duty winter boot," she explains. "They're really light, really fun, and make for a perfect transition shoe."
So how is Jung incorporating boots into her wardrobe this season? For starters, an unexpected pairing of white-on-white. "I feel like people often stray away from wearing white when it's colder, but I think you should just wear whatever you want and whatever makes you feel good," she says. "I like how this white-on-white outfit is a little preppy, which is not my everyday style, but I always say that depending on your mood, you can put on an outfit and own an attitude and change up your character depending on what you're wearing."
One of her other go-to boots looks is equal parts effortless and cool. "Comfortable jeans that aren't tucked into the boots but just slouched over is a perfect combination," she says. "Also, a big statement coat in a pretty color ties the whole outfit together."
The common thread throughout Micaéla Verrelien's personal style is versatility. "I'm someone who definitely dresses based on the speed of the day," the Brooklyn-based style and beauty influencer says. "If I know it's going to be a long day and I have a lot of things I want to get done, I'll dress stylishly and comfortably." But whatever her schedule may bring, she relies on layers in cold weather. She has her comfortable pieces—a sweater over a turtleneck, topped with a jacket. But she looks for more fashion-forward styles—like an oversized collar—to deliver a wow moment. And for accessories? Always a mix of comfy meets cool.
Her go-to boot right now is a SOREL's lace-up silhouette. "I think combat boots are great for all seasons and especially for fall," she says. "They tie into a big part of my style, which is the idea of a bit of fem mixed with a vibe that contrasts that. " On the weekends, she'll lean into the layers and take it up a notch with accessories. "This green coat look is giving Saturday chill, comfortable vibes," she says." The piece that ties the look together: her boots.
---
Art Direction by Jessica Solitrin; Styling by Lilli Millhiser; Styling Assistance by Janna McCabe; Makeup by Ingeborg; Hair by Kelsey Morgan and Samantha Niedospial; Production by Chelsea Solitrin.
JESS Look 1 Jacket and Jeans by B-Sides; Look 2 Dress by Zara. LAURA Look 1 Jeans by B-Sides and Jewelry by Lihte; Look 2 Blazer by Theory and Jewelry by Lihte. MICAELA Look 1 Jacket by Zara and Sunglasses by Elisa Johnson; Look 2 Coat by Zara and Jeans by B-Sides.


https://www.cosmopolitan.com/style-beauty/a38030739/sorel-boots/