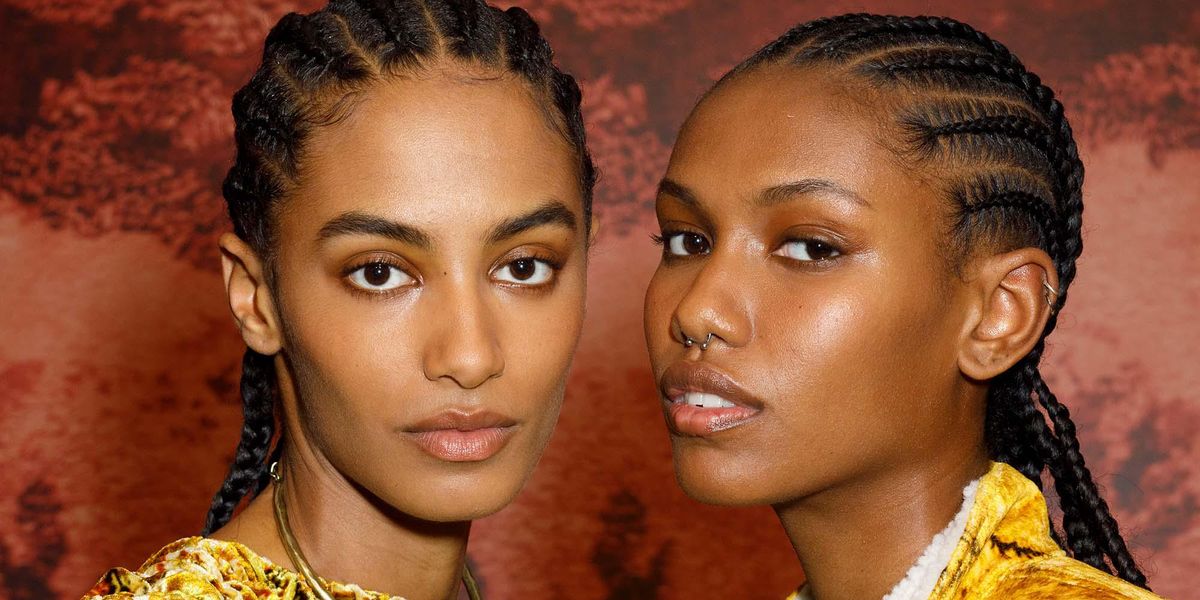 Skin Treatments for Melanin-Rich Skin
The world of skin care and aesthetics is changing, and many of the treatments previously considered off-limits for darker skin tones are now safe to use. Those with melanated skin (skin that contains high levels of melanin, which gives skin its color) often find themselves at the dermatologist's office desperate to treat hyperpigmentation. "It's a big concern," says Dr. Boakye. "Hyperpigmentation can present itself as post-inflammatory hyperpigmentation, melasma, uneven skin tone, photoaging, or other forms of dyschromia." The go-to treatment for reducing hyperpigmentation and evening out the skin in lighter skin tones are the tried-and-true lasers or the classic chemical peel. But they can potentially damage skin and cause hyperpigmentation or hypopigmentation, "especially high energy treatments," says Dr. Boakye.
But that doesn't mean darker skin can't use lasers. Some are suitable, while others are off-limits. Professionally administered treatments that do not rely on excessive heat or high energy levels are the better choice for melanated skin. So are lighter chemical peels, micro-focused ultrasound, radiofrequency, and microdermabrasion treatments.
All skin tones considered, it's best always to see a board-certified dermatologist who works with and understands darker skin tones. "If there is not a dermatologist in your area familiar with melanin-rich skin tones, test spot before having any procedures to ensure low complications," advises Dr. Boakye. If hyperpigmentation results from a treatment, brightening agents like azelaic, tranexamic, ascorbic, and kojic acids, arbutin, and even Cyspera, an innovative hydroquinone-free skin lightening system, can help fade discoloration. Since laser and energy-based devices make the skin more sensitive to the sun, it's crucial to wear sunblock every day, reapply frequently, and always follow the post-care instructions—and that goes for all skin tones across the board.
Lasers
In the past, using lasers on melanin-rich skin resulted in discoloration and burns due to reactions between the excessive heat and hyperactive melanocytes (melanin-producing cells). "The disruption of the top layer of skin (where the skin makes pigment) can lead to a permanent and potentially disfiguring lightening or darkening of the skin following treatment," says Roberta Del Campo, MD, consulting dermatologist and medical advisor for BABOR. But that has changed due to the advent of newer technologies that accommodate all skin tones and types.
More in-office treatments, particularly laser and heat-based treatments, now come with the option to customize the intensity, making them safe and effective for nearly all skin tones, says Corey Hartman, MD, a board-certified dermatologist. "There is also new technology available that can differentiate between hyperpigmentation, melasma, and dark skin to effectively treat unwanted dark spots without damaging beautiful, healthy melanin-rich skin," he adds. "The older laser technologies struggled to differentiate between brown skin and dark spots, increasing the risk of adverse reactions for people of color."
According to Dr. Del Campo, one of the safest lasers for melanin-rich skin is the Nd: YAG laser, which treats everything from unwanted tattoos and dark spots to acne scars, age spots, and fine lines and wrinkles. "It bypasses the top layer of skin to offer safe treatment in all skin types," she says.
Fractionated and picosecond lasers devices are also favorable since they use tiny light beams instead of a heavy stream, making the treatment easier on the skin. "Fraxel, in particular, delivers the energy of fractionated resurfacing with minimal downtime to improve texture, tone, and sun damage," says Dr. Hartman. The picosecond PicoSure laser, which Dr. Hartman says is used to treat pigment problems on all skin tones, is the most advanced modality for removing pigment from the skin, both in tattoos and hyperpigmentation. "It has revolutionized the way we utilize lasers, significantly reducing the frequency of side effects and expanding its use for even the darkest of skin tones," he adds. PicoSure breaks up pigment particles like a sledgehammer breaks up concrete to disrupt and break down the pigment, allowing the body to absorb smaller fragments and break them down over time. "The lack of heat makes it a safer option for darker skin tones that are more vulnerable to variable outcomes and unpredictable results when heat is a part of the equation."
Recently, PicoSure received FDA clearance to treat melasma, making it the only approved device to do so on the market. "And since it uses energy to target pigmentation versus heat, it makes for a better option for darker skin," adds Dr. Hartman. Although these devices are safe for melanin-rich skin, they still must be used appropriately. "Complications can always arise, and the key is to go to a provider that has experience with these technologies on darker skin tones," adds Dr. Boakye.
Some popular light and laser technologies, like Intense Pulsed Light (IPL) and Broad Band Light (BBL), are risky and too intense to use on darker skin tones. Dr. Hartman says these treatments cause micro-traumas to the skin, triggering the body's repair response. "In lighter skin, hyperpigmentation is less of a risk due to fewer melanocytes, but melanin-rich skin has more risk with intense lasers, which can cause overwhelming trauma and lead to hyperpigmentation," he adds. Also, falling into that same "don't touch" arena are deep resurfacing lasers that ablate the top layers of skin, such as CO2 lasers and the erbium YAG lasers, which, like other lasers, can cause long-term hyperpigmentation.
Laser Hair Removal
Just like using lasers on melanin-rich skin was shunned for a period, the same applies to laser hair removal. "In the past, the concern was that the skin would burn and cause permanent scarring and possibly disfiguration," says dermatologist Jeanine Downie, MD. "Some of the earlier laser hair removal treatments were the most damaging ones for darker skin. However, even in the darkest of skin tones, laser hair removal is not an issue anymore," she adds.
Before devices like SPLENDOR X, Gentle Max Pro, and Excel V laser, Dr. Downie's go-to, permanent hair removal machines (mainly Alexandrite lasers) couldn't read between melanin in the hair and the skin. An unclear distinction of where melanin lives put the skin at risk of burns, hyperpigmentation, hypopigmentation, and scarring. Newer technologies that now accommodate a wide variety of skin types and color are the wave of the future—these treatments also offer results with less pain and less downtime than previous technologies, says Dr. Del Campo.
However, Dr. Downie says that patients with melanated skin still need to be cautious when undergoing treatment with many hair removal lasers and always confirm that the equipment, laser, machine, or treatment is okay for their skin type.
Fat Melters, Skin Tighteners, Fillers, And Injectables

Fat knows no boundaries, and unlike some laser technologies, all fat-melting and reducing treatments are fair game for all skin types and tones. "There's also EmSculpt NEO, which is great for all skin types that want noninvasive fat melting with muscle building," says Dr. Downie. The same goes for skin tightening treatments, like Ulthera and INTRAgen Pro, a skin tightening device that Dr. Downie reaches for when treating patients with darker skin.
Also safe for melanin-rich skin are radiofrequency treatments and micro-focused ultrasound procedures, both of which can be dialed up or down depending on the skin's needs.
Anti-aging and volumizing treatments that use agents or neuromodulators are also okay for melanin-rich skin. But, of course, there's always risk anytime your doctor injects filler or injectables. Still, potential complications have nothing to do with skin color and more with misuse or improper placement of the product or reactions.
Microneedling
For the most part, most microneedling treatments (whether performed on their own, with platelet-rich plasma (PRP), or radiofrequency are safe and tolerated by all skin tones to improve acne scars, stretch marks, fine lines, wrinkles, and hyperpigmentation. Plus, treatments that combine microneedling with radiofrequency, like Vivace, Morpheus8, and Lutronic Genius, offer the added benefit of tightening the skin. They also stimulate collagen via micro-injuries for firmer, more glowy skin with minimal downtime.
"In general, most radiofrequency microneedling devices are safe for all skin types because the energy is delivered precisely to the dermis, avoiding excessive heat to the epidermis where pigment changes are a risk," explains Dr. Hartman.
Chemical Peels
Professionally administered chemical peels are excellent exfoliators because they lift away dead skin cells and smooth out the surface while simultaneously reducing the appearance of dark spots and discoloration. But not all chemical peels are safe for all skin tones. The darker the skin, the higher the chance for hyperpigmentation to form as a byproduct of the peel.
Dr. Del Campo says chemical peels have come a long way for darker skin tones. "Now, chemical peels incorporate various anti-inflammatory ingredients to allow the skin to calm more quickly, which decreases inflammation and the risk of pigmentation in darker skin tones," she explains.
In the world of chemical peels are three types of peels: superficial or light, medium, and deep ones (these are often not recommended for darker skin). "Some of the classic ingredients found in chemical peels are Jessners, trichloroacetic, salicylic, glycolic, mandelic and lactic acids, and phenols. There is a risk of hyperpigmentation and/or hypopigmentation with any chemical," says Dr. Boakye. Therefore, it is imperative that only an expert performs a chemical peel on melanin-rich skin tones and is well-versed in how to deal with potential complications. For this reason, Dr. Downie treats skin of color with either SkinMedica's Rejuvenize or Vitalize peel or the VI peel, a medium-strength peel, which any provider should always use with caution. "My patients love these peels to help with texture, tone, acne, and lines, and they give the skin a pretty glow," she adds. Also, regardless of the peel, it is crucial for patients to follow the recommended post-procedure instructions and protocol and, of course, wear sunscreen.
While Dr. Hartman says that professionals can use chemical peels on darker skin tones, he stresses the importance of experience and clinical acumen to perform them safely in darker-skinned patients. "Chemical peels are controlled injuries, and that's why it is essential to see a provider who has extensive knowledge of the physiology of the skin and the nuances of different ethnicities, which is paramount for a safe and effective treatment."
window.REBELMOUSE_ACTIVE_TASKS_QUEUE.push(function(){
var makeMonitor = (getStatus, cb, delay) => { delay = delay || 100; var monitor = () => { var time = +new Date(); var status = getStatus(); if (status) { return cb(status); } else { if (!stopMonitor && +new Date() - time < 30 * 60 * 1000) { monitorId = setTimeout(monitor, delay); } else { cb(false); } } }, cancel = () => { stopMonitor = true; clearInterval(monitorId); }; let monitorId, stopMonitor = false; return { start: monitor, cancel: cancel, }; };
var leftArrowCarrousel = makeMonitor( function () { return document.querySelector( ".shop-sidebar.shop-posts .posts-wrapper .slick-next" ); }, function (res) { res.addEventListener("click", () => { gtag("event", "Left Arrow Click", { event_category: "Shopping Module", event_label: "Previous product at carrousel", }); }); } );
leftArrowCarrousel.start();
var rightArrowCarrousel = makeMonitor( function () { return document.querySelector( ".shop-sidebar.shop-posts .posts-wrapper .slick-prev" ); }, function (res) { res.addEventListener("click", () => { gtag("event", "Right Arrow Click", { event_category: "Shopping Module", event_label: "Next product at carrousel", }); }); } );
rightArrowCarrousel.start();
var buyButton = makeMonitor( function () { return document.querySelectorAll( ".shop-sidebar.shop-posts .posts-wrapper .widget__product-buy-link-btn" ); }, function (res) { for (let button of res) { button.addEventListener("click", () => { gtag("event", "Buy button click", { event_category: "Shopping Module", event_label: `${button["href"]}`, }); }); } } );
buyButton.start();
var imageShopp = makeMonitor( function () { return document.querySelectorAll( ".shop-sidebar.shop-posts .posts-wrapper .widget__head a" ); }, function (res) { for (let image of res) { image.addEventListener("click", () => { gtag("event", "Image click", { event_category: "Shopping Module", event_label: `${image["href"]}`, }); }); } } );
imageShopp.start();
var productTitle = makeMonitor( function () { return document.querySelectorAll( ".shop-sidebar.shop-posts .posts-wrapper .widget__headline .widget__headline-text" ); }, function (res) { for (let product of res) { product.addEventListener("click", () => { gtag("event", "Product title click", { event_category: "Shopping Module", event_label: `${product["href"]}`, }); }); } } );
productTitle.start();
});
window.REBELMOUSE_ACTIVE_TASKS_QUEUE.push(function(){
window.REBELMOUSE_STDLIB.loadExternalScript("https://s.skimresources.com/js/150311X1615657.skimlinks.js", function() {
});
});
window.REBELMOUSE_ACTIVE_TASKS_QUEUE.push(function(){
!function(f,b,e,v,n,t,s){if(f.fbq)return;n=f.fbq=function(){n.callMethod?n.callMethod.apply(n,arguments):n.queue.push(arguments)};if(!f._fbq)f._fbq=n;n.push=n;n.loaded=!0;n.version='2.0';n.queue=[];t=b.createElement(e);t.async=!0;t.src=v;s=b.getElementsByTagName(e)[0];s.parentNode.insertBefore(t,s)}(window, document,'script','https://connect.facebook.net/en_US/fbevents.js');fbq('init', '1248680838922690');fbq('track', 'PageView');
});
window.REBELMOUSE_ACTIVE_TASKS_QUEUE.push(function(){
window.REBELMOUSE_STDLIB.onElementInViewport({ threshold: 400, selector: "video", oneTime: true, onIntersect: function(entry){ var element = entry.target; element.setAttribute("allow","autoplay"); element.loop = true; element.muted = true; element.autoplay = true; element.setAttribute("playsinline","true"); //element.controls = false; element.play(); } });
});
https://coveteur.com/melanin-rich-skin-treatments