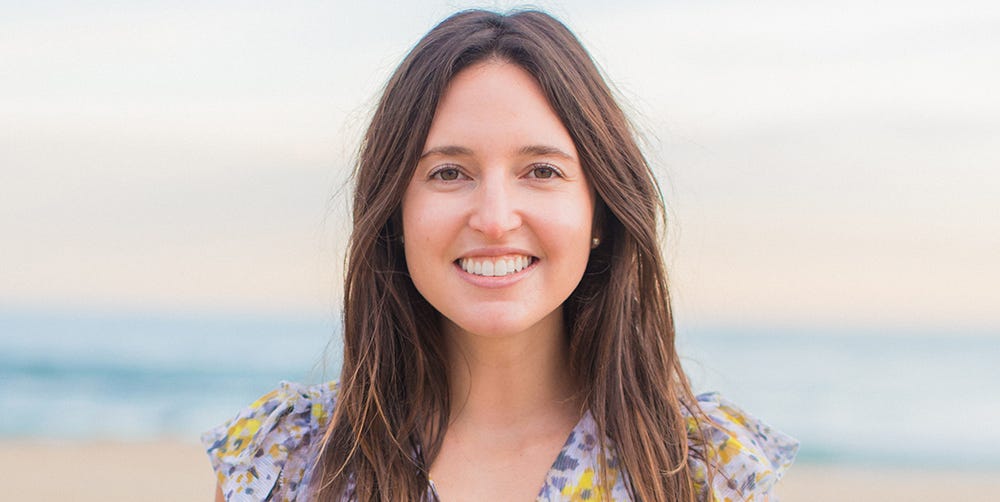 Our Deputy Beauty Editor Shares All Her Pro Hair Secrets
It has to be said, our Deputy Beauty Editor, Lauren Balsamo, has GOOD hair. We've put this down to genes and her job, which grants her access to the best hair products and stylists the beauty world has to offer.
We're here to help make sure every day is a good hair day for you too. Here Lauren shares her go-to hairstyles, pro tips, and can't-live-without products, plus the latest hair trends she's loving.
Her go-to styles
Lauren favors a natural 70s minimalist style for her locks. Her hair is long, lush, and naturally straight, with a soft part in the middle. A fan of styles that require little to zero effort, Lauren lets her hair air dry—she won't heat style or use a hairdryer unless she is going somewhere special.
The exception to this is when she tosses it up in a messy knot or twisted bun. "I'll give it a rough blow-dry until it is almost fully dry, flip my hair over to give it some extra oomph, pull it up into a knot or bun, and fasten it with Invisibobbles. These cute, gentle rings are less damaging for your hair."
When it's time to up the hair ante, Lauren loves to show off sexy mermaid waves, creating this stunning look in three easy steps. First things first:
Step one:
Brush your hair out, prep and boost volume by spraying TRESemmé Volume Thickening Spray from roots to mid-length.
Step two:
Working one 2-inch section at a time, style hair with a wave wand. Smooth ends with TRESemmé Keratin Shine Serum for definition and extra shine.
Step three:
Lock in your style by misting with TRESemmé Extra Hold Hair Spray for frizz control.
Watch the whole video here.
Her happy hair routine
"For me, the focus is on my hair health and making sure my ends don't look fried," Lauren says. Her routine consists of a hydrating shampoo, a lightweight conditioner, and regular masks to maintain her mane's luster and prevent split ends.
This diligence means she only has to go to the salon for a cut every three months. And even then, it's just a trim of the ends.
To give her hair a glossy boost Lauren uses TRESemmé Gloss Clear High-Shine Deep Conditioner every two weeks.
This content is imported from Instagram. You may be able to find the same content in another format, or you may be able to find more information, at their web site.
To tame flyaways and frizz, she turns to TRESemmé Keratin Shine Serum. "I put a tiny, tiny pump onto the palm of my hand and lightly press it onto my ends and never anywhere else." She also recommends investing in a good brush and hairdryer. "I am a big fan of the Dyson hairdryer. It's expensive but worth it. I find it less damaging on my hair compared to others and cuts my drying time by half."
For brushes, her go-to brand is Raincry. "Again, they are an investment. I use a boar bristle brush. It's really gentle, makes my hair really shiny, detangles it easily, and the brush is super chic."
Her hair hacks
"Investing in a good haircut makes a world of difference to the condition and style of your hair," Lauren says. She recommends doing your research to find a stylist that has experience cutting your hair type and texture. And never skip the pre-cut consult to discuss the best style to suit you.
As an advocate for hair health, she believes in air-drying, "this bumps up the volume and movement," and saving blow-drying and heat styling for when you need to create a special look—applying a hair mask once a week is also a must. "In the shower, I shampoo my hair, apply the mask and pull it up into a bun with a banana clip and leave the mask in while I wash my body and do a face or body scrub to give it time to do its thing," Lauren says. "Or before a workout, I apply a hair mask or a leave-in conditioner and run my hands through my hair and scoop it up into a bun or ponytail, so I get a nourishing treatment while I exercise."
If your hair is naturally straight like hers, wash it every other day and become friends with dry shampoo to give it a refresh and up the volume. "When you do wash it, opt for hydrating shampoos and only apply conditioner to the ends, never the roots to avoid it looking flat as a pancake." Shampooing less will also keep your color locked in.
Her can't-miss trend forecast
On this beauty insider's radar is everything from old Hollywood styles to more relaxed sexy mermaid waves. We've also seen a change on the color wheel, away from pinks and lavender to more natural-looking, low-maintenance shades. "Most people look their best somewhere in their natural color realm, so we are seeing more dirty blonde and color that is just one or two shades darker from your natural tone."
Bangs are still going strong, she says. And the good news is, not only are they super trendy, "they look adorable whether you have curly or straight hair," she adds.
Another hot hair contender? The messy shag cut. "I'm not daring enough to try it, but it's the absolute coolest," she says. Lucky for Lauren, long 70s-inspired hair with a chic middle part is having a moment. And for a fun finishing touch, "little baubles and multi-colored hair barrettes" create a super cute look without having to do much of anything, Lauren says. Perfect, and just in time to create instant holiday hair glamour.
This content is created and maintained by a third party, and imported onto this page to help users provide their email addresses. You may be able to find more information about this and similar content at piano.io
https://www.cosmopolitan.com/style-beauty/a38192236/our-deputy-beauty-editor-shares-all-her-pro-hair-secrets/