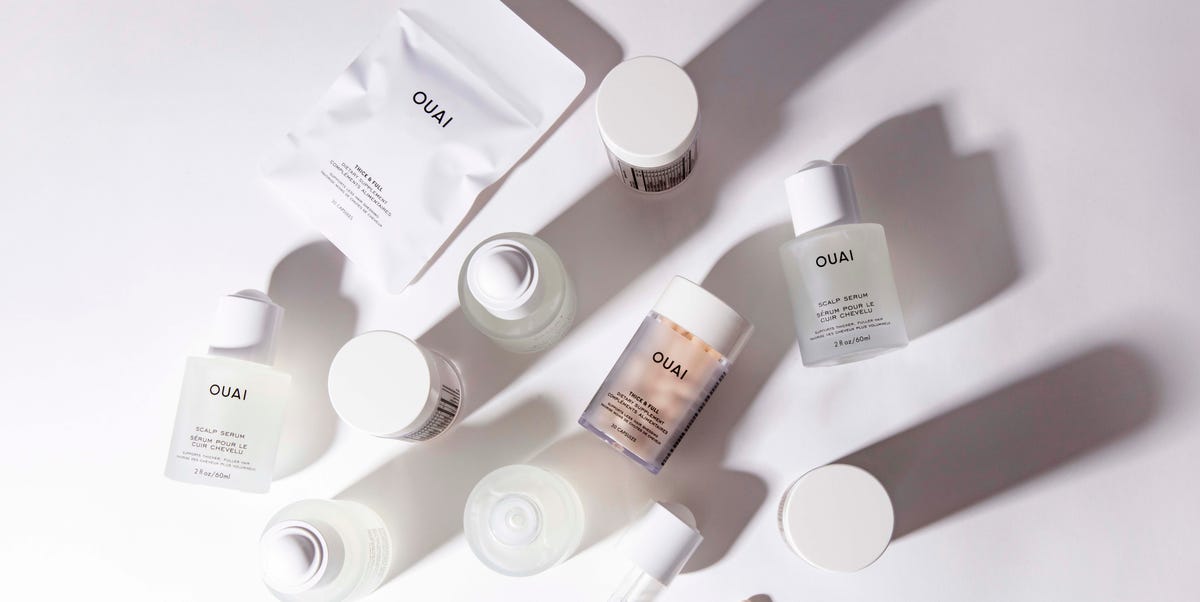 Ouai's New Scalp Collection Is About Healthy Follicles, Not Waist Length Hair
It started sometime around lockdown round one, when the prospect of an indeterminable amount of time spent inside led us to collectively shift our beauty focus. Suddenly, prevention was better than cure. Concealers were replaced by salicylic acid, mascara by lash-growth formulas, and hair serums that simply glossed over our poor, frazzled ends were switched out in favour of treatments that got right to the root of our hair concerns, healing from the inside out.
Scalp treatments are fast becoming ubiquitous, but most require you to choose between pampering and performance. Pick a sensorial clay mask for your Friday-night spa session, or plump for something notably unsexy to treat dryness, flaking or hair that simply won't grow.
Cult hair brand OUAI, however, is bridging the gap between the sexless scalp treatments of old and the newer, fluffier ones that don't quite cut it when it comes to real results. On first inspection, the OUAI's Scalp Serum and accompanying Thick & Full Supplements – which will launch in early May – look just like the rest of the brand's line: chic, minimalist, and destined for an Instagram grid. But, a few minutes into a conversation with the brand's director of education, Diana Pratasiewicz, it becomes clear this is a collection with weighty research behind it.
This content is imported from Instagram. You may be able to find the same content in another format, or you may be able to find more information, at their web site.
The motivation behind launching this scalp-saving power duo was the fact that we're all doing quite a lot of things to upset our poor, neglected scalps, then wondering why our hair doesn't grow, move and shine as well as we'd like it to.
As Pratasiewicz explains, there are so many external factors that can negatively impact the health of our scalp: and we know by now that a neglected scalp won't produce your best hair ever. 'Pulling your hair back in a tight ponytail, rushing the detangling process, or even wearing some protective styles can cause irritation on the scalp,' she explains.
This is where the Scalp Serum comes in. A fast-absorbing, water-weight treatment – think the texture of a hyaluronic acid face serum – it sets to work calming irritation and soothing your scalp while simultaneously stimulating the follicles, leading to thicker, healthier hair in the long run.
Right now, you're probably picturing yourself with Kardashian-esque thigh-skimming hair: and while we all love to dream, we're here to tell you that OUAI's power duo will not take you from a blunt bob to waist-length locks in a matter of days: not will any scalp product, for that matter.
'We want to make sure we're not overpromising anything,' says Pratasiewicz, who is keen to differentiate Scalp Serum from other, more dubious players in the market: the ones happy to imply loyal purchasing will lead to Rapunzel-level hair growth.
'Here's what we really want everyone to understand: obviously, we can't change your genetics. If you have fine hair, you're gonna have fine hair: if you have medium hair, you're gonna have medium hair. When we say "thicker", we want you to think stronger. And when we say "fuller", we want you to envision less shedding.' In short, no serum will accelerate your rate of hair growth, but a good one will empower your follicles to do their best work.
So, what's in the bottle? The watery, fast-absorbing formula is based around adaptogens – think chaga mushroom and ginseng – that work to balance the skin's sebum production, which in turn leads to moisturised and protected hair strands. There's hyaluronic acid in there for your scalp's skin barrier – just as vital as the one on your face – and peptides to encourage thicker hair.
So that's the science, but there's sensorial appeal to be found here too: a rare find for a product so firmly nestled in the scalp-care category. Scalp Serum is the first product to feature the brand's new Cape Town scent: an invigoratingly fresh blend of tomato leaf, fig and freshly cut grass that you are going to want to bathe in.
Back to those results. You won't get an extra 18 inches overnight – so what can you really expect? 'We like to keep it real here: you're possibly going to see results in 90 days, with full results in 112 days,' says Pratasiewicz. 'Obviously our hair works on that 90 day cycle. So you're not going to use this once and be like, "Oh my god, I'm healed!" It doesn't work like that. We need you to commit.'
Less luxurious but equally effective, the Thick & Full supplements are designed to deliver from the inside what you Scalp Serum can't do on the outside. If you're expecting a bucketload of biotin – long touted as the key to good hair growth – think again.
Pratasiewicz knows that too much biotin can lead to skin issues (not to mention the fact that it's not actually utilised by the body) and so you won't find the highest biotin dose on the shelves here. Instead, the brand has used a smaller amount than its competitors, optimised by a complementary alphabet of vitamins as well as calcium and zinc. Used together, these clever partners might just be the secret to healthier, shiny, bouncy hair – for real.
This content is created and maintained by a third party, and imported onto this page to help users provide their email addresses. You may be able to find more information about this and similar content at piano.io
https://www.elle.com/uk/beauty/hair/a39758842/ouai-scalp-serum-supplements/