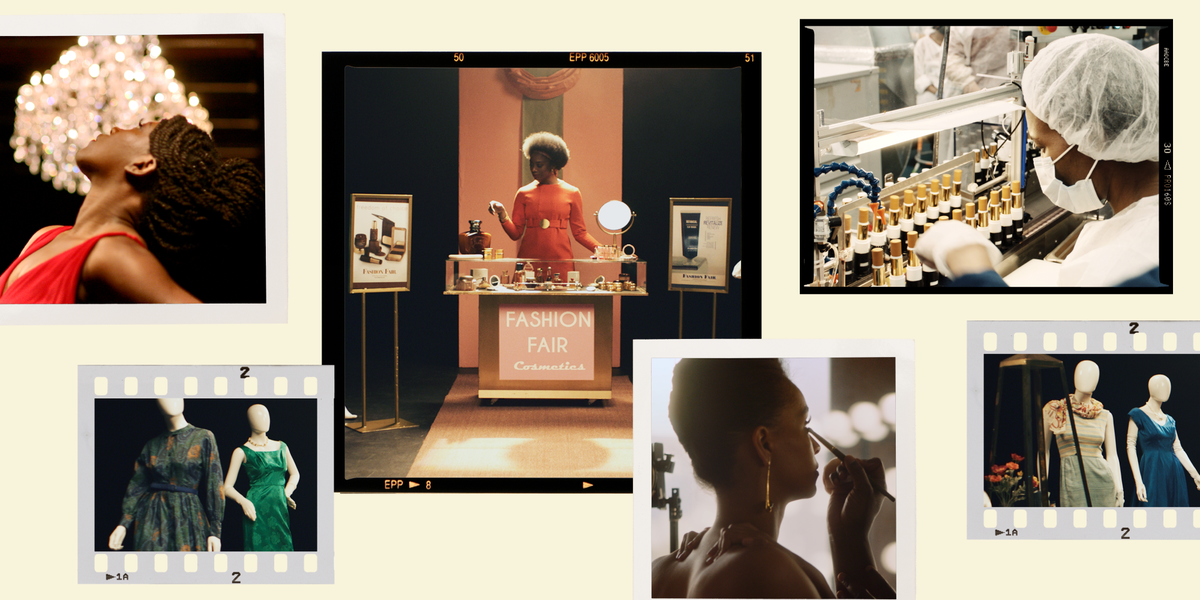 New Documentary on Fashion Fair Cosmetics
Now streaming on HBO Max, The Beauty of Blackness wastes no time getting straight to the point: Thirty seconds into the documentary, Desiree Rogers, the current CEO of Fashion Fair, the storied cosmetics line geared toward meeting the needs of Black consumers, plainly states that it's "one of our most precious American, iconic brands." And over the course of the next 70 minutes, the film reminds us why Rogers is right.
There's no question that Rihanna ushered in a new, more inclusive era of cosmetics when she launched Fenty Beauty, which offers a now–industry standard 40 shades of foundation, in 2017. But what the Gen Z crowd may not know is that long before Rihanna was even born, Fashion Fair revolutionized the industry at a time when even a Black woman with a lighter complexion like Lena Horne's couldn't find her foundation shade on store shelves.
Using archival footage and interviews with notable figures such as legendary model Pat Cleveland, singer Kelly Rowland, global makeup ambassador Sam Fine, former Ebony Fashion Fair commentator Audrey Smaltz, and historian Tiffany M. Gill, The Beauty of Blackness chronicles Fashion Fair's lasting impact and emotional connection with consumers. Fashion Fair didn't just sell makeup—it created memories, instilled pride, and provided representation for a population of women who felt invisible at the makeup counter. "It's more important than ever to share our history with a wide range of people," Fashion Fair president Cheryl Mayberry McKissack tells Oprah Daily. "Mrs. Johnson's story is unique; no one can ever duplicate that." Rogers, too, was thrilled to take the opportunity to celebrate the pioneering founder. "It's so exciting, as two Black women, to document our African American history through the lens of what Mrs. Johnson created."
Changing the game
The groundbreaking brand was created in 1973 by Eunice Johnson, the founder of Ebony and Jet magazines. Johnson also produced the Ebony Fashion Fair, a traveling show that featured live music, dance performances, and a diverse lineup of models who showcased designer fashion straight from the runway. Johnson had an aha moment when she realized that most of the women in the show had to mix multiple foundation shades to get the right match. By launching Fashion Fair, Johnson could do two things: fill a giant void in the market and offer an alternative to the mainstream cosmetics companies that put fair-skinned women on a pedestal, ignoring everyone else. Instead of promoting Euro-centric beauty goals like "brightness," Fashion Fair sent a different message to Black women: You're beautiful the way you are.
The Beauty of Blackness delves deep into Fashion Fair's rich history, from the brand's history-making launch at Bloomingdale's to its bankruptcy filing, while also following Rogers and McKissack as they prepare for a buzzy relaunch. Both women are former Johnson Publishing Co. executives, and their decision to take over Fashion Fair began with a simple text message that Rogers sent to McKissack: "Are you in?" The documentary doesn't reveal exactly how McKissack responded, but it's safe to say a thumbs up emoji was involved: The pair bid on the Fashion Fair name at an auction in November 2019 and won.
"I just felt so strongly that we were the right people, at the right time, to remake the brand with the right love," Rogers says. "I didn't know how, but I knew that we could do it." In the film, we watch as they figure it out. We're flies on the wall as they attend meetings with Sephora (their retail partner), worry about production delays, pick women's brains during a focus group, and navigate their first ad campaign photo shoot, featuring Cleveland and actress Kiki Layne.
Looking ahead
Now that Fashion Fair is back (after two years off the market, the new iteration landed in September 2021), the big challenge for Rogers and McKissack is making it stand out in a beauty landscape that's much more competitive than it was during the brand's heyday. These days, Black-owned beauty brands that cater to brown skin are plentiful, even in the luxury space, which lacked diversity for decades.
That's great news for shoppers, but it means Fashion Fair will have to rely on more than just nostalgia to compete. "Yes, there's more competition now. Yes, there are more general market brands who in the past would not make colors for us that now do. And yes, there are many up-and-coming Black-owned brands," Rogers says. "But every day, we are hearing from women who tell us they still have issues finding products for their skin tones." McKissak agrees: "Not all the problems have been solved. Some of the new brands don't have a strong retail presence. There's still much work to be done. We won't be the only option, but we think we can be one of the leading ones."
Fashion Fair Favorites
Both women admit that the stakes are high for the relaunch, not only because of their investment but also because of what failure might mean. Will the same consumers who've cheered Fashion Fair's comeback put their money where their mouths are? It's too soon to tell, of course, but in the meantime the two co-owners hope Fashion Fair will inspire feelings of pride and unity among "the melanin majestic."
Says Rogers, "That's what Fashion Fair does. It brings generations together."
This content is imported from OpenWeb. You may be able to find the same content in another format, or you may be able to find more information, at their web site.
https://www.oprahdaily.com/beauty/skin-makeup/a39477264/beauty-of-blackness-documentary/