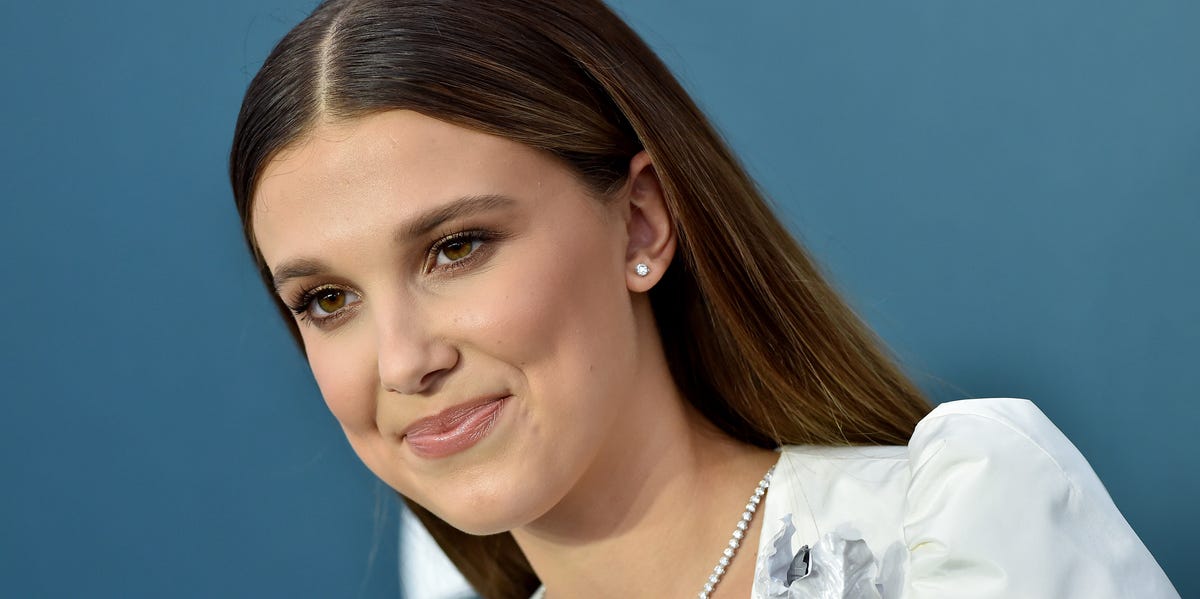 Millie Bobby Brown On Loving Audrey Hepburn, 'Euphoria' Beauty Looks And Her Cryo Chamber Skin Tips
There aren't many celebrities we get to literally watch growing up and coming to terms with their identity in the public eye, and it's no walk in the park for those that do. Between the paparazzi and social media, it's a lot. So, it's no small feat when an actress as cool, calm and collected as Millie Bobby Brown comes on the scene.
Having landed her first leading role in the Netflix hit Stranger Things at the age of just 11, Bobby Brown redefined expectations of what it meant to be a young female star straight out of the blocks. From honing her wary but powerful presence on screen as the troubled Eleven, to shaving off her own hair as part of the role, Bobby Brown took on physical demands even the most experienced actors would have struggled to overcome.
In the few years that have elapsed since the 17-year-old became a household name, she's launched her beauty brand Florence by Mills and become the youngest person to be selected as a UNICEF Goodwill Ambassador. Casual. As she turns 18 ELLE UK chatted to the British actress about the lessons she's learned from having her own brand, the beauty treatment she loves to chill out to, and why Audrey Hepburn personifies beauty for her…
How has your approach to beauty changed as you've got older?
'It started a routine that was too complicated, so I would say over time it's got a lot simpler. I've really stripped it back to basics, now I only use two to three products morning and night because I just don't have time and it's just easier. I think that's a trend that we've seen quite recently, a lot of people are wanting to take it back to the basics and start simplifying their routines because of how complicated it can be or because sometimes you're overusing products on your skin. Now I'm using so much less and it's actually a lot better for my skin.'
What's the biggest beauty lesson you've learned since starting Florence by Mills?
'I mean not to be quite obvious, but using cruelty-free and paraben-free products, things that actually are meant to go on to your skin and that are grown from the earth. Nothing that's going to harm or be too harsh for your skin. I started off using products that weren't necessarily right for me, my skin type or my age, and creating Florence made me learn that huge lesson of actually, these aren't things meant for my skin and so I'm going to start using things that are.'
This content is imported from Instagram. You may be able to find the same content in another format, or you may be able to find more information, at their web site.
What beauty products do you always have in your handbag?
'I would say stripping it back to the basics, my Glow Yeah Lip Oil because it nourishes but it's also got a nice shine to it. My Up In The Clouds Moisturiser or the Dreamy Dew Moisturiser I split between, I use the Dreamy Dew Moisturiser mostly in the summertime and then Up In The Clouds is a little bit heavier but it's a lot creamier and I really like that especially in the wintertime so that differs, but I like to take a moisturiser anywhere I go because I actually have quite dry skin.
'Then I also love our Look Alive Eye Balm just because of the qualities it actually has to help make your eyes look like you've never experienced jet lag. It makes you feel like you've put on a full face of make-up but instead it's just brightening your under eyes.'
What are your top tips for looking less tired?
'I really believe in icing and cooling. I actually love cryo chambers and I've done them for a few years now because of an injury I had. It helps a lot with your skin as well – it helps to promote blood flow and tackles inflammation in any areas. I've always cooled my face with rose quartz rollers, I love that you can put them in the fridge and they can help create an even skin tone.'
What's the best beauty tip you've learned from your fellow actors?
'When I started Stranger Things season one I hadn't got Florence by Mills and I was just using products that our make-up team provided and Matthew Modine, who plays my Papa in Stranger Things, told me, "Everything that goes into your skin goes into your bloodstream." I've always remembered that, and that was my leading theme and motivation for creating Florence by Mills. It's all extracts and botanicals that that are good for you and that puts my mind at ease, knowing that my skin is actually benefiting from what we put in to our formulas.'
This content is imported from Instagram. You may be able to find the same content in another format, or you may be able to find more information, at their web site.
What era of beauty are you most inspired by?
'I don't think you can get better than the Eighties. I think the Eighties are probably the best period for hair, make-up, fashion and music, I mean, I could go on and on. But specifically for beauty the colours are amazing and so bold and flawless. The hair, it's insane, the huge blowouts. It's my favourite period that I've personally worked in and also, you know, I've experienced it for seven years and still love it.'
You've tried a lot of different hairstyles in your career, which one do you feel represented you the most?
'I think the one I have now, I actually said the other day I think this feels like mostly me. When I shaved my hair off, I said that was the most me I've ever felt, but I was also like 10!'
What's your best tip for how to style your new fringe?
'Right now my bangs are too long to wear in front of my face so I have to push them to the side until I can go and get a haircut. I use a styling cream and then use a big hairdryer brush and blow it all out so your bangs can kind of pop up. You do just have to be very patient and also directly after you wash your hair you have to do what you want to style it, because once you wait a bit too long your hair starts going in all sorts of directions.'
What make-up look are you dying to try?
'I'm obsessed with Euphoria and I feel like I haven't done my Euphoria moment yet so I'm really hoping we get to do that. I'm so obsessed with Maddie, I'm a big fan and I love all their beauty, their hair and their fashion.'
Tell us about a beauty look you'd never wear again…
'I think everything happens for a reason and every decision I made, I made for a reason. Something I appreciate is how my team, my family, everybody kind of supported my decisions. I mean, I wore Converse on a red carpet, and I think that's really cool and that's something that I won't ever regret. Decisions I made when I was little I think are quite beautiful and I hope that young people out there can make those decisions for themselves and stop sticking to rules and stigmas and standards. Do what makes you feel the most you, that's what I've done growing up and I'm still growing up, but I wouldn't regret anything.'
This content is imported from Instagram. You may be able to find the same content in another format, or you may be able to find more information, at their web site.
Who represents beauty to you?
'I think women represent beauty. Someone I look up to is Audrey Hepburn, for all the work she put into humanitarianism and also her acting work. Who she was and what she represented is everything I strive to be – I love her make-up, her beauty and her fashion, everything about her. But also women in general inspire me. Sometimes I walk past a shop and look at a woman in the window and I think, "Wow." Women in general have everything going for them and I think if we are given the right opportunities and the right tools, we can fulfil our dreams whatever they may be.'
What do you love about British beauty?
'I do see a difference within British beauty compared to American. I like our eyeliners, I think we wear a lot of eyeliner and I love Amy Winehouse's classic British cat-eye. I think that I see that a lot here and I'm a stickler for it as well.'
This content is created and maintained by a third party, and imported onto this page to help users provide their email addresses. You may be able to find more information about this and similar content at piano.io
https://www.elle.com/uk/beauty/make-up/a39105320/millie-bobby-brown-beauty-secrets/