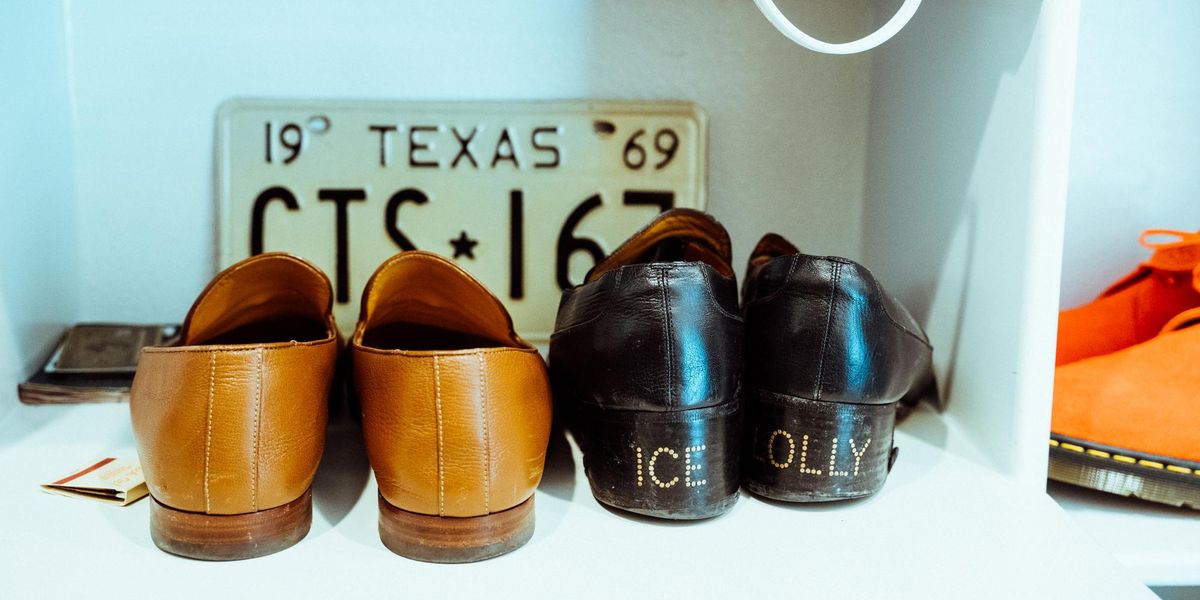 Leon Bridges' Favorite Things – Coveteur: Inside Closets, Fashion, Beauty, Health, and Travel
When you think of Grammy-winning artist Leon Bridges, more comes to mind than his music alone. The picture is much more complete—a full body image, if you will, that encompasses his extremely distinct sense of style. Bridges himself describes his own aesthetic as a, "minimalistic Western '70s kind of thing." A seemingly contradictory string of words, the result is a unique amalgamation of statement jackets, loafers, trousers, and more.
"Pants wise, it's got to be flared these days. Got to be flared," continues Bridges. "My go-to is Canadian tuxedo vibes. I've recently been leaning more into like western fashion, too. I've been wearing more boots." Lucky for us, Bridges is sharing his favorites of all the aforementioned categories. Unsurprisingly, that same aesthetic specificity extends to his home, as well. The musician takes a unique approach to shopping with his essentials ranging from Aesop hand sanitizer to old Ford Broncos to Hanes tank tops. Intrigued? Discover all of Bridges' favorite things below.
window.REBELMOUSE_ACTIVE_TASKS_QUEUE.push(function(){
var makeMonitor = (getStatus, cb, delay) => { delay = delay || 100; var monitor = () => { var time = +new Date(); var status = getStatus(); if (status) { return cb(status); } else { if (!stopMonitor && +new Date() - time < 30 * 60 * 1000) { monitorId = setTimeout(monitor, delay); } else { cb(false); } } }, cancel = () => { stopMonitor = true; clearInterval(monitorId); }; let monitorId, stopMonitor = false; return { start: monitor, cancel: cancel, }; };
var leftArrowCarrousel = makeMonitor( function () { return document.querySelector( ".shop-sidebar.shop-posts .posts-wrapper .slick-next" ); }, function (res) { res.addEventListener("click", () => { gtag("event", "Left Arrow Click", { event_category: "Shopping Module", event_label: "Previous product at carrousel", }); }); } );
leftArrowCarrousel.start();
var rightArrowCarrousel = makeMonitor( function () { return document.querySelector( ".shop-sidebar.shop-posts .posts-wrapper .slick-prev" ); }, function (res) { res.addEventListener("click", () => { gtag("event", "Right Arrow Click", { event_category: "Shopping Module", event_label: "Next product at carrousel", }); }); } );
rightArrowCarrousel.start();
var buyButton = makeMonitor( function () { return document.querySelectorAll( ".shop-sidebar.shop-posts .posts-wrapper .widget__product-buy-link-btn" ); }, function (res) { for (let button of res) { button.addEventListener("click", () => { gtag("event", "Buy button click", { event_category: "Shopping Module", event_label: `${button["href"]}`, }); }); } } );
buyButton.start();
var imageShopp = makeMonitor( function () { return document.querySelectorAll( ".shop-sidebar.shop-posts .posts-wrapper .widget__head a" ); }, function (res) { for (let image of res) { image.addEventListener("click", () => { gtag("event", "Image click", { event_category: "Shopping Module", event_label: `${image["href"]}`, }); }); } } );
imageShopp.start();
var productTitle = makeMonitor( function () { return document.querySelectorAll( ".shop-sidebar.shop-posts .posts-wrapper .widget__headline .widget__headline-text" ); }, function (res) { for (let product of res) { product.addEventListener("click", () => { gtag("event", "Product title click", { event_category: "Shopping Module", event_label: `${product["href"]}`, }); }); } } );
productTitle.start();
});
window.REBELMOUSE_ACTIVE_TASKS_QUEUE.push(function(){
window.REBELMOUSE_STDLIB.loadExternalScript("https://s.skimresources.com/js/150311X1615657.skimlinks.js", function() {
});
});
window.REBELMOUSE_ACTIVE_TASKS_QUEUE.push(function(){
!function(f,b,e,v,n,t,s){if(f.fbq)return;n=f.fbq=function(){n.callMethod?n.callMethod.apply(n,arguments):n.queue.push(arguments)};if(!f._fbq)f._fbq=n;n.push=n;n.loaded=!0;n.version='2.0';n.queue=[];t=b.createElement(e);t.async=!0;t.src=v;s=b.getElementsByTagName(e)[0];s.parentNode.insertBefore(t,s)}(window, document,'script','https://connect.facebook.net/en_US/fbevents.js');fbq('init', '1248680838922690');fbq('track', 'PageView');
});
window.REBELMOUSE_ACTIVE_TASKS_QUEUE.push(function(){
window.REBELMOUSE_STDLIB.onElementInViewport({ threshold: 400, selector: "video", oneTime: true, onIntersect: function(entry){ var element = entry.target; element.setAttribute("allow","autoplay"); element.loop = true; element.muted = true; element.autoplay = true; element.setAttribute("playsinline","true"); //element.controls = false; element.play(); } });
});
https://coveteur.com/leon-bridges-favorite-things