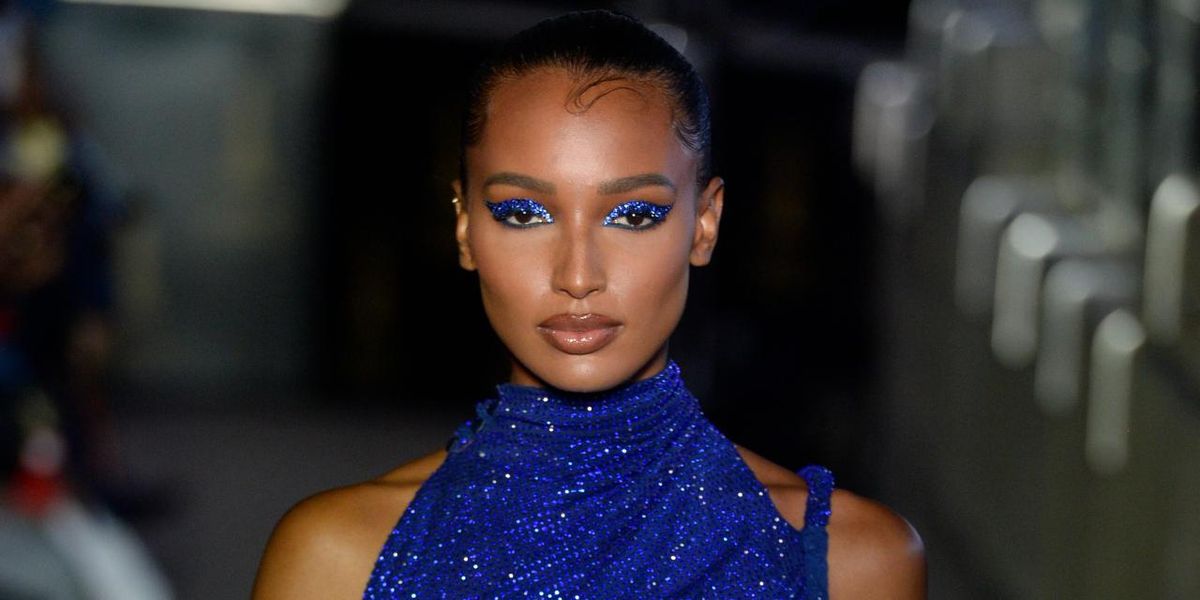 How to Wear Glitter Makeup
Similar to pigtails, glitter makeup is one of those beauty phrases that instantly transports you to middle school—but that doesn't mean that the shimmering finish has to fall in the "childish" category. Whether you want to recreate a show-stopping makeup look or you just want to add some subtle sparkle to your face, the difference between a glitter makeup look that is sophisticated and one that looks more unrefined is the proper application technique.
If you're thinking about digging out your glitter eyeshadow and lipstick this holiday season, you're in luck—we reached out to Charlie Riddle, Stila Cosmetics' artistic director, and Jamie Dorman, a celebrity makeup artists, for the tips, tricks, and products you'll need to nail your party look.
How to Wear Glitter on Your Lips
A solid foundation is the key to nailing the glimmer look on your lips, says Riddle. "It's important to get your lips as smooth as possible," she adds. Exfoliate, then dab on a hydrating lip balm before starting the rest of your makeup. "I recommend doing lips as a last step in case you accidentally bump them while doing the eyes or the rest of your face," says Riddle.
Want to make sure you don't scribble outside of the lines? Use a lip liner. "It's good to get a liner similar in tone to the color you are using to outline," says Riddle. "It's a good guide to make sure the glitter isn't going above or under your lips."
For a long-wearing mix of pearlescent particles on your lips, go for a superfine shimmer formula for multidimensional lips without the mess of chunky glitter. Another option? Riddle suggests swiping on a translucent glitter lip gloss.
Rather than using the applicator that comes with the product, Riddle recommends using an angled lip brush. "Getting the brush slightly damp will help ensure that there's no fall out and it'll really help pack on the sparkle without making a mess if it's a loose glitter," says Riddle. If you're tapping on pressed glitter, tap on the shimmer with your index or pinky finger for precise application.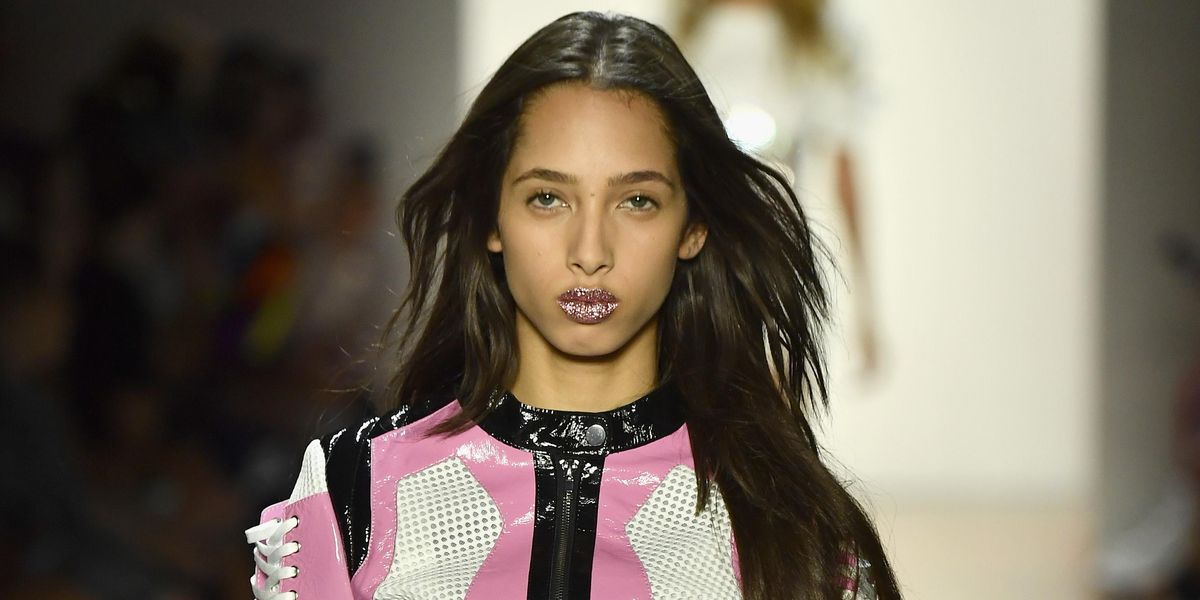 Photo: Frazer Harrison/Getty
How to Wear Glitter on Your Eyes
Similar to your lips, when you're applying glitter onto your lip, you want to make sure that your skin is really hydrated and nourished, says Dorman. "Glitter tends to be abrasive when it is removed, so it's best if the skin is prepped and protected with a primer with skin barrier restoring ingredients," she adds.
Once your skin is hydrated, layer on a sticky base to keep fallout to a minimum. "I love Skingasm Glitter Gloss for how easy it is to apply," says Dorman. When it comes to loose glitter, though, she loves to use Duo Lash Glue on clients as the base before applying any reflective pigments.
Then, hold a paper tissue under your eye
Glitter can be tough to remove from the skin, so Dorman suggests holding or taping a paper tissue under the eye to catch any glitter fall out. "You can also use tape around the eye to keep the glitter in precise areas," she adds.
"When you pick up the glitter with a brush, tap the brush very gently on the container to shake back in the very loose glitter," says Dorman, "then, press it firmly to the eyelid to make sure it sticks." This is an important step, she adds. "You do not want to brush the glitter on—you want to press, hold for a moment, then move on to the next spot on the lid where you want glitter." This'll create a clean, full-coverage, and dramatic eye look.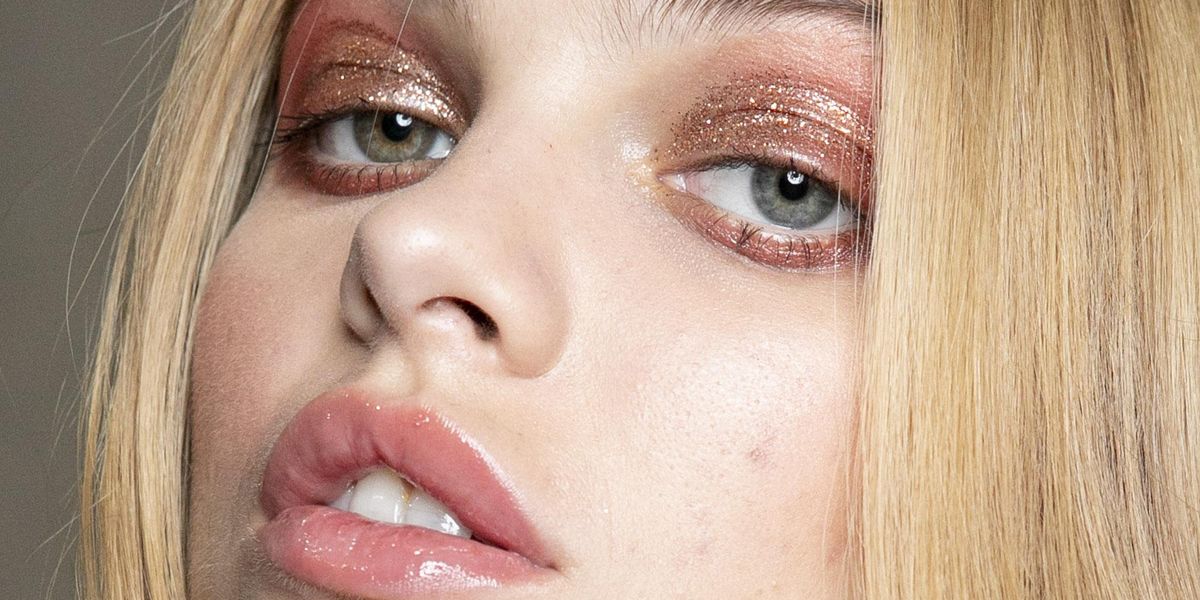 Photo: Rosdiana Ciaravolo/Getty
window.REBELMOUSE_ACTIVE_TASKS_QUEUE.push(function(){
var makeMonitor = (getStatus, cb, delay) => { delay = delay || 100; var monitor = () => { var time = +new Date(); var status = getStatus(); if (status) { return cb(status); } else { if (!stopMonitor && +new Date() - time < 30 * 60 * 1000) { monitorId = setTimeout(monitor, delay); } else { cb(false); } } }, cancel = () => { stopMonitor = true; clearInterval(monitorId); }; let monitorId, stopMonitor = false; return { start: monitor, cancel: cancel, }; };
var leftArrowCarrousel = makeMonitor( function () { return document.querySelector( ".shop-sidebar.shop-posts .posts-wrapper .slick-next" ); }, function (res) { res.addEventListener("click", () => { gtag("event", "Left Arrow Click", { event_category: "Shopping Module", event_label: "Previous product at carrousel", }); }); } );
leftArrowCarrousel.start();
var rightArrowCarrousel = makeMonitor( function () { return document.querySelector( ".shop-sidebar.shop-posts .posts-wrapper .slick-prev" ); }, function (res) { res.addEventListener("click", () => { gtag("event", "Right Arrow Click", { event_category: "Shopping Module", event_label: "Next product at carrousel", }); }); } );
rightArrowCarrousel.start();
var buyButton = makeMonitor( function () { return document.querySelectorAll( ".shop-sidebar.shop-posts .posts-wrapper .widget__product-buy-link-btn" ); }, function (res) { for (let button of res) { button.addEventListener("click", () => { gtag("event", "Buy button click", { event_category: "Shopping Module", event_label: `${button["href"]}`, }); }); } } );
buyButton.start();
var imageShopp = makeMonitor( function () { return document.querySelectorAll( ".shop-sidebar.shop-posts .posts-wrapper .widget__head a" ); }, function (res) { for (let image of res) { image.addEventListener("click", () => { gtag("event", "Image click", { event_category: "Shopping Module", event_label: `${image["href"]}`, }); }); } } );
imageShopp.start();
var productTitle = makeMonitor( function () { return document.querySelectorAll( ".shop-sidebar.shop-posts .posts-wrapper .widget__headline .widget__headline-text" ); }, function (res) { for (let product of res) { product.addEventListener("click", () => { gtag("event", "Product title click", { event_category: "Shopping Module", event_label: `${product["href"]}`, }); }); } } );
productTitle.start();
});
window.REBELMOUSE_ACTIVE_TASKS_QUEUE.push(function(){
window.REBELMOUSE_STDLIB.loadExternalScript("https://s.skimresources.com/js/150311X1615657.skimlinks.js", function() {
});
});
window.REBELMOUSE_ACTIVE_TASKS_QUEUE.push(function(){
!function(f,b,e,v,n,t,s){if(f.fbq)return;n=f.fbq=function(){n.callMethod?n.callMethod.apply(n,arguments):n.queue.push(arguments)};if(!f._fbq)f._fbq=n;n.push=n;n.loaded=!0;n.version='2.0';n.queue=[];t=b.createElement(e);t.async=!0;t.src=v;s=b.getElementsByTagName(e)[0];s.parentNode.insertBefore(t,s)}(window, document,'script','https://connect.facebook.net/en_US/fbevents.js');fbq('init', '1248680838922690');fbq('track', 'PageView');
});
window.REBELMOUSE_ACTIVE_TASKS_QUEUE.push(function(){
window.REBELMOUSE_STDLIB.onElementInViewport({ threshold: 400, selector: "video", oneTime: true, onIntersect: function(entry){ var element = entry.target; element.setAttribute("allow","autoplay"); element.loop = true; element.muted = true; element.autoplay = true; element.setAttribute("playsinline","true"); //element.controls = false; element.play(); } });
});
https://coveteur.com/how-to-wear-glitter-makeup