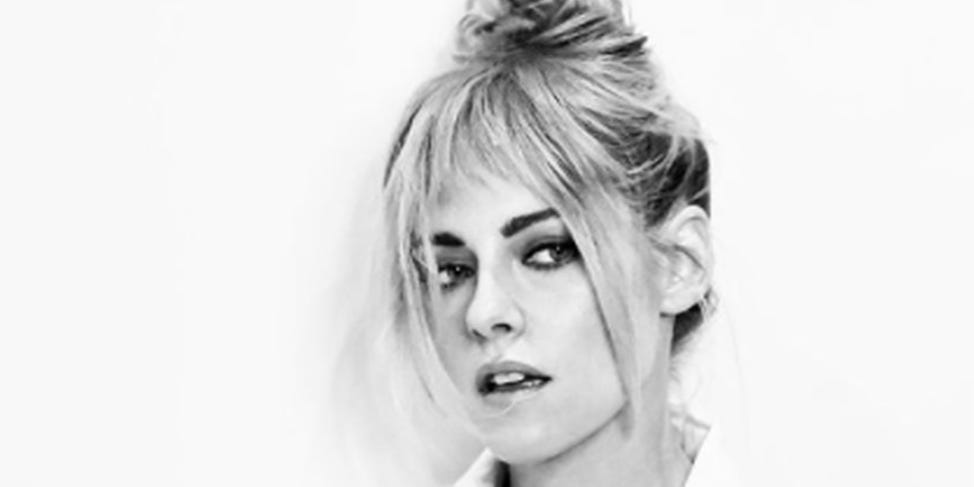 How to style a fake fringe like Kristen Stewart
CBS Photo ArchiveGetty Images 'Hair today, gone tomorrow' is standard when it comes to Hollywood
CBS Photo ArchiveGetty Images
'Hair today, gone tomorrow' is standard when it comes to Hollywood bangs. It's not that with a celebrity status comes accelerated hair growth, rather access to hairstylists who employ faux fringe trickery with infallible application.
As with any temporary hair extensions, a faux fringe is a clip-in hair piece which can be styled in several ways, like a real fringe can. Look to Kristen Stewart this week; on the promo trail for movie Spencer, the actor has employed various different vibes with her styling, and for an appearance on The Late Show she partnered a Chanel suit with a nonchalant 'French girl' up-do. The fringe was a "last second" addition says Adir Abergel – LA's most influential hairstylist.
This content is imported from Instagram. You may be able to find the same content in another format, or you may be able to find more information, at their web site.
"I wanted it to feel like she threw up her own hair," he tells us, citing Jane Birkin and Brigitte Bardot in the 1960s as inspiration. "It had that effortlessness to it."
That's not to say it was a case of clip-and-go, though. "Kristen always makes everything her own, so we cut into it and made them short choppy bangs, but left the sides loose and undone."
Indeed, he says a fringe – whether real or fake – is very versatile and can be deeply transformative. "You can bring out a lot of personality with a fringe, depending on what kind of fringe you do: straight across, a Betty Page 1940s bang, a choppy, undone fringe, or a French girl curtain bang – they all have a different feeling, and they can give you your own style." He adds that "it's about looking at your face and framing it around that".
When it comes to buying a good quality clip-in fringe, Abergel's favourite place to pick them up is at The Wig Shop in LA, "which sells these awesome clip-in bangs". In the UK, Easilocks is an authority in hair extensions, and has a new range on LookFantastic with more colours coming soon.
Tips for using a faux fringe
So, how can we make a clip-in fringe look more like that of an A-lister's over a child's doll?
1) Cut it
"I think that if you're going to use a faux bang, the secret is taking out enough weight, and having the ends feel choppy," Abergel advises. "A great tip to do this is to use a tweezer and pluck out a bunch of hair, or go in with scissors on the end to texturise it, going up and down versus straight across, so it's not heavy and blunt – just like cutting your own bangs." (See Jessica Biel's real fringe below, cut by Abergel.)
This content is imported from Instagram. You may be able to find the same content in another format, or you may be able to find more information, at their web site.
2) Colour it
Another trick is to colour the hair piece. "Take it to your colourist and ask them to add a little bit of depth to the roots to create a shadow. Because that's how natural hair is; even if you get your hair highlighted there will always be a shadow from the growth of your own hair, and so this will give it the dimension to look really natural."
Or, if you don't have the time to take it to a colourist, use an eyebrow shadow to colour it, he suggests. "Use a small make-up brush and paint in the shadow all over the root area, matching the colour of your brow hairs."
3) Style it
When it comes to securing the hair piece, first tease your hair at the roots where you want to place the fringe and ensure a tight grip by fastening them down into the rest of your hair.
Then you want to style it into the rest of your hair as you would a real fringe. Whatever look you're going for, Abergel recommends encouraging some volume at the root.
"Flat bangs don't look good on anybody, so you want to use a volumiser on the roots of the bangs." As with Stewart, "I use the Virtue Volumizing Primer which gives a little bit of lift. Spray it on the roots, and fluff it with your hands to dry it in or use the hairdryer on the cold setting." He explains that "hot air makes the hair flatter, whereas cold air contracts and gives you more volume".
When it comes to achieving the most natural finish, "all these little tricks really help".
This content is created and maintained by a third party, and imported onto this page to help users provide their email addresses. You may be able to find more information about this and similar content at piano.io

https://www.harpersbazaar.com/uk/beauty/hair/a38907643/kristen-stewart-fringe/