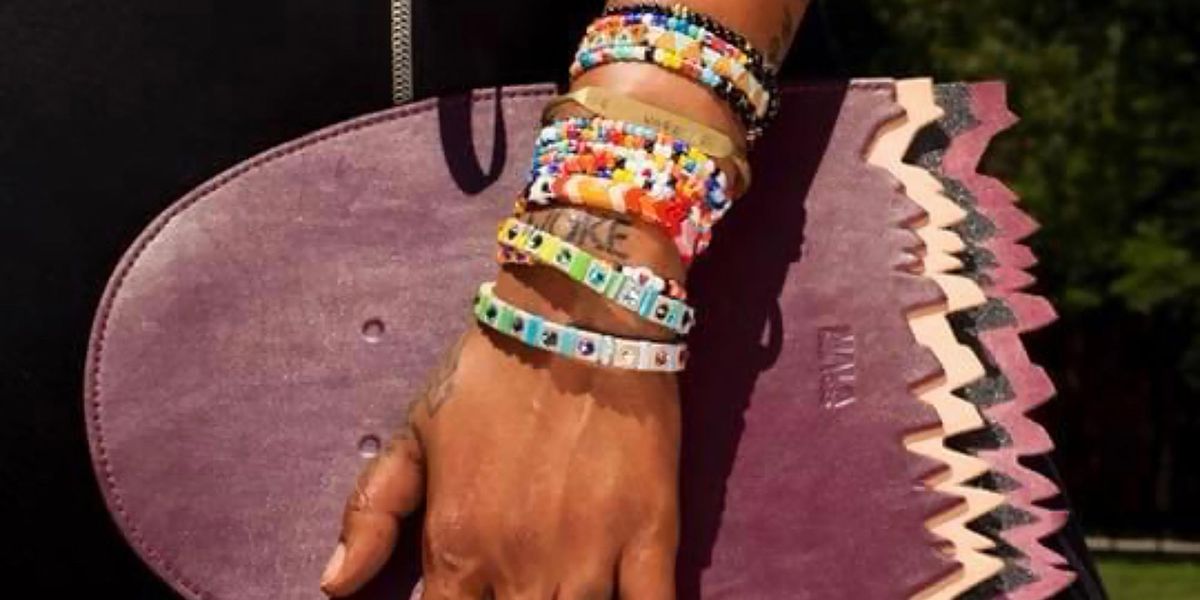 How 5 Creatives Layer Their Bracelets
If you were on Tumblr circa the early 2010s—or Instagram, or any form of online media, for that matter—then you're likely no stranger to the concept of "arm candy." Budding bloggers posted images where friendship bracelets posed next to Cartier LOVE cuffs, scrunchies framed oversized rose gold watches, and bangles clattered against even more bangles. It paralleled the era's adherence to feminine glamour met with full skirts and stiletto heels.
After a retaliatory period of normcore-induced minimalism, the stacked look has made its way back onto the style scene, thanks in part to jewelry designers like Roxanne Assoulin and Cristy Mantilla of éliou who, along with their followers, champion a haphazard yet joyful approach to layering jewelry.
Photo: Courtesy of Roxanne Assoulin
When bracelets are worn in such abundance, anything goes. Think a Cartier watch with a quirky strand of beads, natural pearls and enamel spirals, classic gold chains and diamond tennis bracelets. The imperfection of it all often lends a playful touch, a sense of humor to the look of those who dress in a simpler manner. Aforementioned designer Assoulin opts for a zero-planning approach with regard to her personal wrist stack. "I have a drawer filled with bracelets and I just randomly pick," she explains. "It's pretty spontaneous." The constants? A classic Hermès watch and gold links from Jennifer Fisher she rarely takes off.
Shop Roxanne's Stack:
"I'm a pretty basic dresser—jeans and dark turtlenecks in the winter, jeans and white shirts in the summer." While Assoulin counts herself a fan of color, she's hesitant to don it head to toe; jewelry offers the perfect amuse-bouche. "[The bracelets] always make me happy and I never feel like I'm overdoing it."
For producer Crystal Anderson, what she refers to as her "arm party" serves as an aesthetic signature. The stack currently includes a bunch of Roxanne Assoulin, vintage, and a few options from Miansai. "It's the quickest way to show my style, even if I'm getting a hungover bagel at the corner store or hanging in my pajamas at home," she explains.
Photo: Courtesy of Crystal Anderson
Unlike Assoulin, the ostentatious jewelry stack mimics how she dresses instead of contrasting with it. "My jewelry is super indicative of my personal style; loud, a lot, and fun. Whenever I'm having a chilled out day, I just lead with my wrists and let them do the talking," Anderson continues. "I never ever ever take off my arm party!!"
Shop Crystal's Stack:
PR maven Francesca Simons spends her days dealing in jewelry and prefers it as a medium of expression over clothing. Regardless of that distinction, everything still has to coordinate. "While my clothing style is rather plain and simple and usually consists of neutral tones, my jewelry is a mixture of golds, diamonds, and a pop of color to brighten up the look," she says. "I believe more is more, and to layer and stack with different colorways and textures always looks best no matter the occasion."
Photo: Courtesy of Francesca Simons
A wealth of knowledge on the subject (considering her career path), her approach is a practical one. "I usually select pieces I know are comfortable, and easy to take on and off, especially for when tapping at the keys on my laptop." Her stack ranges from youthful to sophisticated. "In terms of my day-to-day selection, I wear my staples and then alternate my Bea Bongiasca friendship bracelets and ANANYA Chakra bracelets for the color aspect. It can be tricky to select as I have so many favorites and want to wear everything at once. Best news? They do not tangle or knot like necklaces can," Simons adds. "No reasoning behind the madness, just pile on, enjoy, and sparkle daily!"
Shop Francesca's Stack:
The beauty of the stack is the mix of high and low this sort of more-is-more approach often yields. Artist Amber Vittoria also champions this mentality. Her stack includes two custom Boston Beaded bracelets, one from Ring Concierge, and an iteration of the Cartier LOVE models, each a gift from someone she holds dear—her brother and his fiance, husband, and parents, respectively.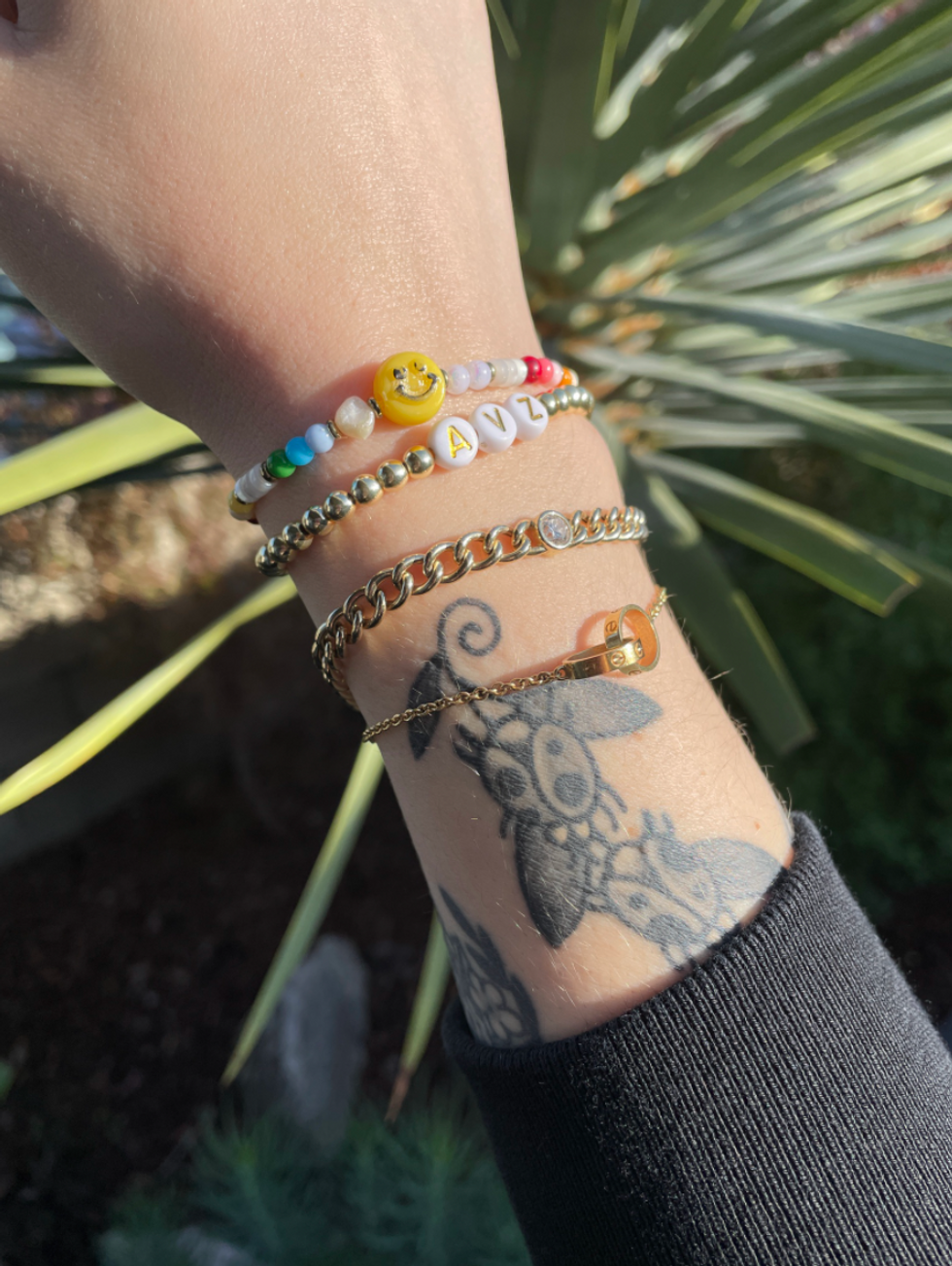 Photo: Courtesy of Amber Vittoria
"My wardrobe gravitates towards neutrals and simple silhouettes," Vittoria reiterates, "so my jewelry balances it with color and shine!" There is no method to her madness aesthetically, but logistically, "I stack from tightest to loosest on my wrist!"
Shop Amber's Stack:
As opposed to all of the previous arm parties, jewelry designer Ashley Zhang's is more of a subtle yet sophisticated arm soirée. Above rings from her own collection, she relies on timeless classics and doesn't pile on too much. "For my wrist stack I have a classic vintage Cartier Ceinture watch, a diamond tennis bracelet, and a vintage moonstone bracelet."
Photo: Courtesy of Ashley Zhang
Despite my search for rules, or at least some sort of guidelines, I seemingly found a lack thereof, or rather tips that only applied to an individual. Whether you're a minimalist like Zhang or prefer maximalism à la Anderson, just make sure your stack adheres to your personal style.
Shop Ashley's Stack:
window.REBELMOUSE_ACTIVE_TASKS_QUEUE.push(function(){
var makeMonitor = (getStatus, cb, delay) => { delay = delay || 100; var monitor = () => { var time = +new Date(); var status = getStatus(); if (status) { return cb(status); } else { if (!stopMonitor && +new Date() - time < 30 * 60 * 1000) { monitorId = setTimeout(monitor, delay); } else { cb(false); } } }, cancel = () => { stopMonitor = true; clearInterval(monitorId); }; let monitorId, stopMonitor = false; return { start: monitor, cancel: cancel, }; };
var leftArrowCarrousel = makeMonitor( function () { return document.querySelector( ".shop-sidebar.shop-posts .posts-wrapper .slick-next" ); }, function (res) { res.addEventListener("click", () => { gtag("event", "Left Arrow Click", { event_category: "Shopping Module", event_label: "Previous product at carrousel", }); }); } );
leftArrowCarrousel.start();
var rightArrowCarrousel = makeMonitor( function () { return document.querySelector( ".shop-sidebar.shop-posts .posts-wrapper .slick-prev" ); }, function (res) { res.addEventListener("click", () => { gtag("event", "Right Arrow Click", { event_category: "Shopping Module", event_label: "Next product at carrousel", }); }); } );
rightArrowCarrousel.start();
var buyButton = makeMonitor( function () { return document.querySelectorAll( ".shop-sidebar.shop-posts .posts-wrapper .widget__product-buy-link-btn" ); }, function (res) { for (let button of res) { button.addEventListener("click", () => { gtag("event", "Buy button click", { event_category: "Shopping Module", event_label: `${button["href"]}`, }); }); } } );
buyButton.start();
var imageShopp = makeMonitor( function () { return document.querySelectorAll( ".shop-sidebar.shop-posts .posts-wrapper .widget__head a" ); }, function (res) { for (let image of res) { image.addEventListener("click", () => { gtag("event", "Image click", { event_category: "Shopping Module", event_label: `${image["href"]}`, }); }); } } );
imageShopp.start();
var productTitle = makeMonitor( function () { return document.querySelectorAll( ".shop-sidebar.shop-posts .posts-wrapper .widget__headline .widget__headline-text" ); }, function (res) { for (let product of res) { product.addEventListener("click", () => { gtag("event", "Product title click", { event_category: "Shopping Module", event_label: `${product["href"]}`, }); }); } } );
productTitle.start();
});
window.REBELMOUSE_ACTIVE_TASKS_QUEUE.push(function(){
window.REBELMOUSE_STDLIB.loadExternalScript("https://s.skimresources.com/js/150311X1615657.skimlinks.js", function() {
});
});
window.REBELMOUSE_ACTIVE_TASKS_QUEUE.push(function(){
!function(f,b,e,v,n,t,s){if(f.fbq)return;n=f.fbq=function(){n.callMethod?n.callMethod.apply(n,arguments):n.queue.push(arguments)};if(!f._fbq)f._fbq=n;n.push=n;n.loaded=!0;n.version='2.0';n.queue=[];t=b.createElement(e);t.async=!0;t.src=v;s=b.getElementsByTagName(e)[0];s.parentNode.insertBefore(t,s)}(window, document,'script','https://connect.facebook.net/en_US/fbevents.js');fbq('init', '1248680838922690');fbq('track', 'PageView');
});
window.REBELMOUSE_ACTIVE_TASKS_QUEUE.push(function(){
window.REBELMOUSE_STDLIB.onElementInViewport({ threshold: 400, selector: "video", oneTime: true, onIntersect: function(entry){ var element = entry.target; element.setAttribute("allow","autoplay"); element.loop = true; element.muted = true; element.autoplay = true; element.setAttribute("playsinline","true"); //element.controls = false; element.play(); } });
});
https://coveteur.com/bracelet-stack-layering-tips