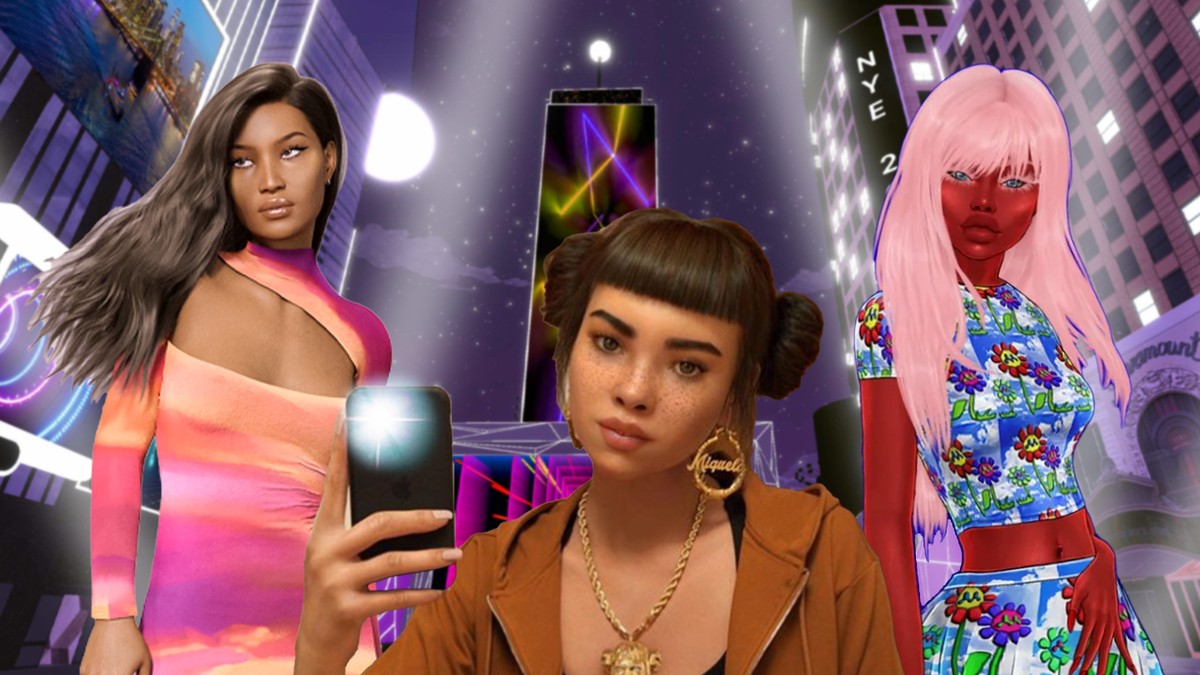 Here's why body-shaming in the metaverse is inevitable
The purpose of influencers has always been to convince people to want what they have,
The purpose of influencers has always been to convince people to want what they have, and to buy it if they can. But for the first years of the influencer industry, we were at least able to be convinced by other humans. Not so anymore. In a survey conducted by The Influencer Marketing Factory in March this year, 58% of respondents said they follow at least one virtual influencer, with 35% having bought a product promoted by one.
This isn't new in itself. It's been six years since the world first met Miquela Sousa (Lil Miquela), who now boasts 3 million followers. But with NFT startup Dapper Labs recently acquiring Brud — and subsequently, Miquela — it looks like virtual models are likely to be part of the next chapter of the internet: the metaverse. 
Whether you've dipped your toe into NFTs or begrudge the whole concept, it's likely that you've heard of the metaverse by now. It's part of Web3, a new frontier that promises to be decentralised and give the power back to users (since it relies on blockchain technology and theoretically breaks free from the chains of big tech). While the metaverse is still in its infancy, we've already seen the fashion industry eagerly adopt it: Balenciaga are creating skins for Fortnite, Nike bought NFT sneaker brand RTFKT and the first ever Metaverse Fashion Week took place just last month. 
To participate in the metaverse, all you need is a shiny, flawless and definitely poreless avatar. But what of the implications of creating, using and envying computer-generated images? "Research has shown that constantly seeing photoshopped, airbrushed and digitally altered human models has devastating effects on mental health," says Jessica DeFino, a beauty reporter and the author of the monthly Substack, The Unpublishable. "I can only predict that the popularity of virtually-rendered models will further enforce even more unrealistic beauty standards, and compound all of the physical and psychological trauma that comes with them."
We've already seen this play out over the last two decades, with the definition of beauty changing often, and without warning. While the early 2000s were all about rail-thin popstars and elfin beauties, it wasn't long before pop culture's obsession with the Kardashian-Jenners — and their appropriation of features from different races — ushered in a new era of beauty that was equally unfathomable and problematic. Social media escalated this, with people developing dysmorphia caused by AR filters. This coincided with a notable surge in cosmetic procedures and plastic surgery in young people attempting to achieve a fantastical idea of perfection. In 2017, 42% of surgeons surveyed said they had patients who wanted to look better in selfies and on social media. In 2021, an update to the same survey "detailed an enormous increase" in people wanting procedures, with 77% of surgeons surveyed reporting this same drive as a factor for procedures. 
However, it's difficult to discount the recent progress we've seen across beauty and fashion. More diverse bodies grace magazine covers (just this year, Paloma Elsesser broke the internet when she appeared on the cover of i-D in that Miu Miu skirt). Models with disabilities like the late Mama Cax dominated the Savage X Fenty show, while Aaron Rose Philip has starred in runway shows for Moschino and Collina Strada. Makeup companies are showing more skin texture, like Urban Decay, which committed to showing "real skin" in ads. TikTok influencers are getting involved too, with creators like Glamzilla exposing what we really look like without ring-lights and the shady business of filters.
But in spite of those noteworthy examples, Gianluca Russo, the CEO and co-founder of The Power of Plus, a size-inclusive digital community, thinks "a lot of people believe more progress has been made than actually has". He adds that because "of the commercialised model of the beauty industry, people are encouraged to celebrate inclusivity and self-love, but it really hasn't been a priority yet to be able to feel that internally. I don't think that progress has penetrated the level of self-love and self-reflection that we need to be able to say that our beauty ideas are shifting on a massive scale". Without untangling these complex feelings, we're bound to replicate this in the metaverse. 
For Anna E. Cook, a 30-year-old Senior Accessibility Designer who resides in Colorado, virtual models are the least of her concerns. "I know we're all tired of hearing about the metaverse, but at some point, we need to discuss the body image issues that will inevitably emerge with inherently cute 3D avatars representing our bodies," she tweeted late last year. Through Twitter DMs, she told me that while she once had fun expressing herself with avatars in the past, what worries her is how Meta (formerly Facebook) is marketing the use of avatars in the context of work. Since moving to remote work, she continues to worry about how people perceive her in meetings. "I'm short and curvy, but in a Zoom that's not obvious." So a shiny avatar that removes all of her idiosyncrasies is a nightmare. "I've had body dysmorphic issues for quite some time and to be professionally reflected in a body entirely different from my own has a level of dissonance that I'm not sure would be healthy for me over time."
In 2007, following the increased use of online games and chat rooms, Stanford University researchers Nick Yee and Jeremy Bailenson set out to determine whether a person's behaviour changes or conforms based on their avatar, independent of who they are in real life. They coined the term, the Proteus Effect to describe this phenomenon, which has proven to be true time and time again. Studies suggest that the effect can be positive, with some people becoming increasingly confident in their real lives. However, the negative effects can have worrying consequences. In a 2013 study, people who used hypersexual avatars tended to internalise their appearance and reported more body-related thoughts than those wearing non-sexualised avatars.
In readily available metaverses like Meta's Horizon Worlds, Decentraland, Sandbox and the fashion-forward IMVU; people can customise 3D avatars to represent themselves as they explore, play and interact with others. And how they choose to design their avatars is entirely up to them. Charli Cohen, the CEO of the digital fashion company RSTLSS, explains that there are many more ways to represent your identity in the metaverse than on traditional social media. "Right now it's more common to represent yourself as a highly stylised character (often non-human), so beauty standards are currently playing far less of a role in developing your online identity." But when I ask what kind of problems she foresees in the space, she relents that the majority of Web3 consumers sit within "a very narrow demographic" — which she describes as "straight, white and male" — something that she worries could negatively impact the future.  
In 2021, the Institute of Digital Fashion (IoDF) released its study, My Self, My Avatar, My Identity, based on a global survey of 6,000 people. The report found that people actually want more diverse representation in these new online spaces, since what's currently available isn't actually sufficient. As Charli Cohen says, you can hop into a metaverse and create an avatar that looks like a fire-breathing alien with no problem, however people that are pregnant, have disabilities, fat bodies or are non-binary have fewer options to present this way. There's a disconnect happening between the companies creating these platforms and the people that use them. The selling point of the metaverse is you can live out your wildest dreams — an alien, a different gender, or simply another hair colour — but some people just want to be themselves. 
"In reference to our study, BIPOC individuals who took part in the research were in agreement to representing themselves in the most accurate way possible, believing that not being defined by skin colour is a very white concept," explains Lydia Birgani-Nia Head of Marketing and Communications at IoDF. 
In 2021, Jessica DeFino published a newsletter titled, Meta Face Is Coming, where she predicts what the future of AI-influenced beauty standards could look like if Meta CEO, Mark Zuckerberg pioneers this next phase of the internet. "If Instagram Face is modelled after real faces that have been 'enhanced' with filtered or Facetuned features, Meta Face will be modelled after entirely fake faces," she tells me. The 'Meta Face' has unrealistic facial features; cartoonish yet void of humanity. Wide-eyed yet blank, while being symmetrical, ageless and completely smooth. "The starting point is lifelessness."
She points to the "enhanced features" and youthful appearances of Zuckerberg, Jeff Bezos and Elon Musk. "These are the people creating the framework for filters and Meta avatars. These are the people enforcing society's beauty ideals," she says. While 73.2% of the tech industry are men, 83.3% of tech executives are white. So, it's likely that whatever programmers have personally internalised — from beauty standards, fatphobia, racism, homophobia and ageism — will exist in the future of the internet. 
And these programmers may also be the ones behind perfect virtual models like Miquela. Earlier this year, fast-fashion brand, Pretty Little Thing (PLT) revealed its first virtual model, the ethnically ambiguous Luna, sparking backlash from customers, many of whom asked why they couldn't simply hire more POC models instead. In 2018, controversy ensued when it was revealed that Shudu Gram, a dark-skinned fashion model, was the CGI creation of Cameron-James Wilson, a white British photographer. The creators of Miquela, meanwhile, remained anonymous until recently revealing themselves as Trevor McFedries and Sara Decou. Outside of these notable examples though, there's rarely much transparency when it comes to who's creating these digital influencers.
Black, indigenous and people of colour have historically been objectified and appropriated in the fashion industry for decades. But CGI influencers enable creators and companies to hide behind the illusion of diversity, without actually investing in it. 
To see the next digital frontier reiterating beauty standards that fetishise and distort features from different races and ethnicities, while upholding Eurocentric beauty standards, suggests that the possibilities aren't endless after all. "This aesthetic turns the body into a site of colonialism and extractive capitalism," Jessica DeFino explains. "Digital avatars will essentially do the same; they'll turn the virtual body into a site of colonialism and extractive capitalism, which will in turn influence how we manipulate our physical bodies, ad infinitum."

https://i-d.vice.com/en_uk/article/pkp9bv/body-shaming-metaverse