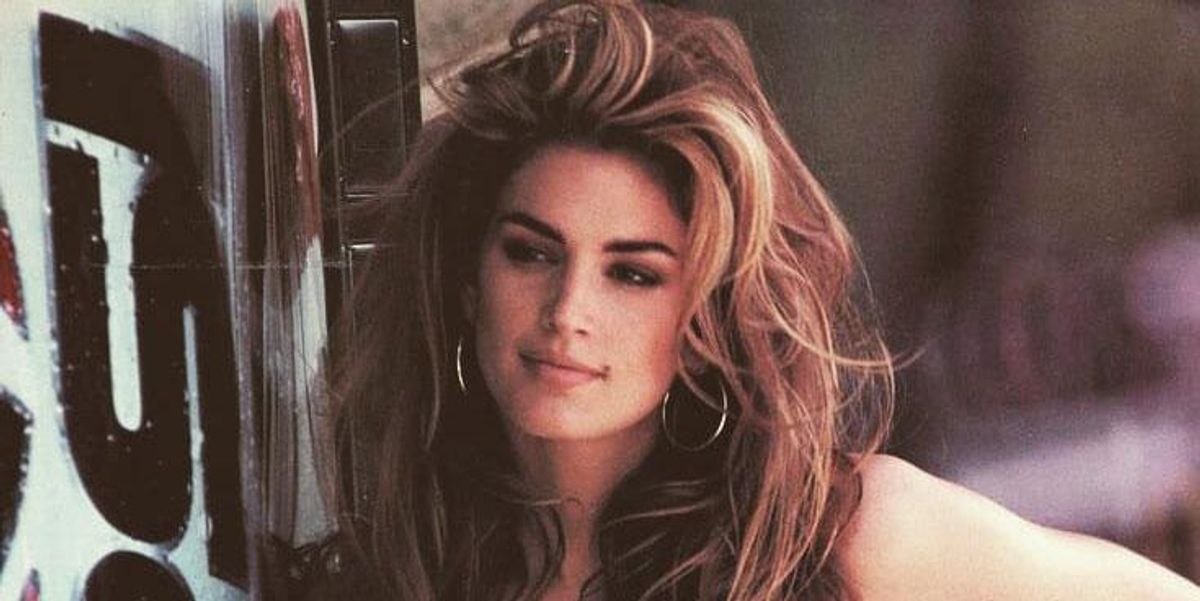 Cindy Crawford Shares Her Supermodel Hair Secrets
If you've ever wondered why Cindy Crawford's hair is so big, know it's because those voluminous strands are full of secrets. Over the years, the catwalk icon has compiled an impressive arsenal of backstage tips and tricks from the best in the business, but not even her supermodel status could stave off the unexpected effects of aging.
"As women, we know we're going to get wrinkles and laugh lines and crow's-feet, and you know that you're going to get a few grey hairs and what you're going to do about that…but no one prepared me for the fact that my hair was going to change," says Crawford via Zoom, who noticed that her strands became thinner, duller, and more brittle after having her two children, Presley and Kaia Gerber (now 21 and 19, respectively). "I see Kaia and I'm always like, 'Give me my old skin! Give me my old hair! Give me my old legs!'"
Her doppelganger daughter may spark envy from time to time, but Crawford, 55, refuses to let her signature bounce fall flat without a fight. That's why she developed the new Age-Proof Hair Care System for Meaningful Beauty, a product line she started in 2004 alongside Dr. Jean-Louis Sebagh (a French cosmetic doctor now based in London). Infused with skin-care-worthy ingredients like melon super antioxidants, the range consists of a strengthening shampoo, smoothing conditioner, restorative scalp treatment, protective styling spray, and a root touch-up powder.
Here, Crawford revisits some of her most legendary hair moments and reveals the old-school beauty tool she still swears by, the '90s trend you shouldn't try at home, and where she stands on the all-important side-versus-middle-part debate. (Hint: TikTok teens be damned.)
Baby your hair
Crawford's hair is practically a national treasure, and she goes to great lengths to preserve it. "If you give your hair a little bit more love as you age…it will thank you for it," she says. "I don't like a lot of product in my hair for real life, which is what I call my non-modeling life, but what I do use 100 percent of the time is a heat protectant." Crawford mists Meaningful Beauty's new
Styling and Protecting Spray on towel-dried hair before heat styling or to refresh and smooth her blowout. "You do have to baby your hair more as you age," she adds. "I pin it up when I sleep or work out, I try to preserve my blow-dry, and I sleep on a silk pillowcase."
Roll with it
In addition to a bevy of beauty secrets, Crawford credits her epic volume to Velcro rollers—a staple in her routine since the MTV House of Style days. "I love Velcro rollers because I find them foolproof," she says. "It's very hard for me to get tension on my hair when I'm blow-drying it with a round brush." To give a DIY blowout extra oomph, Crawford separates her hair and mists each section with a light hairspray before winding it around a roller. "You've got to get the ends in smooth and use the right clips so that you don't dent your hair," she says. "[Velcro rollers] give me volume and smoothness with less heat, and I find them easier to use than a curling iron. I'm also not great with a flat iron." (Supermodels—they're just like us.) To give her roots an added boost, Crawford recommends heating up freshly rolled hair under a bonnet hood (i.e., a soft cap that attaches to the end of a blow-dryer) for a minute and allowing strands to cool before you unwind. "There's a whole system to the Velcro roller!" she says.
Skip the streak
According to Crawford (and hair colorists everywhere), that famed Pepsi commercial sold people on a lot more than soda and cutoffs. "I think it was, in many ways, the most iconic hair," she says of the 1992 Super Bowl ad. "It was '90s hair and needed to be as big as you could get it. That blond chunk of hair in the front, that streak, was a signature of mine." The strategic highlight coveted around the world was the beauty brainchild of the late Oribe Canales, a legendary hairstylist renowned for his larger-than-life creations. "I did work that look for several years, and to this day, so many friends of mine who are hairdressers will say, 'Ugh, that chunk! So many women came in wanting their hair like that,'" says Crawford. "The truth of the matter is that the chunk looked really good in pictures—it was meant to catch the light—but it wasn't really designed for real life." As for those equally iconic jean shorts, which she wore again in the 2002 Diet Pepsi reboot, the supermodel still has them on hand. "I think I can still get into them too, but they probably wouldn't look quite the same!" she laughs.
Work it out
Crawford admits that not even she looked as stunning (and sweat-free) during a workout as her Shape Your Body exercise videos would have you imagine. "I feel like this look is so Cindy because it's a nice blow-dry with a round brush and probably a Velcro roller, which I still stand by to this day," she says. "I like the ease of this—I call it sexy-girl-next-door hair." While her mane was purely VHS magic, that sculpted physique was 100 percent real. "I was in such good shape and I felt strong," says Crawford, who even managed to make a G-string leotard, scrunched socks, and white Reeboks appealing. "When you are physically strong, it translates into you feeling mentally strong. It really helped my sanity in those days of modeling and running around the world like a crazy woman!"
Part your way
Gen Z can officially step down from its social-media soapbox because Crawford has spoken, and therefore ended, the side-versus-middle-part debate. "I'm a go-with-the-flow kind of girl, my hair seems to have a mind of its own," she says. "I mostly do a middle part for everyday life, but lately my hair has been wanting to part on the [left]." In short, let your strands declare their position on the viral matter. "I blow-dry my hair rough and let it decide where it wants to go and just style it that way," she adds.
Take your time
"In some ways, skin care, hair care, and makeup are superficial…but they're really a tool for all of us to feel better when we look in the mirror so that we have the confidence to get out the door and do whatever else is going on in our lives better," says Crawford. "I know for me, if I have a fresh blow-dry or my skin looks dewy, I just have a little more spring in my step." The supermodel insists that beauty is a form of self-care, equating it to "putting your own oxygen mask on first" amidst the chaos. "As women, we are so busy doing a million different things, and a lot of the time it's for our kids or other people…sometimes, you don't even have five minutes for yourself," she adds. "When you take that time, you're modeling good behavior for your children. You're telling your daughter that it's OK to take care of yourself and it's OK to be kind to yourself."
Change the conversation
The discussion that goes on inside your head is just as important as the hair on top. "I talk a lot about how, as women, we are so hard on ourselves," says Crawford. "When I see my girlfriends, I say, 'That color looks so great on you!' or 'Did you get a new haircut? It's so cute!' But we don't talk to ourselves that way. We really have to start changing the conversation with ourselves." Self-care and self-love may just be the ultimate secret to aging gracefully. "I want [my daughter] to hear that I'm empowered and that getting older is such a privilege," says Crawford. "I take that responsibility very seriously."
Cindy Reflects on Her Most Legendary Hair Moments:
window.REBELMOUSE_ACTIVE_TASKS_QUEUE.push(function(){
window.REBELMOUSE_STDLIB.loadExternalScript("https://htlbid.com/v3/coveteur.com/htlbid.js", function() {
});
});
window.REBELMOUSE_ACTIVE_TASKS_QUEUE.push(function(){
!function(f,b,e,v,n,t,s){if(f.fbq)return;n=f.fbq=function(){n.callMethod?n.callMethod.apply(n,arguments):n.queue.push(arguments)};if(!f._fbq)f._fbq=n;n.push=n;n.loaded=!0;n.version='2.0';n.queue=[];t=b.createElement(e);t.async=!0;t.src=v;s=b.getElementsByTagName(e)[0];s.parentNode.insertBefore(t,s)}(window, document,'script','https://connect.facebook.net/en_US/fbevents.js');fbq('init', '1248680838922690');fbq('track', 'PageView');
});
window.REBELMOUSE_ACTIVE_TASKS_QUEUE.push(function(){
window.REBELMOUSE_STDLIB.onElementInViewport({ threshold: 400, selector: "video", oneTime: true, onIntersect: function(entry){ var element = entry.target; element.setAttribute("allow","autoplay"); element.loop = true; element.muted = true; element.autoplay = true; element.setAttribute("playsinline","true"); //element.controls = false; element.play(); } });
});
https://coveteur.com/cindy-crawford-hair-secrets