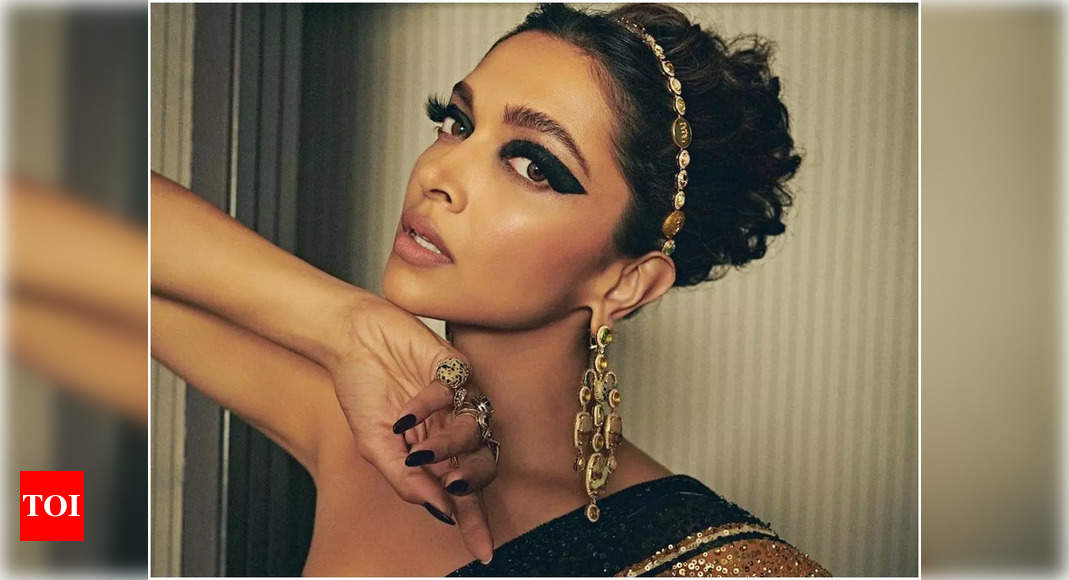 cannes: Cannes 2022: 10 Steps to get Deepika's dramatic eye make-up look
The 75th Cannes Film Festival is underway and all eyes are on stars, fashion and make-up as much as the films showcased there. For, the festival held at the French town is all about panache and chalking up new trends. Deepika Padukone, who is on the jury panel at the prestigious fest, has got folks talking about her glam looks from her beige Mysore silk print shirt, with pastel green pleated trousers and a beautiful deconstructed necklace to her sequinned, one-shouldered black and gold sari. The latter has especially grabbed attention for her dramatic eye make-up, with netizens asking if it was similar to the look that actress Julia Fox has flaunted before. The vintage liner style is hot, stylish and it can be yours, too. We got experts to share how you can get that look…
'It seems to be the next big trend'
Beauty and style influencer Ekta Mohanani Kamra who keeps a tab on all things fashion, has a take on the look. She says, "Make-up is always evolving and changing with trends. Personally, I prefer more soft and nude make-up looks instead of bold colours. However, I would like to say that the Deepika Padukone Look from Cannes and Julia Fox's Look from The Met Gala that dramatised the Graphic Liner look really stood out for me. The extra oomph it added to both their looks really got them the attention their looks deserved. It seems to be the next upcoming trend in the beauty space and something that I would love to try."
10 steps to get the look

If you have already made a plan to wear Deepika's look at the next party or function, get set for it, for there are a few key ways to do so. Mausam Gandhi, celebrity and bridal make-up artist decodes her look and shows you how. She says, "Deepika opted for a classic retro, bold eye for Cannes this year to compliment her Sabyasachi sari. To recreate her look, follow these steps below."

1. The base is a matte finish. Go with a light, bronze hue along the cheeks and jawline to match the tones of the sari.

2. Deepika's brows are lightly filled, so the attention stays on the eye make-up.

3. For the eyes, first apply smudge-proof gel liner or a kohl along the entire lid. Clean the edges with a earbud soaked in micellar water.

4. Mattify this with a jet-black eyeshadow to prevent it from settling into the creases of the eyelid.
5. Make sure you clean any fall out under the eyes.

6. Add a nice pair of dramatic lashes to give the perfect oomph for the camera.

7. Also add a pair of brown lenses to give the eye depth.

8. Dust light brown eyeshadow under the eyes and add mascara.

9. Add some blush just over the bronzer which will add the perfect tint of retro to this look.

10. Leave the lips at a matte nude so the look won't feel overwhelming.
https://timesofindia.indiatimes.com/life-style/beauty/cannes-2022-10-steps-to-get-deepikas-dramatic-eye-make-up-look/articleshow/91689123.cms