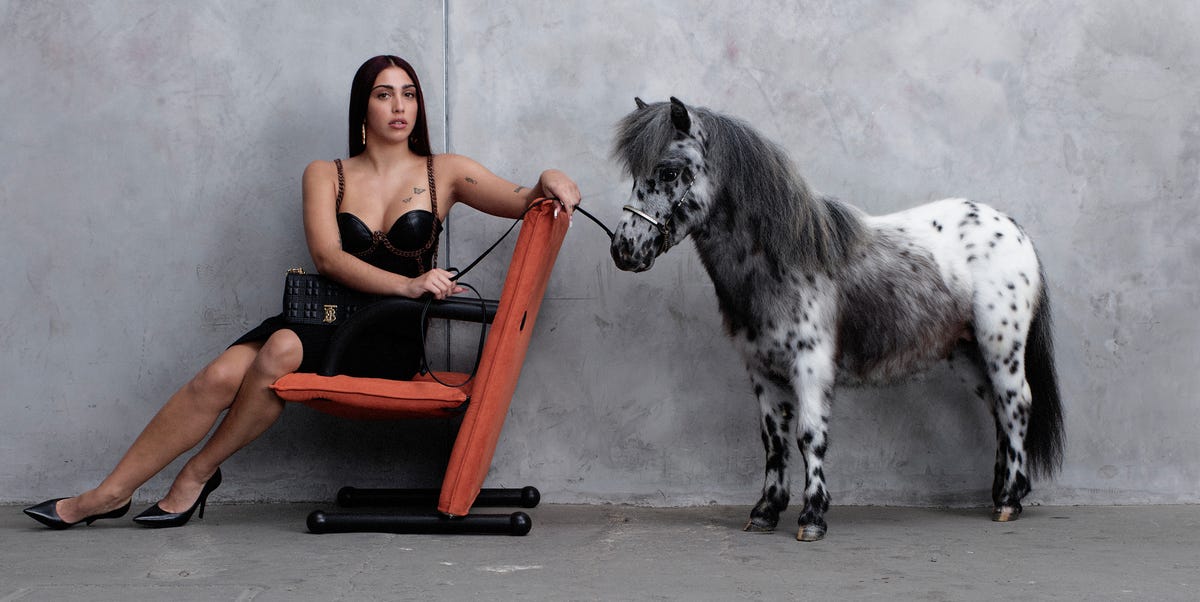 Burberry's Lola Bag Is All About How You Carry It
Right now, perhaps more than at any other time in recent history, the future is
Right now, perhaps more than at any other time in recent history, the future is truly unwritten. We're rethinking everything: the people we choose to admire, the things we're supposed to want, what drives the news cycle, who is considered beautiful. There is no one path to self-discovery and success. Fashion, ever a bellwether, evokes that free rein, no longer beholden to the rigidity of seasons or blind devotion to trends. The most powerful forces in our lives are intensely personal.
Just ask some of the young women shaping the cultural conversations of their generation: Lourdes "Lola" Leon, Devon Lee Carlson, Lori Harvey, Ella Richards, and Dixie D'Amelio. All of them will tell you they dress by instinct rather than influence, and while they each look unquestionably of the moment, no two would ever wear the same thing the same way. They draw from diverse perspectives, as likely to be sartorially inspired by their fathers and grandfathers (which, in this crew, include Steve Harvey and Keith Richards) as they are by Jersey Shore's JWoww. They may devise an entire outfit around a pair of socks they saw on TikTok—or avoid social media altogether. Whether making a mark in modeling, music, business, or social media, they know that it's not just about the clothes, it's how you move through the world and what you put into it. It's why they've cut records, designed, danced, and dreamed up their own brands. They've seen that uniformity will get you nowhere, so you might as well be yourself. With Burberry's Lola bag in tow—a bold and chameleonic piece that shape-shifts along with the look of its owner—these young women talk about the influences that have informed their individual styles and how they're coming into their own.
---
LOURDES "LOLA" LEON, 25
Model, Dancer, Singer
What does your personal style communicate about who you are?
I think it's nostalgia for my style in fifth grade: my little Uggs, miniskirts, and Ed Hardy—just not caring about looking too chic. I've leaned into the playful side of fashion. I think that when you take it seriously, it stops being fun. Like, I overdress for random things: a revealing dress and maybe some big sunglasses and a crazy fur jacket to a house party.
Who has taught you about personal style?
I've always been obsessed with JWoww and Snooki's style from Jersey Shore. They're always doing some crazy layering and accessorizing: things that don't make sense but end up looking good together. They're absolute icons of style.
What's the most rebellious thing you've ever done?
Probably not share my whole life on social media from such a young age. I have a trap account that I've used forever—that one is only for the homies—but I joined with a public account in 2021. It's really for professional purposes only, like an online portfolio. I'm not trying to share my private life.
What's a personal-style lesson you've learned the hard way?
I remember I wore leggings for four months straight during my sophomore year of high school. My mom sat me down and was like, "You need to stop. Your outfits are really bad, and you need to stop wearing black leggings." She wasn't going to let her daughter look basic.
If you're going out with the Lola bag, what's in it?
A whole bunch of things: four lip liners, three lip glosses, keys, phone, wallet.
What comes to mind when you think of Burberry?
I think it's fab, and I love that Riccardo is now taking it and putting his own twist on it. That Burberry check is so iconic. I just associate it with early Y2K London street style, which is so cool.
---
DEVON LEE CARLSON, 27
Cofounder of Wildflower Cases, Content Creator
How would you describe yourself professionally?
I do a little bit of everything. I cofounded a business, Wildflower Cases, and run it with my family. I dabble in modeling. And I'm a girl who overshares, and people find enjoyment in it.
What influences how you dress?
I like to look comfortable, sassy, and a little flirty. The other night, I almost wore a cheerleader outfit. I was captain of the dance team in high school and really passionate about it and would do everyone's hair and makeup and coordinate all of the outfits. I feel good when everyone around me feels good. I'm sensitive to how everyone feels around me.
Growing up, once I started getting magazines, '90s models were everything to me: Kate Moss, Naomi Campbell, Claudia Schiffer, Cindy Crawford—all the legends. I was just like, "Wow. Women." So confident. Like real-life Barbies.
Where do you get ideas for your closet?
Mainly vintage and shopping. Shopping is therapeutic for me; I can shop in a convenience store for two hours. I feel like vintage is worth the investment, and I love finding things that people don't have. If there's a pair of shoes I see on the runway, I'll be like, "Okay, I want to find a vintage pair like that." I love the challenge of finding the weirdest, ugliest thing and trying to make it work.
And the ideas for Wildflower iPhone cases? Where do those come from?
Everywhere! One was inspired by a vintage lunch box, one from a vintage sticker pack, one from a luggage belt in an old Western store.
What do you wear to feel brave or empowered?
The tallest heels I can find.
You're out for the evening. What's in your bag?
A nudie-red lipstick, rosewater spray, mints, my Wildflower case, and a digital camera. Digital is fun because it's like taking pictures on your phone with none of the distraction of Instagram or messages. It keeps everyone there and communicating with each other.
What is your first Burberry memory?
The first fashion show I ever went to was a Burberry show. I was so nervous, and I didn't know how to do my hair or makeup. It was at the Tate Gallery, and I just remember it being so amazing and luxurious and beautiful and the collection was…I was speechless. The environment that's always surrounded by Burberry is timeless and classy but still fun.
---
LORI HARVEY, 25
Model, Founder and CEO of SKN by LH
What are some adjectives that describe your style?
Timeless, clean, chic.
What have you learned about yourself through starting your own business?
I've learned that I'm never going to stop learning. It's always going to be something new. And I've learned to be patient with myself. I'm going to make mistakes, but that's how I'm going to get better.
What's a challenge you faced that you felt really transformed you once you were on the other side?
Building my company changed me for the better. It made me grow up. It made me learn how to be a leader and structure a team. It made me more responsible and gave me a business mindset.
Who is a leader you admire?
My dad has the craziest work ethic I've ever seen.
What was your first job?
It was modeling in Memphis when I was three or four years old, for a local store called Cotton Tails. I did the store campaign for the town magazines and newspapers. I loved it. I had a little fur coat. It was a good time.
What's a personal-style lesson you've learned the hard way?
Not spending so much money on fashion. I did that a lot growing up, and I think back on it like, "Ugh." I spent so much money on clothes, and I don't even know where they are. It made me start to appreciate good, quality pieces.
What's your earliest memory of Burberry?
The shearling coats that my mom used to wear in New York. To this day, I'm obsessed with them, and I'm mad that she didn't save them for me.
How does a Burberry look make you feel now?
Confident, sexy, and powerful.
---
ELLA RICHARDS, 26
Model
How do you like to dress?
I'm quite classic, style-wise. I love to be comfortable, and I also love vintage. Like, a really great pair of jeans, a really beautiful vintage slip dress. Ballet flats, pumps, boots, Converse, or loafers. I'd say it's a British sense of style.
What makes you uniquely you—separate from the influences of your friends, family, or social media?
I've always known what I like and what I don't like. From a young age, I've always been quite stubborn. My parents always thought that I was a complete nightmare. I wouldn't wear the pretty dress. I would wear tights with a T-shirt.
Who has taught you about personal style?
Everyone in my family. My grandmother, Anita Pallenberg, had amazing style, and she would pass clothes down to me. And, of course, my mother.
What's a piece of clothing your grandmother passed down?
Oh, so many. I have her whole collection now. They are archive pieces, so I don't really wear them that much, because they're so special, but I'm going to make copies to wear. There's this Ossie Clark vintage red silk long dress in a beautiful shape.
What did you learn specifically from your grandmother and your mom about style?
Just to have fun and don't be afraid to wear what you want. I think I got that from them. Even the men in my family are very stylish.
What have you taken from the men in your family?
My dad's love of cashmere jumpers and corduroy. He only wears corduroy.
What's your first Burberry memory?
When I was a kid, my grandmother used to wear a lot of Burberry scarves. And in England there was a phase where everyone wore the check scarves and trenches and even hoodies. And the Burberry check blankets. It's always been very iconic.
How do the clothes make you feel now?
They're so luxurious. And I'd say you feel very strong and powerful; you command the room if you're in a good Burberry dress.
What else is unique about your personal style?
I'm not a sweatpants person. I don't know why! It's just me. I'll always put on a pair of jeans instead. Some people don't look like a slob in them, but that's not how I feel.
Even at home?
No, at home I'm in silk pajamas. I never really wear sweatpants, but I'm trying to because since Covid, they're really handy. I've been like, "Oh, actually these make sense."
---
DIXIE D'AMELIO, 20
Singer, Content Creator, Cofounder of Social Tourist
What kind of fashion are you interested in right now?
For a while, I was into very baggy sweatshirts and things like that. Now I've transitioned to:
"Oh, we are actually leaving the house now?" So I'll make it look better. Baggier jeans, big vests, things like that. Just to kind of take something I'm comfortable in but make it cool.
When do you feel most like yourself?
When I'm onstage and performing. There are so many different things that go into that, including fashion and being comfortable. When I'm comfortable with my outfit, I'm 30 times better because I feel like myself. I feel like I can give a better performance.
Where do you get ideas for what to wear?
For myself, it's a lot from social media; I'm always watching. I could like a pair of socks and fall in love and go from there—find the company, find the designer. And it's cool when I find something and see other people wearing it, like, "Omigosh! I was on the right track!" A lot of kids my age and younger have been lost with fashion these past couple of months because we've been inside and everyone's just been guessing.
How is what you wear an extension of who you are?
Since I've been working on an album, every time I finish a song, I'm genuinely thinking: "What kind of music video will it be? What will I wear? What will the glam look like?" I make a whole story around the song that I'm creating. Working in fashion has grown my love for singing so much more.
Who has shaped your personal style?
I trust my dad the most when it comes to personal style because he's in the business. He works for a sports apparel company. He always knows what's cool before it's cool, and he has an eye for things. When I was in high school, I would go back-to-school shopping with him and say, "Tell me what to wear. Tell me what shoes to get."
What's the most rebellious thing you've ever done?
Probably dye my hair blond. My mom said it was a really awful idea, because I have very dark hair, and it fried my hair, the consequences of which I have to deal with to this day. I wanted to go silver; it turned orange immediately, and it was just all downhill. I wanted to do it all in one day, and that was my problem.
What's your first memory of Burberry?
When I was about five, my grandmother gave my sister, Charli, and me matching Burberry one-piece swimsuits. I have the pictures somewhere, and it was really cute. I remember her telling us, "This is really important." And I remember her taking us to the Burberry store. It was very special, and I cherish those memories. I can't wait to show her this photo shoot.
---
Hair: Tiago Goya for Oribe; Makeup: John McKay for Ilia Beauty; Manicures: Marisa Carmichael for Orly; Production: Paul Preiss at Preiss Creative; Set Design: Lauren Machen

All clothing and accessories, Burberry.

Video Producer: Amanda DiMartino; Director of Photography: Dominic Hayden Rawle; 1st AC: Keiry; 2nd AC: Jessie Davis; Sound: Richard Anthony; Editor: Chris Davies; Motion Graphics: Joshua Walker; Visual Effects: Dak Stiga; Music: Carl Kelsch.
This article originally appeared in the June/July 2022 issue of Harper's BAZAAR, available on newsstands June 7.

https://www.harpersbazaar.com/fashion/a40017115/burberry-lola-bag/