Are 80s fashion trends coming back in 2022?
Madonna and Tom Cruise showcasing iconic 80s looks. Photo: Collected
">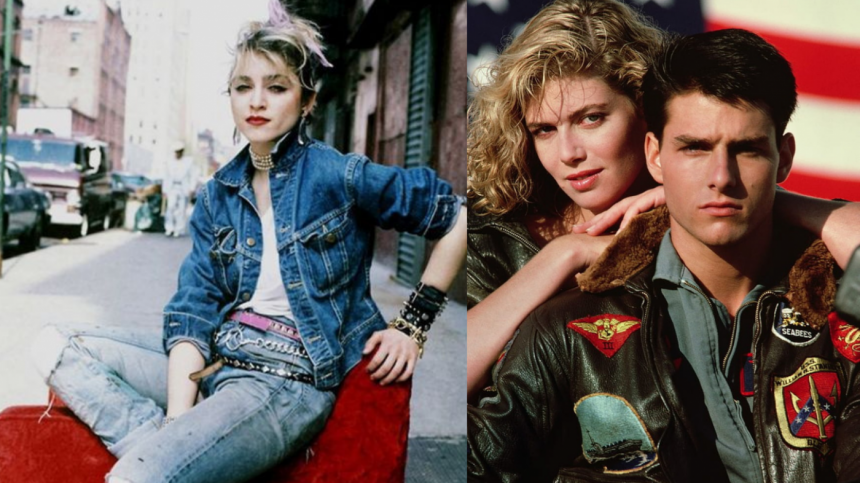 Madonna and Tom Cruise showcasing iconic 80s looks. Photo: Collected
Today, many fashionistas and influencers will agree that the 1980s were one of the most iconic fashion eras. I recall 80s fashion through our family photo albums, my mother and my aunts quintessential ruffled silk kameez and evergreen printed shalwars paired with a chiffon dupatta. They also never missed a chance to go all glamorous with their turtleneck blouses or oversized blazers with shoulder pads, not to forget how cool their white heel shoes looked with those outfits. I want to believe they were mostly following princess Diana by the day and singer Madonna by the night.
The men were even more careful about what they wore in the 80s, that rockstar attitude with an edgy look features black leather jackets and high waist denim were so in trend. Hollywood actor Tom Cruise made it a fashion statement in his classic movie Top Gun in 1986. His leather G1 bomber jackets never went out of fashion, and we all witnessed it in his new top gun movie: Maverick, which was released last week.
Consequently, I have seen 80s fashion trend in the 2022, not only in term of fashion and culture but most importantly in the styling. Teenagers are more comfortable with their oversized outfits just like the 1980s. The Netflix drama Stranger Things season 4 certainly have a big impact on teenagers. The British actor Millie Bobby Brown was seen roller skating a very 80s look with her pink checked outfit and front bangs. Each character felt like they just walked out from the 1980s.
How to create an 80s look?
Grab your oversized printed shirt (make sure it is cotton), pair it with a ripped acid washed jeans and a brown belt, add a pair of black boots. Carrying a blazer is completely optional here, you may ditch the 2021 trend for now. Do not forget to tuck the shirt in! Boys can try a pompadour hairstyle and girls can go with the messy front bangs. Do not forget to accessorise! Big chunky earrings can bring a vibrant and glamours look.
The 80s look felt so carefree and easy, maybe it is the fashion trend which we need in our hectic lifestyle now. Some clarity, calmness to stay connected to our roots.

https://www.thedailystar.net/life-living/fashion-beauty/news/are-80s-fashion-trends-coming-back-2022-3039106