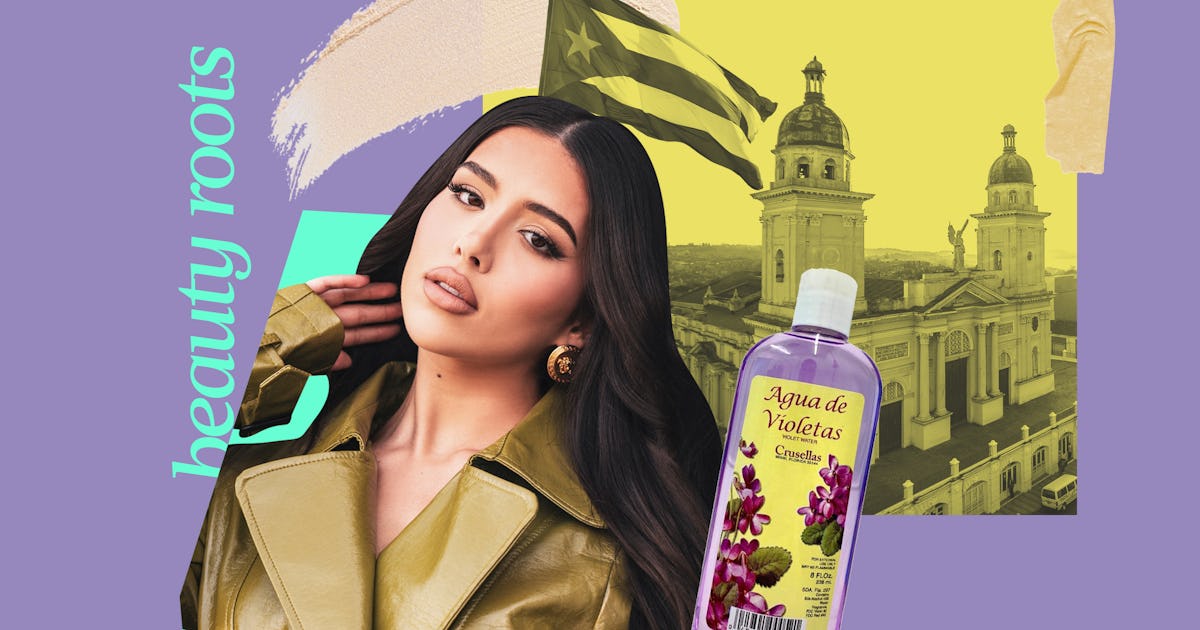 Amanda Diaz On Beauty, Her Cuban Heritage, & The Power Of Makeup
In Beauty Roots, Bustle chats with diverse creators in the beauty industry about how their heritage has influenced their businesses and routines. Here, Amanda Diaz shares how growing up in Cuba impacted her approach to beauty, self-care, and immense gratitude for accessible cosmetics.
Amanda Diaz rose to stardom on the same medium she used to teach herself English: YouTube. But the beauty influencer and content creator's relationship with makeup started long before that. As a 3-year-old in Cuba, she regularly rummaged through her mother's cosmetics, inevitably destroying every product she touched — which was a big deal, since cosmetics are notoriously hard to come by in her home country.
"I kept opening lipsticks and just slathering them all over my face because I had no idea how to put makeup on," the 21-year-old tells Bustle. "Products were really scarce — we'd have to get them shipped from the U.S. because there are [very few] Cuban beauty stores."
Diaz, who moved to Miami when she was 5, has come a long way since then, having made a name for herself by creating makeup tutorials on YouTube. "YouTube was my escape when I moved here. It really helped with the transition into a new country," she recalls. "I loved watching YouTube beauty videos and learning English at the same time."
Today, Diaz has over 5 million followers across YouTube, TikTok, and Instagram, and has collaborated with major brands like Charlotte Tilbury, M.A.C. Cosmetics, and Laura Mercier. But she'll never forget where she came from. "I know my mom really struggled to get beauty products growing up and so did my grandma," says Diaz. "I've learned to appreciate the products that I'm able to have now and the luxury of being able to take care of myself in that way."
Below, Diaz tells Bustle about the Cuban approach to beauty and how it influenced her mindset toward makeup.
What does beauty mean to you?
Sometimes, it's not even about the makeup aspect or how put-together you are. I think just seeing someone with a really beautiful smile or how they carry themselves shows you how beautiful someone truly is. You can put a bunch of makeup on your face and not feel beautiful and that shows — beauty is really an inner thing.
Do you have a favorite Cuban beauty product?
There's this one fragrance called Agua de Violetas. Camila Cabello, who is a Cuban singer I adore, has talked about this, too. It's this spray that Cuban moms put on their babies and their kids — that's the go-to fragrance in Cuba. Anyone from Cuba can smell it and know right away what it is. I actually need to buy some because I'm really nostalgic now.
What's the best beauty advice you've ever received?
I'll just share my top three favorite beauty tips. Number one: Make sure to use primer and setting spray so your makeup stays all day. It's very important.
Two, this is a technique tip I learned from a makeup artist: Always apply blush after highlighter. The highlighter can kind of wash out this certain area, so you have to layer the blush on top so it sticks. It just makes everything a lot more cohesive.
The third tip: If you're doing a heavier makeup look, always do your eyes first because that shadow can kind of create a shadow cast under and around your eyes.
How has your Cuban heritage influenced your routine and how you see beauty?
I have really grown to treasure being able to apply makeup and feel good about myself. To live in a country now where these products can be purchased easily is definitely a blessing and very amazing, so that's something that will live with me. As someone who didn't from much, that's something that I'm able to appreciate so much more.
Are there any ingredients from Cuba that you really love?
It's very hard to come by, but I love guava. It's one of my favorite fruits. I think it's pretty native to Cuba. If I ever see a guava-scented lip balm or something I have to buy it because it just reminds me so much of home. But I think a bold red lip will always remind me of Havana — it's really tied to dancing there and being in the city.
What are you most excited to bring to the beauty industry?
I'm excited to continue sharing my story and being a light to people. I came to this country when I was really young with the odds stacked up against me. I left as a political refugee, went through a lot of adjusting, and beauty was my escape when I moved here. I want to show people that if I can do this, they can do it, too. Beauty is for everyone.
This interview has been edited and condensed for clarity.

https://www.bustle.com/style/amanda-diaz-cuban-beauty-makeup